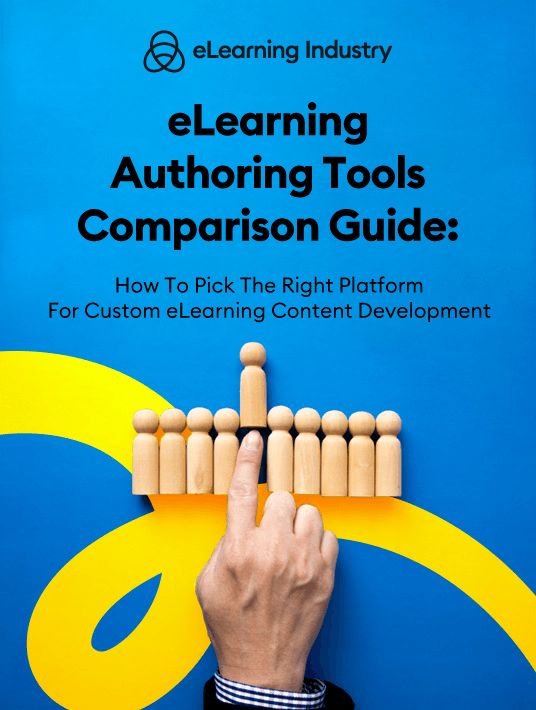 eBook
eLearning Authoring Tools Comparison Guide: How To Pick The Right Platform For Custom eLearning Content Development
eBook
eLearning Authoring Tools Comparison Guide: How To Pick The Right Platform For Custom eLearning Content Development
by eLearning Industry / Published: Feb 10 2020
What it's about
Explore and discover how you can choose the best platform for custom eLearning content development. This eBook is your go-to guide to help you analyze, compare, and contrast all the possible eLearning authoring tools that compliment your organization's goals.
Key chapters
eLearning Authoring Tools Comparison: 6 Notable Perks Of Using Web eLearning Authoring Tools

What are the positives of web eLearning authoring tools and are you sure they eclipse the negatives?

eLearning Authoring Tools Must-Haves: 6 Features To Look For In SCORM Authoring Tools

Shareable Content Object Reference Model (SCORM) authoring tools are only worth the investment if they integrate with your existing Learning Management Systems. What must-have elements are necessary to ensure compatibility?

7 Crucial Questions To Ask Before Investing In New eLearning Authoring Tools

How can we ensure we've bought the best one and avoid buyer's regret?

6 Pitfalls Of Implementing New eLearning Course Creation Software In Online Training And Tips To Prevent Them

Explore what could go wrong in the actual eLearning course creation software implementation process and how you can mitigate the risks.

Are Your eLearning Authoring Tools Up-To-Par? 7 Warning Signs That It's Time For A New eLearning Content Authoring Tool

How can you tell when it's time go beyond "sharpening" and get an entirely new eLearning authoring tool kit?

Best eLearning Authoring Tools: 7 Essential Types Of eLearning Authoring Software

Discover 7 essential types of eLearning authoring tools you should add to your eLearning toolbox.

7 Secrets To Use An Online Directory To Find Top eLearning Authoring Tools For Your Organization

This chapter can help you use an online directory to choose the best eLearning authoring tool for the job.

5 Insider Tips To Use Online Reviews And Recommendations To Find The Best Authoring Tools For eLearning

When you're shopping for something, how do you know which reviews to listen to and which ones to ignore? Find out tips on how to use reviews and online recommendations to find the ideal eLearning authoring tool.

7 Stress-Free Steps To Migrate From Flash To HTML5 eLearning Authoring Tools

Make the migration without going over budget or stressing out your L&D team.

6 Common Misconceptions About Rapid eLearning Authoring Tools And The Facts Behind Them

Human beings are often more likely to believe rumors than facts, simply because gossip has more virality. So, what are the myths regarding rapid eLearning authoring tools?

Does Free eLearning Authoring Come At A Cost? 6 Pros And Cons Of Rapid eLearning Authoring Tools

Everything has pros and cons, so what are the benefits and drawbacks of "short-cut" eLearning authoring tools?

eLearning Authoring Tools Comparison Checklist

In this chapter, get to discover ways to determine which eLearning authoring tool is a viable investment.
---
Recommend this read to your friends and #shareknowledge!
Get your copy now
---
Join other professionals like you, who have downloaded the eBook!
Other resources by eLearning Industry