What To Consider Before Choosing An eLearning Authoring Tool
There are multiple factors that can influence the efficacy of your eLearning course. The online training content needs to speak to employee training participants in a way they can understand. The tech you use should be within their capacity. Not too complex, but not so "dumbed down" that they end up feeling patronized. The eLearning authoring tool you select has a big role to play. Its tools and features enable you to plug in online training modules that suit your audience. So what must-haves should you look out for? Here are 7 crucial questions to ask before you invest in new eLearning authoring tools.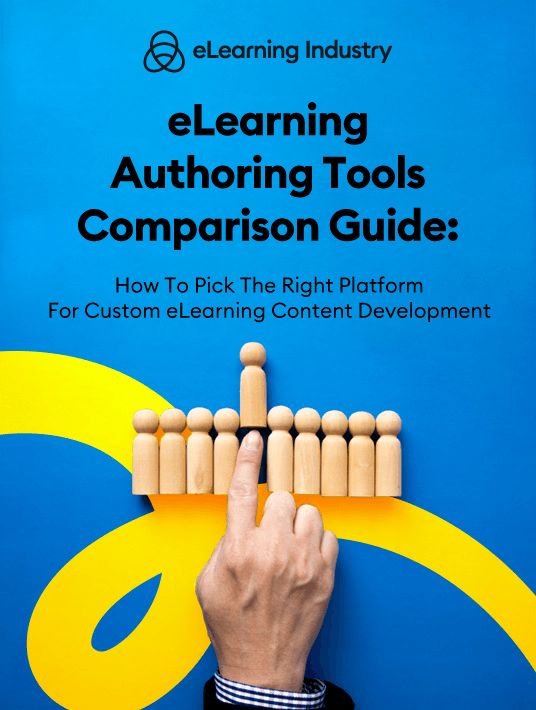 eBook Release
eLearning Authoring Tools Comparison Guide
Explore and discover how you can choose the best platform for custom eLearning content development.
1. What Is Our Definition Of "User-Friendly"?
This covers various areas. Your eLearning authoring tool decides the tech level of your online training course. It needs the ability to design user-friendly interfaces and intuitive navigation. For example, touchscreens are easy for employee training participants to use. Participants will be happy if they can pinch to shrink or stretch to zoom. This could be useful for everything, from enlarging fonts to exploring detailed visuals. But it only works if your eLearning authoring tool allows you to embed those features into your online training course with ease. It should also give your team the flexibility they need to create meaningful online training content. Thus, it must walk the fine line between user-friendliness and functionality. For instance, it is so simplistic that your eLearning course developers are unable to produce immersive simulations because it limits their creative freedom.
2. How Much Can We Allocate To New eLearning Authoring Tools?
We don't think about it often, but there are two separate elements to budget. You start with a blanket limit. Then you explore what you can get within those boundaries. The best online training course in the world might cost $5.000. But if you only have $500 available, then you have to adjust your criteria. You have to look at two $500 eLearning authoring tools. Maybe one has translators but no text-to-speech readers. And the other has closed captions but no branding options. Look at your employee training participants' pool, assess their online training needs, and decide which features are more crucial to their experience. Be open to the idea of investing in more than one eLearning authoring tool for distinct eLearning development needs. Just make sure they are compatible with each other. Which brings us to the next crucial question.
3. Will The New eLearning Authoring Tool Mesh With Our Current Software Suite?
As a company that's onboard with eLearning, you probably have active software. They might be payroll systems, accounting software, digital asset managers or an LMS that covers all the above. Your new eLearning authoring tool needs to either plug into that or be versatile enough to take over all of those activities. Your best move is to talk to the vendors of your existing software. Ask them if they offer—or can recommend—eLearning authoring tools that integrate well with theirs. But that only applies if you are happy with your existing software. Otherwise do a complete overhaul and make sure your new eLearning and management tools work well together.
4. Does It Align With The Skillset Of Our Team?
Similar to the point above, your eLearning authoring tool will be managed by eLearning content developers and coders. They'll work with it to design and implement new online training courses. You want to be sure they actually can work with it. Get their input on the technical side of things. How code-heavy is your prospective eLearning authoring tool and does it use programming languages they're familiar with? What's the process of uploading online training content? Is the content creation system something your eLearning content expert can work with? Is it just type, drag, and drop or do they need some basic back-end skills?
5. Does It Support Multimedia And Interactive Online Training Resources?
Remaining on the issue of eLearning content development, good eLearning courses are engaging. They require direct and active participation from online learners. Also, in order to cater to employee training participants with different learning preferences, it helps to offer the same online training content in multiple media—text, audio, video, graphic novellas, etc. Ensure your eLearning authoring tool has the capacity to build all these formats. It should also have the right buttons, icons, and functionality for interactive online training elements.
6. Can It Go Mobile With Ease?
This is a feature we could easily take for granted. It's such a foundation feature that we assume everyone has it. But you should always double-check. Can your eLearning authoring tool build apps from scratch? If not, can it optimize online training tools for mobile? Before you start shopping, decide whether you prefer native apps or mobile optimization. Then confirm your new eLearning authoring tool falls on the right side of that decision.
7. What Level Of Support Do We Require?
Some eLearning course creation tool vendors provide advanced support options such as 24/7 phone assistance with a tech. But these often come at a higher cost. Thus, you need to determine how much support you need and are willing to pay for. If the eLearning authoring tool is intuitive and your team has experience with such, you may be able to get away with basic support services.
eLearning authoring tools are the largest influencer for the success of your eLearning program. Motivation, buy-in, and employee ability matter but if the online training course is badly built you will be doomed from the start. How can you ensure you're buying the right eLearning authoring tool? Find out how easy it is to use and how well it matches your existing software and in-house tech skills. Confirm how well it facilitates group online training activities. See if it can code online training courses for mobile, with interactive, multimedia formats. Finally, balance your "must-have" features against your budget.
eLearning Authoring Tools Comparison Guide: How To Pick The Right Platform For Custom eLearning Content Development is your go-to guide to help you analyze, compare, and contrast all the possible eLearning authoring tools that compliment your organization's goals. Download it to discover how you can choose the best platform for custom eLearning content development.