What Are The 7 Top Functions Every Usable LMS Should Have
There are countless factors you need to consider when purchasing a new LMS. You must satisfy multiple stakeholders: senior leaders, your L&D team, IT and online learners. It's easy to get swamped, thinking about value for money and Return On Investment. Evaluating the features, though, doesn't need to be so complicated. There are a few functions that are must-haves when you're thinking about LMS User Experience and overall usability. Below are 7 top priorities for a new LMS so that you can keep everyone happy and fulfill your business goals.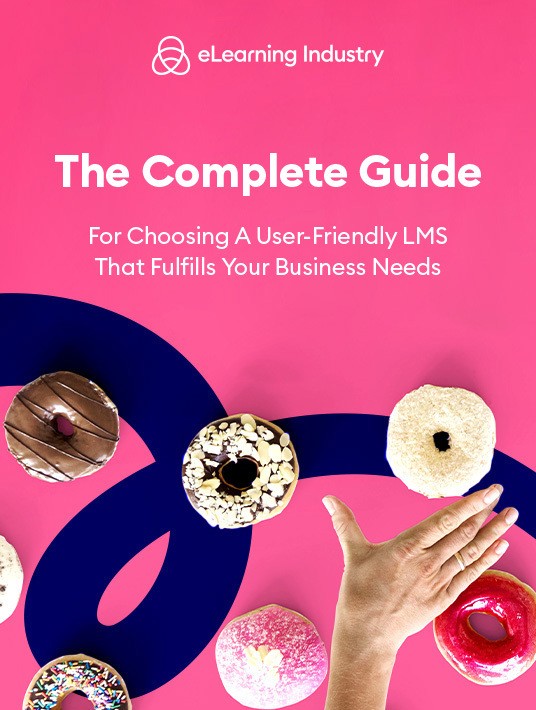 eBook Release
The Complete Guide For Choosing A User-Friendly LMS That Fulfills Your Business Needs
Discover the importance of the Net Promoter Score, how to use LMS user reviews & ratings to find the ideal LMS, the importance of LMS Perceived usefulness and its impact on work performance and L&D ROI.
1. Intuitive User Interface
Your eLearning team will need to find the system easy to use. Designers will want to make sure they have all the necessary design elements at hand. This includes the ability to customize branding, graphics, and navigation. The team must also be able to easily access day-to-day reporting, using dashboard-style analytics. Individual learners should feel equally confident using the tool and access a personalized view of their performance and progress. A personal learning path, showing their learning goals, courses completed, and upcoming online training is a powerful motivator. A social element to online training is another important consideration, so your LMS should interact seamlessly with your existing social learning and collaboration tools.
2. Smooth Data Integration
Since we're on the subject of seamless interaction, it's essential that your usable LMS works smoothly across existing organizational systems. You may need to integrate the LMS with talent management, compliance or HR tools. Make sure your LMS demo includes an element of integration to satisfy your HR colleagues. When in doubt, share your compatibility concerns with the LMS vendor to see if your existing software meshes with their system.
3. Effective Content Management
Content management is the backbone of a well-designed, usable LMS. You must be able to create and manage online training resources without hesitation. It should be easy to organize online training resources into a meaningful learning path, as well as share them across courses or learning paths. Don't forget easy data migration! Everything you have now is extremely valuable, so can you upload your existing online training resources smoothly and reliably?
4. Responsive Mobile Learning Support
Essential for using the LMS across multiple platforms and devices, responsive LMS is the new norm. Make sure that your IT environment (mobile, desk and home-based) can display your LMS in exactly the same way. One of the major benefits of eLearning over classroom training is the ability to study anywhere, anytime. This can only happen if every element, from navigation to interactive functionality, works on any device. Don't forget to check iOS vs Android, and Windows vs Mac!
5. Flexible Online Testing And Assessment Options
Online testing and assessment are crucial when reporting against learning objectives. There are interesting, engaging and fun – yes, fun! – ways of testing that an online training course has been absorbed and understood. A usable LMS will allow you to report on online tests that have been completed as mini-quizzes, games and interactive comic-style click-throughs. These make the online learner retain the information in a unique way and are the cornerstone of a user-friendly LMS. You'll want to make sure that compliance and skills-based online training courses come with the ability for online certification. Learners should be able to download and retain proof of completion for their personal development records. And compliance teams will need to be able to report on the completion rate for these types of online certifications at a moment's notice.
6. Easy, Customizable And Accurate Reporting Tools
The reporting capability of an LMS against your learning objectives is an essential function when selecting a tool. Reporting on completion of learning items, progress through learning paths and online assessment results should be easy and fast. Your LMS support team should be able to pull reports at an organization level, as and when needed. Individual learners should be able to follow their own progress and managers should be able to track their teams.
7. Role Assignments And Adjustable User Profiles
The LMS should make it stress-free to define roles for your users and deliver targeted online training content based on their profiles. You must also be able to adjust those profiles with ease so that every member of your organization gets relevant online training resources. As an example, you divide your customer service staff into a separate group within the system and then assign goal-centered online training courses, activities, and resources. This function also allows you to ensure that only certain members of your team have access to sensitive data. For instance, only department heads are able to view employee reports and personal information.
A well designed, usable LMS is something that's easy to expect, but difficult to define. After all, there are multiple groups of LMS users and each has different requirements. The technical data integration capabilities are most important to some, whereas the look and feel are essential to others. A good LMS implementation will incorporate the views and expectations of all of these groups. The team then needs to focus in on the priority functions, those that ensure the system delivers the effectiveness targets. Framing this functionality in terms of ROI is the best way to ensure your stakeholders support your project. The right features that align with user needs and tasks will make sure the eLearning environment delivers value to online learners and HR teams alike.
Finding a user-friendly LMS that helps you achieve your business goals doesn't have to be a time-consuming chore. Download our free The Complete Guide For Choosing A User-Friendly LMS That Fulfills Your Business Needs to get all the information you need to invest in a tool that's easy to use and delivers a positive UX. Learn how to use ratings and reviews to narrow your choices, how an LMS that ranks high on the usability scale can benefit your bottom line, plus extra tips to improve the LMS User Experience for your online learners.