How To Empower And Engage Your Distributed Workforce With An SMB Learning Management System
Having a workforce that is scattered around the country, or even the world, can be great for business. You're able to handle work across various time zones and hire the best person for the job, not just the closest candidate. However, you may feel like your geographically dispersed workforce is tough to train. That's where an SMB Learning Management System comes into play. Here are 8 tips to make your SMB Learning Management System work for your team, regardless of where they are located.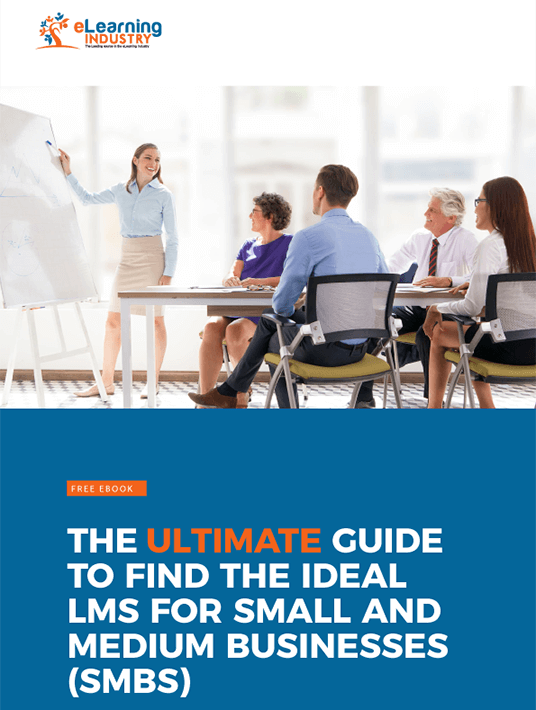 eBook Release
Get a Free eBook to find the ideal SMB Learning Management System!
This Free Ultimate Guide can help you examine various aspects of SMB LMSs.
1. Create A Microlearning Online Training Repository
If your workforce is spread out, they won't be able to pop into someone's office to ask questions. Instead, they will rely on the online training materials you give them to refer to when they need immediate assistance. You can use your SMB Learning Management System to give your employees the information they require anytime, anywhere. Develop a dedicated space where employees can find important and timely online training content that you update regularly. You can even tailor the online training content to the employee's role if the LMS allows. One of the best ways to make your online training content easily digestible and personalized is to create a microlearning online training library which features bite-sized online training resources that focus on specific tasks and challenges.
2. Develop A Social Network
Chances are, your remote employees have never met each other. That can make things challenging, especially when they are expected to rely on each other to get the job done. Many LMS platforms allow social media integration, which can help your workers to collaborate from afar. Tools like Twitter and Google Hangouts allow you to stay in touch with your staff virtually via your SMB Learning Management System. You might also consider a corporate eLearning blog or online discussion where everyone can share their thoughts and opinions. Or even a dedicated social media group that enables them to discuss important topics in a less public venue.
3. Ask For Online Training Feedback
It would be nice if everyone understood 100% of the online training content. However, that's rarely the case. As such, you need to give your employees an outlet where they can express their thoughts and concerns or ask questions that allow them to break down online training roadblocks and boost their comprehension. This may be in the form of an online discussion, social media group, contact form, or even a live webinar. Once you've collected their online training feedback you need, take action to improve your online training content.
4. Tailor The Online Training Content
LMS metrics allow you to see what's working and what needs to be improved. However, it can also highlight the strengths and weaknesses of your individual staff members. As a result, you're able to custom-tailor the online training content to meet their needs and expectations. For example, provide real-world activities to employees who exhibit particular performance gaps.
5. Utilize Online Training Quizzes
You should find an SMB Learning Management System that utilizes online training quizzes and tests to see if employees are absorbing the correct information. This way, you can verify who is performing well and who may need further online training. You can also pinpoint which quizzes have historically low scores, and revise that particular online training module or course. For example, 75% of your employees aren't able to pass the COI compliance online training assessment. In response, you should reevaluate the online training activities and resources related to this area of your online training program. In addition, ensure that quizzes are engaging and relevant, instead of trying to "trip up" employees with tricky questions. The goal is to get a real sense of their comprehension levels and their ability to apply what they've learned.
6. Set Reasonable Deadlines
For some roles, onboarding is more difficult than others. Take into account where your employees are located and what their current job functions are. Then set individual deadlines that are reasonable for them to complete. You do not want employees to feel like they have to race through training to meet your expectations. Remote onboarding online training is tough for everyone, and they do need ample time to absorb and retain the information. Many LMS platforms allow you to create individualized online training paths, complete with sub-tasks and milestones. As such, every employee has the power to focus on their own progress instead of keeping up with co-workers.
7. Develop Localized Online Training Content
Is your workforce scattered around the world? If so, then they likely speak several different languages and have different cultural backgrounds. Consider developing online training content that is written in their native languages. This will help your employees to learn more and understand the online training content better. Furthermore, you will save money and time by avoiding mistakes due to miscommunications.
8. Add Game Mechanics
A number of SMB Learning Management Systems support gamification, which means that you can offer your remote employees incentives for active participation. For example, badges or points for every online training activity they successfully complete. Just make sure that game mechanics don't overshadow the learning objectives. Their primary purpose is to support the desired behaviors and outcomes, not to distract employees with dazzling prizes and extrinsic rewards.
Give your distributed workforce the best training possible with an SMB Learning Management System that aligns with their needs. Creating helpful, personalized, and localized online training content shows them that you care about their success. The key is finding a robust SMB Learning Management System that increases employee satisfaction and supports personalized online training paths. You must be able to offer each individual the online training content they require to do their job effectively, regardless of their job position, geographical location, or personal background.
Thinking about making the switch to online training? Are you in the market for a new SMB Learning Management System? Download our Free eBook: The Ultimate Guide To Find The Ideal LMS For Small And Medium Businesses (SMBs) to discover tips on choosing the right LMS platform, deploying your online training content, and tracking online training effectiveness.