How To Train Your Marketing Leaders
The goal of marketing leadership training programs is to improve your profit margin, not spend a small fortune on development costs. As a result, you must be selective about the subject matter. So, what information do your marketing managers need to know? Are there any skills gaps you should address right away? While every organization has unique training requirements, there are a few shared challenges, from generating qualified leads to mastering social media etiquette. And the right outsourcing partner can help you develop top-notch content, even if you're strapped for cash or racing the clock. These 8 marketing leadership development program topics are always worth the investment.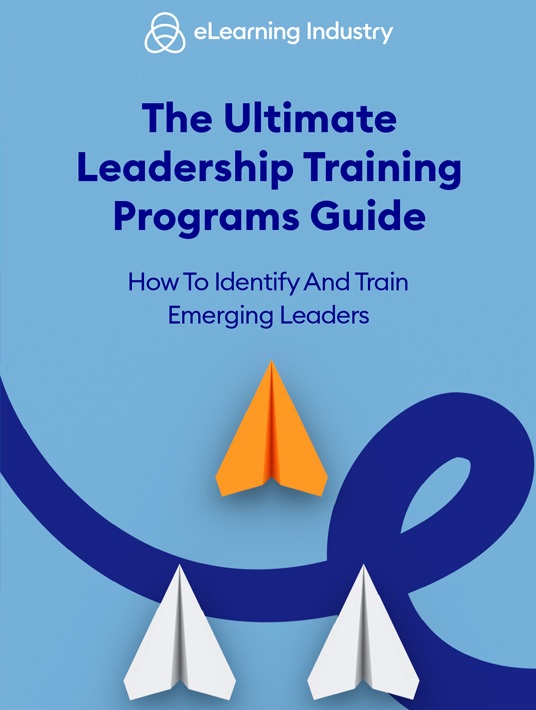 eBook Release
The Ultimate Leadership Training Programs Guide: How To Identify And Train Emerging Leaders
Launch a successful leadership training strategy for your top performers today.
Crucial Topics You Must Include In Your Marketing Leadership Training Programs
1. Content Marketing
Many organizations use content marketing to build an online presence. Furthermore, it helps you establish yourself as an industry expert. The key is to provide value-added content instead of focusing solely on the sales pitch. And that's an art form. Thus, your marketing leadership training programs should include online training tutorials and demos, as well as real-world examples. Show managers how to craft content marketing materials and where to post them for maximum audience reach. The training should also cover terminology and how to convey a cohesive brand image.
2. Lead Generation
How can marketing managers drum up new leads? And how do they convert them into customers? As such, you need to focus on skill building and lead generation steps. Walk them through the entire process. Then teach them how to personalize their approach. Every member of the marketing team contributes but leaders pave the way. Simulations and branching scenarios are ideal for lead generation as they enhance immersion. Employees aren't just reading about how to attract prospects. They're able to live through it and learn from mistakes.
3. Search Engine Optimization
SEO is an integral part of modern digital marketing. However, the rules are constantly evolving as there are keyword selection tools, algorithms, and ranking systems. Thus, you need a two-pronged approach. Firstly, ensure marketing managers have a basic understanding of SEO fundamentals, such as readability and keyword saturation. Secondly, frequently update your marketing leadership training programs to reflect new techniques. You can even host live events to bring everyone up to speed.
4. Practical Problem-Solving
I know this is a broad topic but no leadership development program is complete without it. Marketing, at its core, is all about problem-solving. How do you attract qualified leads with limited resources? This requires creativity and lateral thinking skills to reach your target audience. Particularly when the internet is flooded with digital marketing competition. In short, you need to stand out from the crowd. Serious games and branching scenarios are ideal for practical problem-solving since managers must use all their skills and know-how to overcome the obstacle, whether it's repurposing existing assets or launching a low-cost social media campaign.
5. Social Networking
Since we're on the subject of social media, let's dive right into online networking. Most of your consumers are already on sites like Facebook and Twitter. Thus, you have the opportunity to engage them like never before, such as by answering questions in real-time and posting helpful resources. But there's also the issue of social media etiquette. For example, how many times should employees post? Which content should they share? More importantly, how should their interactions align with brand messaging?
6. Brand Management
Brand management centers on product value and building consumer loyalty. Employees need to understand your target market and their buying needs as well as how to convey your company vision succinctly. One of the best ways to incorporate this into leadership training for managers is online training infographics since they allow you to blend brand visuals with core messaging. For instance, you can highlight company values or showcase unique selling points that enhance perceived value.
7. Reputation Building
As the old saying goes, you're only as good as your reputation. Your marketing team is usually responsible for relationship building. And that involves your online reputation, for example, dealing with negative press or reviews. You can't simply lash out at critics. Therefore, marketing managers must know how to build a rapport with the public, preferably, a positive one that leads to more sales. So, add persona-based simulations and real-world examples to your leadership development training. This way, managers learn how to turn naysayers into brand advocates.
8. Teamwork
Marketing is usually a team effort even if you outsource some of the work. Thus, managers must be able to build a stronger team dynamic. But what does that entail? For starters, they need to maximize team talent. Who has the skills you need, and how can you use them to expand your market reach? Then there's conflict resolution. Marketing managers aren't mediators, by any means. However, they should be able to diffuse tense situations. Finally, team leaders need strong communication skills. That includes active listening and non-verbal communication because open communication leads to better collaboration.
Conclusion
The marketing team usually plays a dual role. Sometimes they're the public face of your organization whether it's attending trade shows or interacting on social media. Then there are also the behind-the-scenes marketing tasks, such as generating leads and developing new promotions. And your marketing leadership training programs must reflect this role diversity so that they can set a shining example for the team as well as become the best brand advocates and boost your bottom line.
Leadership training isn't just about training managers. It's also a cost-effective way to spot emerging talent. And our eBook walks you through every step of the process, from finding the right vendor to developing engaging activities. Download The Ultimate Leadership Training Programs Guide: How To Identify And Train Emerging Leaders today to train your leaders of tomorrow.