Why Is It Imperative To Transition To Virtual Induction And Onboarding Training?
Virtual onboarding and training are relatively new concepts. The conventional face-to-face approach to offer induction and onboarding training is normally the approach most organizations opt for. This is of high impact, and the human touch goes a long way in aiding new employees to learn the organization's culture, value proposition, and how they can play their role very effectively.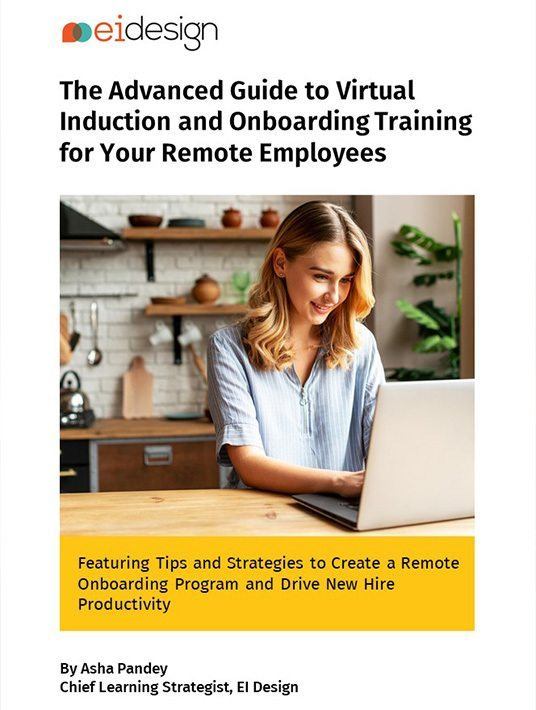 eBook Release
The Advanced Guide To Virtual Induction And Onboarding Training For Your Remote Employees
This eBook will help handle the transition of face-to-face induction and onboarding programs to a virtual mode effectively.
Given the changing workplace dynamics, organizations must consider moving their classroom-based induction and onboarding training to a virtual mode.
Besides the COVID-19 trigger, several other reasons should help you decide on a virtual delivery of your induction and onboarding training.
Online training gives new employees higher control in pacing the learning and internalizing it.
It enables them to handle the cognitive overload and access online resources as and when needed and as many times as required.
It enables organizations to induct and onboard employees quicker, through eLearning for the most part, while leaving in-person components of the induction and onboarding training delivery in the ILT/VILT mode.
It provides organizations with cost savings and flexibility to opt for a fully online or a blend of online and facilitated induction and onboarding training.
What Are The Options In Order To Create Virtual Induction And Onboarding Trainings?
There are two options in order to create virtual induction and onboarding trainings.
Blended learning 2.0 or the blended 2.0 mode
A median offering of the two modes, VILT sessions with self-paced online learning, blended learning 2.0 is emerging as the preferred and optimal mode for delivering induction and onboarding training [1]. The employees gain key skills that help them perform their responsibilities by retaining partial human touch—even in a completely virtual mode.
Fully online, self-paced learning (mobile learning)
Progressively, organizations opt for a mobile learning-based approach for their employee induction and onboarding trainings. The delivery of high-impact training can be taken on the go. This approach enables a personalized learning path to induct and onboard new team members efficiently and quickly.
Case Study: On The Transition Of A Face-To-Face Induction And Onboarding Training To A Virtual (Blended 2.0) Mode
I now showcase an induction and onboarding case study that illustrates the evolution of our own induction and onboarding training from a traditional, classroom-based ILT mode to a fully virtual blended 2.0 mode in the post-COVID time.
Before: Classroom-Based ILT Delivery
Like most organizations, our legacy induction and onboarding training was traditional Instructor-Led Training (ILT). This ran over a month-long window and featured 13 instructor-led sessions. A few years ago, we transitioned to a blended mode. The combination of ILT sessions (as per the initial format) and mobile learning was introduced.
Post COVID-19: Blended 2.0 (Fully Virtual) Delivery
Post the lockdown triggered by the COVID-19 pandemic, we stepped up our hiring to address the higher demand for virtual training, and "joining from home" became the new normal. These changed workplace dynamics called for a system wherein induction and onboarding is not bound by space, time, people, and pace.
Fortunately, we were ready with our innovative induction and onboarding training much before the global workplace dynamics changed. The online training made it easy for us to onboard employees smoothly while ensuring the desired mandate.
We now transitioned from a blended mode to a blended 2.0 mode going fully virtual. As we transitioned from ILT to blended and subsequently to a blended 2.0 mode, our focus was on:
Offering Engaging And Immersive Experiences
The most important consideration was to make induction an engaging and immersive experience for the new joinees. The aim was to not only provide information but also pique their interest and motivation levels. We opted for mobile learning-based delivery that offered a personalized learning journey.
We retained the instructor-led sessions (all 13 of the original training) but brought various VILT formats to handle them. This included variants like flipped classrooms and usage of tools to accomplish similar collaboration, interaction, and participation as in classroom sessions.
Solution Highlights
This training features a multi-level gamified learning journey with over 22 microlearning formats to depict content deployed via a portal.
New joinees are given access to the portal on the day of joining, and training spans across 4 weeks, which gives them enough time to absorb the information.
The learning journey features microlearning nuggets using different formats such as videos, PDFs, activities, Virtual Reality tours, interactive learning, downloadable infographics, etc.
Social learning is promoted through visual leaderboards with features such as comments for individual assets.
Collaboration happens among different new joinees through a single portal, ensuring constant engagement, motivation through challenges, and a master assessment unlocked through a treasure hunt game.
To add the human touch, the training incorporates facilitated sessions by different leadership and functional head groups.
Designing For Scalability
Growing organizations thrive on agility and dynamism. The induction and onboarding training therefore required flexibility to scale, modify, or upgrade with minimal changes. A robust framework—that could be quickly updated to our evolving needs—and a well-thought-through instructional and visual approach ensured the desired scalability.
Focusing On Time-To-Productivity And Return On Investment (ROI)
A crucial concept in induction and onboarding trainings is time-to-productivity.
While virtual induction and onboarding training needs to be engaging and immersive, it should aid the new hires in contributing productively within the stipulated duration.
We established the time-to-productivity metrics for all levels of employees. The online assessments that validate the combined learning of self-paced and facilitated sessions gave us good cues if the new inductees were ready to move into their role and start contributing to the domain and organization goals.
Impact
In the first quarter itself, we achieved 92% of the goals (on time-to-productivity), creating a sound ROI on our training spend.
Learning Journey
Often, new joinees expect an induction to be just a set of documents and PowerPoint decks to read along with some face-to-face sessions or a few online trainings. But this training took them to a completely different path, which they may not have expected out of an induction.
The induction is in the format of a journey that the inductee has to take. It spans 4 weeks with something new and exciting every step of the way.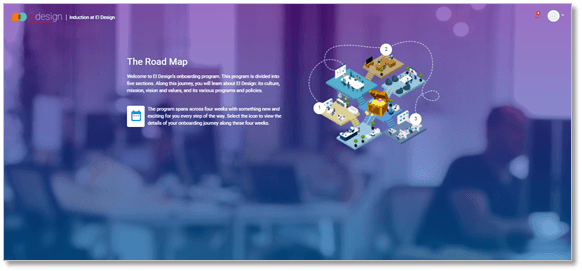 A separate webpage linked to the training homepage gives an "itinerary" of the journey to the new joinees.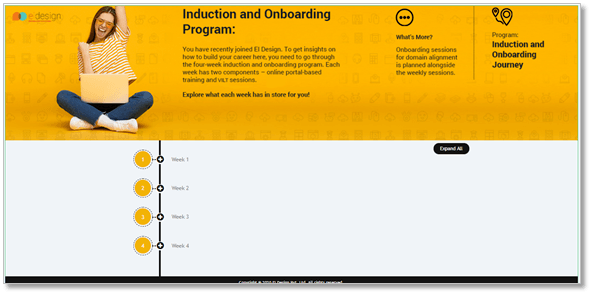 The journey is divided into clearly defined stages. Each stage has topics that cover information in a systematic manner. The inductees gain points on completing each topic.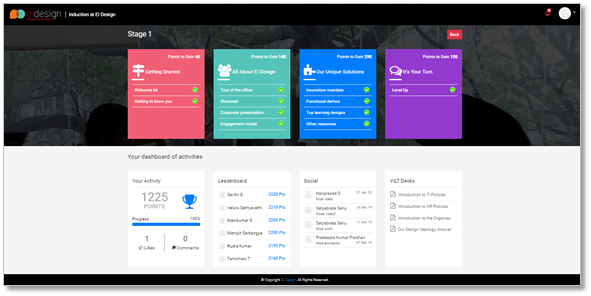 They also see a dashboard that showcases their completion status, points gained, a leaderboard, a social collaboration handle, and downloadable policy documents in a PDF format for future reference. The elements of gamification drive learner motivation and also enable social collaborative learning.

The "Tour of the Office" is an interactive, 360-degree tour using Virtual Reality where the inductee can visit the facility virtually and interact with the environment. It gives them the feeling of having visited the office premises virtually.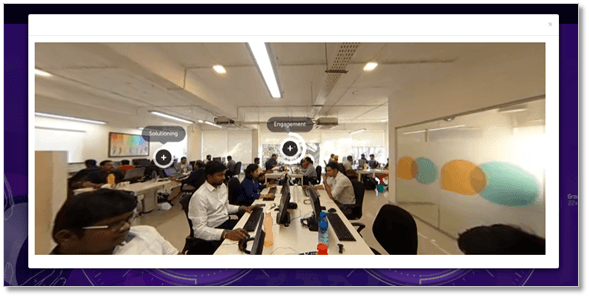 Learning Continuum
To ensure learners have key domains and learnings past the online induction and easy references at the moment of need, ILT/VILT materials are supplied to them for reference.
Handling The Facilitated Sessions Virtually
We have 13 sessions that are facilitated, and we leverage the virtual platform (MS Teams) in line with each session's content focus and takeaways to create engaging and interactive sessions. For instance,
We use a flipped classroom for the session on organization culture and how the new team members can create their success stories.
We use design thinking tools for several ops sessions that demand deliberation and active participation.
We extensively leverage digital whiteboarding features to provide conceptual clarity to the new inductees.
Given that COVID-19 has led to changing workplace dynamics and we need to work with the "new normal" of employees working remotely, organizations must consider moving the classroom-based induction and onboarding training to a virtual mode.
I hope this article provides insights that will help you handle this transition effectively and leverage this opportunity to create more immersive learning experiences for your remote learners. In particular, the featured induction and onboarding case study is a great illustration of how effective virtual induction and onboarding training can be delivered.
References:
[1] 4 Examples of Using Blended Learning 2.0 Approach for Corporate Training
Read More: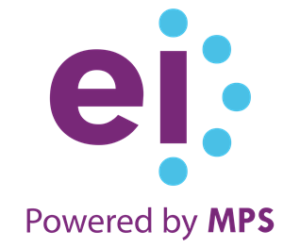 EI
EI is an emotionally intelligent learning experience design company that partners with customers in their Digital Transformation journey.