How To Overcome Onboarding Online Training Reluctance And Manage New Employee Expectations
Onboarding refers to the process of acclimating new employees to an organization. It provides them with the tools, resources, and knowledge to become successful and productive from day one. This training is not to be confused with orientation, which handles the basics such as roles, office layout, and equipment usage. Onboarding is an ongoing process. It helps assimilate new hires into the organizational culture. Ordinarily, most new hires would rather skip this training altogether and dive straight into first-day jitters. In addition, new hires come into their new job with various expectations about their first week or month. In this article, we'll talk about how you can get your new hires excited about the onboarding online training process and how to surpass all their expectations with employee onboarding software.
Discover the best Learning Management Systems for Employee Onboarding
Find, choose and compare the eLearning Industry's Top Employee Training LMS Software
6 Missteps During Onboarding Online Training
1. First Day Information Overload
Most organizations wait for the first day to begin online training. Effective onboarding begins long before. Distributing online training material to employees before the first day helps them familiarize themselves with the organization and its policies. This approach ensures that new hires feel like part of the company and prepares them for the onboarding training process. Imagine beginning a new job and training on the same day. You will be tasked with understanding the training, performing your role, and socializing. Which is enough to stress even the most excited new staffer. However, bite-sized online training material before the first day encourages new hires to explore the online training content at their own pace. In doing so, you make their training smooth because there's less novel online training content. Thus, the employee is more focused and relaxed when it's time to clock in.
2. Using Outdated Online Training Content
Stop using the content you had developed for employees who joined your organization back in 2010. Online training has evolved over the years. Have you made your online training material mobile-friendly and accessible to new employees? Are the examples you use so far still applicable for modern learners? Using outdated resources discourages new employees. Millennials especially will fail to connect to your onboarding online training if your methods are not up to date.
Create new online training content for new hires that is manageable and relatable. This also includes your LMS and authoring tools. Modern tech platforms will simplify the process and lead to more effective online training courses. Moreover, this software will actually get you closer to your business goals by enabling you to track the entire onboarding online training progress.
3. Generic Onboarding Online Training
You have probably hired new people in various departments and want to reduce onboarding training costs. To achieve this, you use the "one-size-fits-all" approach. You create similar online training for new hires in all departments. As a result, corporate learners lose motivation, and training goals go wayside. Where did you go wrong? Onboarding online training is designed to assimilate newbies into the organizational culture. As such, it shouldn't be uniform. Employees need to undergo training that fits their duties and responsibilities. Some online training modules might be the same, such as company policy or product knowledge, but others must be personalized to address individual gaps and work expectations. For example, a new HR employee must learn about hiring and worker compensation claim procedures. But a customer service employee will be overwhelmed if their onboarding online training covers these topics and those that pertain to their front-end responsibilities.
4. Unrealistic Expectations
It isn't uncommon to find organizations setting very high hopes for newbies. It is natural to expect the best. However, expecting employees to complete and internalize onboarding online training within the first few days is a tad unrealistic. It is too much pressure for the employee, which can have a long-lasting effect on their productivity levels.
Set realistic goals for onboarding online training and clarify expectations with fresh staffers. One of the best ways to achieve this is to study past new hire training initiatives. On average, how many days did employees take to complete the onboarding training program? Which period led to the best success rates? Researching past programs aids in setting realistic and achievable expectations for the current wave of trainees.
5. Inaccurate First Impression
Most organizations fail to take the human element into consideration. For example, how new hires feel about their first day or the job requirements. However, this leads them to make the wrong first impression. Employees feel that they will not be treated well. Hence, they do not see the need to train and bridge gaps. The most effective way to start off on the right foot is to initiate frequent contact before the first day. This welcomes new hires to the organization and builds a rapport. You can also give them a sneak preview of their job duties and who they'll work with.
6. Lack Of Experience
Many new hires feel anxious about onboarding online training because they simply lack the necessary skills or experience. The online training activities may require them to use pre-existing knowledge that they just don't have now. This is why it's crucial to provide them with a performance support online resource library, custom-tailored to the needs of your new hire. For example, microlearning online training tutorials or video demos that show them how to complete a sales transaction. Or infographics that walk them through every step of a certain procedure.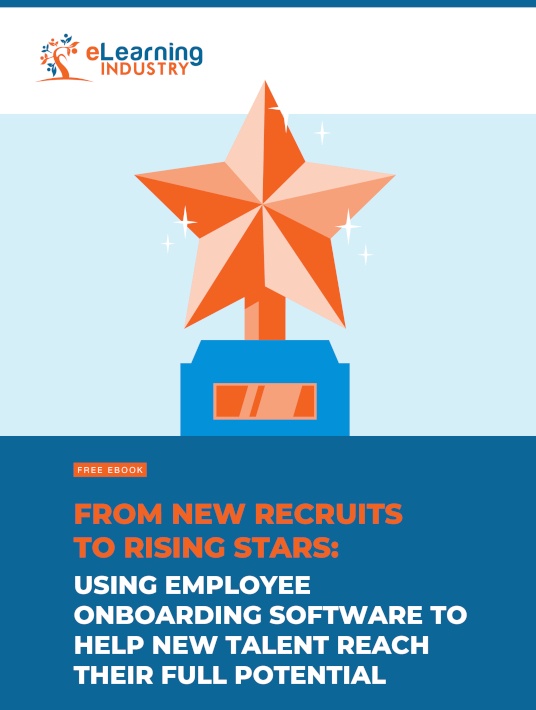 eBook Release
From New Recruits To Rising Stars: Using Employee Onboarding Software To Help New Talent Reach Their Full Potential
Discover how to choose the ideal new hire training software and identify your rising stars!
5 Expectations Every New Hire Has And Tips To Surpass Them With Employee Onboarding Software
Onboarding training programs are so helpful because they prepare new employees for the tasks ahead. Some companies worry it's a breach of confidentiality, but it can assist your new hires to settle faster. This enhances efficiency and success for the whole company. However, it's important to bear in mind that every new recruit has expectations (good or bad). From assuming they'll make a mistake to being afraid that they won't know how to use the new training tools. Here are some tips for how to train a new employee and surpass all their expectations with employee onboarding software.
1. The Onboarding Training Will Address Their Personal Pain Points
Employees expect that onboarding online training is going to help them address issues that may hinder on-the-job performance. For example, teach them how to complete tasks that are still unfamiliar by bridging practical knowledge gaps. However, you can take this one step further and surpass those expectations by assigning personalized paths using your employee onboarding software. Every new hire gets customized online training activities and JIT resources based on their pre-assessment performance and survey findings. For instance, the pop quiz revealed a skill gap they must address in order to fulfill their duties. Thus, new online training resources and certification courses are added to their onboarding checklist.
2. They'll Have To Get To Work Right Away
At school, we had specific lessons at specific times of the day. So even when we joined a new year, we knew which room to look for, or which teacher - though we didn't always know where those rooms were. Work is a little different. Often there's no specific task for the first few days. New employees can start to doubt themselves, wondering whether they're really needed, or whether they were hired by mistake. They might even worry they'll get fired because there's nothing for them to do. Be careful on how to train a new employee, instead of throwing them in at the deep end. Use your employee onboarding software to help them wade in the waters. For example, provide a simulation that shows them everything they need to know for their first day on the job. Complete with company meet and greets and mini-tasks.
3. You'll Prepare Them For Their First Day On-The-Job
Many new hires have a nagging fear that they won't be prepared for their new posts. They simply don't know what to do or how to tackle the tasks they've been hired for. Or they aren't accustomed to online training, which creates a whole new set of anxieties. Set them at ease with an onboarding timetable sent ahead of time. Tell them what's expected on the first day, week, and month. If nothing else, this chart will keep them occupied and calm their frazzled mind. Where possible, give them actual tasks they can tackle as soon as they reach the office. These tasks don't have to be job-related; they could simply be daily simulations and online assignments. When they leave the office each day, new hires should know what they'll work on the following morning.
4. Their Managers/Supervisors Will Be Actively Involved
It can be hard to find your place in the organization. Some new employees are pretty confident in their importance. Others aren't sure management knows they exist. But deep down, we all want to meet our new boss and to know they want us there. It's not always practical though. A good option is to have the boss pre-record a message on the onboarding system. You can't address each new staffer by name, but you can still make it personalized. This way, new hires feel that the message was made for them and not just pulled up or offered as a by-the-way. This makes them feel valued. New employee training includes ensuring that their managers and supervisors play an active role in their ongoing development. For example, they schedule a weekly meeting to check in with fresh recruits and offer additional support.
5. The Online Onboarding Training Will Be Interactive And Easily Accessible
We're in the digital era. Thus, interactivity and mobile-friendly access are fundamental elements for how to train a new employee. Invest in responsive tools that adapt to any device or browser to take care of the mobile-friendly component. Then incorporate simulations, scenarios, and serious games to make your content interactive and engaging. Even something as simple as a personal anecdote or story paired with images and supplemental resources links can meet new hires' expectations.
Ensure Success From The Start With The Right Onboarding Solution!
Discover, choose and compare the top Employee Onboarding Software!
Conclusion
When you start a new job, it can feel a little scary. Even the brashest, most confident new hires have some unease, though it can be hard to spot it. Guiding them through the process will help them feel acknowledged and wanted. So how can we use training to boost comfort levels for new hires? Use these tips to surpass the expectations of your new hires and get them excited about the prospect of building new skills and expanding their knowledge. Thus, they'll be able to get a head start and reduce the onboarding learning curve. Just remember, it's all about personalization and setting realistic expectations from day one.
How can you make sure that onboarding software includes all the must-have features, needed for your in-house and remote employees? How can you use onboarding software to figure out which fresh recruits are going to advance up the corporate ladder? Download our eBook From New Recruits To Rising Stars: Using Employee Onboarding Software To Help New Talent Reach Their Full Potential to learn how employee onboarding software can help you transform new recruits into rising stars. You'll discover tips for SMBs to boost their ROI by investing in the right onboarding system, as well as find out the truths behind the most common employee onboarding myths. It even features a fool-proof plan for training new employees with limited tech know-how.
Do your new hires require quickly consumable online training resources to get them off to a successful start? Read the article 9 Just-In-Time Online Training Activities For Your Onboarding Online Training to discover 9 just-in-time online training activities that are great additions to your onboarding online training.