The Importance Of Organizational Maturity
Organizational maturity is key to achieving your goals. Knowing where you are, where you want to go, and how to get there is crucial. To enable your transformation and make your learning system more effective, the right maturity model can help you monitor and track your organization's evolution.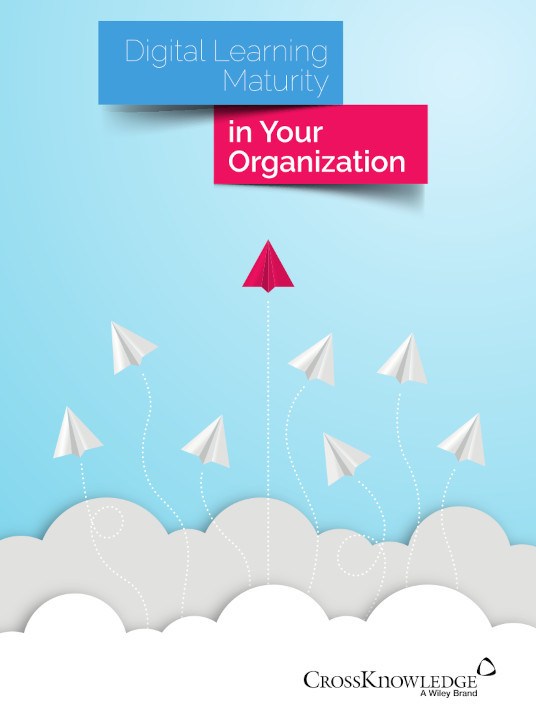 eBook Release
Digital Learning Maturity In Your Organization
Discover how digital learning maturity can help your organization overcome its biggest challenges cost-effectively.
At their base, maturity models can move you toward greater performance and agility, regardless of bumps in the road or even major downturns in the market. CrossKnowledge, leveraging 20 years of experience in digital learning, has taken the best information from existing models and research to create our own readiness framework.
We've identified the 3 major phases on the journey to digital learning organizational maturity:
The First Phase: Access To Learning
At this stage, organizations have some experience with digital learning, mainly focused on generalized eLearning type content, such as compliance. L&D functions mainly operate in a reactive mode, with little to no solid performance indicators or systematic methods to collect and analyze learning needs. As for the technological environment, it is often fragmented and the user experience remains relatively poor.
The Second Phase: Integrated Learning Experiences
An L&D strategy, aligned with business priorities, is gradually put in place. The needs analysis becomes more systematic and proactive. Content curation makes room for a wider variety of formats and topics, including a focus on the acquisition of behavioral skills. This content is contextualized in the form of more engaging blended learning programs, and the learner is no longer isolated. Learners are encouraged to interact with other colleagues, and local managers are more involved in the development of their teams. The user experience is also enhanced through data transfer, allowing access to a certain degree of personalization.
The Third Phase: The Skills Acquisition At Scale With Outcomes
The corporate learning strategy is more largely integrated into the overall business strategy, while the L&D functions operate on a strong governance model that includes business representatives. Not only is the learning experience greatly enriched for learners at all levels, but it can be deployed on a large scale and at a lower cost. L&D functions are recognized for the value they bring to business outcomes, which can be measured against tangible performance indicators. This is what is meant by a true "learning organization." The learning climate and ecosystem are conducive to personal and professional growth and development for everyone.
Conclusion
This 3-phase journey is supported by a well-structured readiness framework, one that is based around 6 dimensions and offers a holistic approach to digital learning. Its strength also relies on a robust analysis tool to set up a diagnostic that can evolve in time, in addition to specific indicators that can be tracked in real time. This holistic and rational approach allows CrossKnowledge to offer and deploy our solutions with maximum impact and long-term success. It should be emphasized that digital learning organizational maturity is not the goal in and of itself, but rather a means to assess and plan in the specific context of your organization. Would you like to learn how digital maturity models can help your organization? Download the eBook Digital Learning Maturity In Your Organization and change the game today.