Tips On Evaluating Online Training Platforms Before Making Your Transition To VILT
When searching for a platform, it is vital to define exactly what it will be used for, who will use it, and under what conditions. Below are some questions to help you determine which online training platform will best suit your organization's unique needs: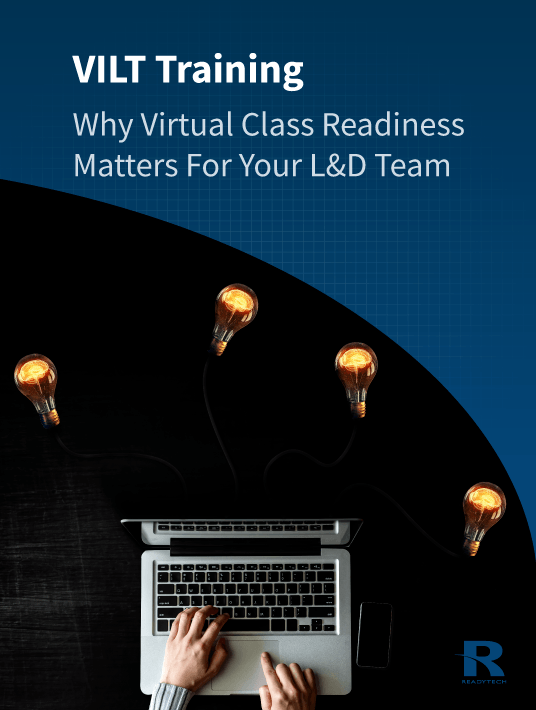 eBook Release
VILT: Why Virtual Class Readiness Matters For Your L&D Team
Learn if your business is ready to implement VILT and how it can help your L&D achieve efficient training delivery.
Do students need access to a hands-on lab environment?
Hands-on labs are a critical component of high-quality technical training. A hands-on lab environment provides every student with a realistic, hands-on training experience.
How many concurrent classes, how many students per class, and where are students located?
The answers to these questions determine the total lab hosting capacity you will need to accommodate your training demand. The tricky part is that training demand can be very volatile and the solution of your choice should be able to accommodate your peak demand. It's also important to work with a vendor that has data centers in each region when you are training a global audience to ensure good User Experience.
How consistent is your training demand?
Training goes through periods of low and high demand, so selecting an online training platform with a pricing structure that can match your training needs is critical.
Do you need a multi-language online training platform?
Most platforms don't support localization. If you have instructors teaching students internationally, it is best practice to select an online training platform that supports localization so international students can navigate the platform easily.
Do students need access to the online training platform from outside the office?
Online training platforms that are accessible outside of a company's intranet are a necessity, especially for customer-focused training.
Some More Things To Consider
It is equally important that you focus on what kind of features your virtual instructors want. There are numerous ways to interact with online students, such as chat, screen sharing, webcam, audio, assessments or polls. Each feature performs a specific function and can help online courses become more interactive. However, not all online training platforms offer the same features. So make sure you select an online training platform with the features your virtual instructors want.
Moreover, it is vital that your online training platform provides your training department with everything it needs to give online training. Online training typically requires presentation tools, hands-on labs, material management, and assessments. Choosing a vendor that provides all of these products will place a lower technology burden on instructors and students.
Run A Pilot Class With Training Vendors
Prior to going live with an online course, instructors should perform a pilot class, preferably with actual customers, although that's not mandatory. The purpose of the pilot class is to do a dry run of the class. Thus, giving the training department an opportunity to work out any technical kinks. This will allow them to receive student feedback and identify issues with the curriculum. It also gives instructors the chance to check for inaccurate visuals or trim down lectures that are way too long.
After the pilot, your training department should work with your training vendor, your IT staff, and your curriculum developers to fix/update the virtual class as needed. Depending on its complexity, your training vendor should assist you with your pilot class with no fees. However, during the pilot, make sure your training department works closely with your training vendor's implementation team to ensure that any issues discovered during the pilot are resolved.
The Importance Of Virtual Class Delivery
Assistant instructors should manage the technical aspects of training. It is very helpful to use an assistant if your instructors, who are teaching a course for the first time, are new to online training, if the course topics are complex, or if the course has a very large number of students. An assistant instructor is usually suggested once an online classroom reaches 12 to 15 students. Assistant instructors enable the primary instructor to focus on delivering the course content, while the assistant instructor can focus on student engagement and troubleshooting technical issues.
Proper materials distribution is critical. Why? Because training materials are proprietary intellectual property. It is vital to find a secure way to transfer and control materials. Training departments spend money developing the curriculum, so developing a secure way to distribute materials is very important. It is also important to ensure that materials are difficult to "copy and paste."
Virtual classrooms have numerous moving pieces. Not only do students need to connect to class, but instructors also need to deliver learning content, while IT departments must verify that class performance is top-notch. Any number of technical issues can put an end to a class for an entire day. And a lost day negatively affects customers who are forced to reschedule classes, as well as the lost revenue for training departments. As a result, immediate technical support is essential for every virtual environment.
Does The Respective Online Training Platform Offer Technical Support?
If technical support is readily available, instructors are free to engage students and focus on delivering quality training. In addition, by staying focused on students, instructors can reduce the risk of student distraction, frustration, and dissatisfaction. In addition, decreasing technical difficulties and barriers through support means that students are free to fully participate in the virtual classroom experience. This will help concentrate their efforts on the tasks of learning, engaging, and collaborating.
With the popularity of online and self-paced classes, it is common for students to take training at odd hours and away from traditional instructor office hours. In addition, students can log in to classes around the world and across many different time zones. Accessibility means that your software vendor's support team must be able to provide support to anyone at any hour.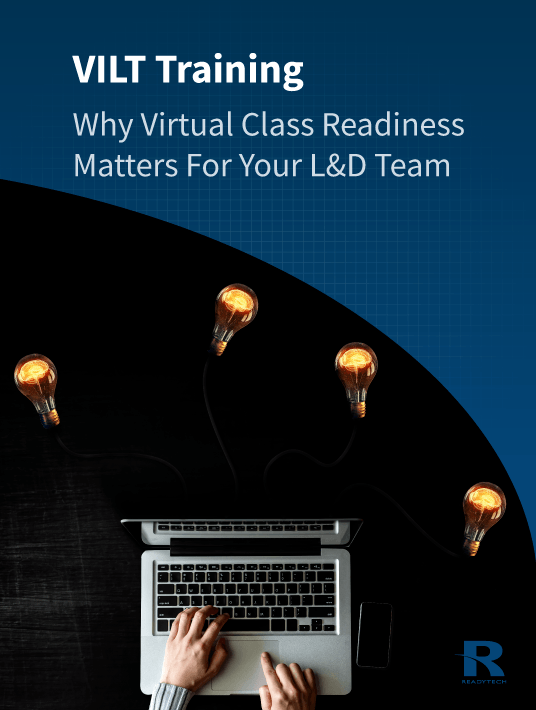 eBook Release
VILT: Why Virtual Class Readiness Matters For Your L&D Team
Learn if your business is ready to implement VILT and how it can help your L&D achieve efficient training delivery.
To Sum Things Up
These days, our work environment has seen a significant increase in employees who work remotely. Thus, creating a greater need for live virtual training programs. To accomplish this effectively, you'll need a learning platform that can increase interaction and participation. When you are about to choose a virtual classroom training platform, you first have to grasp what kind of features and benefits each product offers.
Your VILT vendor needs to provide a sophisticated, yet easy-to-use online training software. Make sure you read all about each vendor's history. Also, it would be really helpful to check reviews, since they act as social proof that can lead to a better decision. Finding an online training platform for VILT with expertise and hi-tech background is vital. The more feature-rich solutions a learning platform has, the better. Experience is key to delivering great VILT training, especially when it comes to global training. Looking for more insights on your organization's VILT readiness? This eBook VILT: Why Virtual Class Readiness Matters For Your L&D Team can help clear things up.