Services You Should Expect From Your Software Vendor
Are you one of those who think that LMS support services are an unnecessary expense? Think again. Maybe you believe that you can get by with minimal vendor assistance because your team is tech-savvy. However, it's always good to have more support than you need, just in case you run into a software snag. You never know when authentication errors and data migration headaches will pop up. In fact, it's not the major catastrophes you have to worry about but the minor inconveniences. Live chats and online user forums make these small setbacks less time consuming so that you can get back on track. Here are 8 virtual classroom LMS support services that drastically improve functionality and value for money.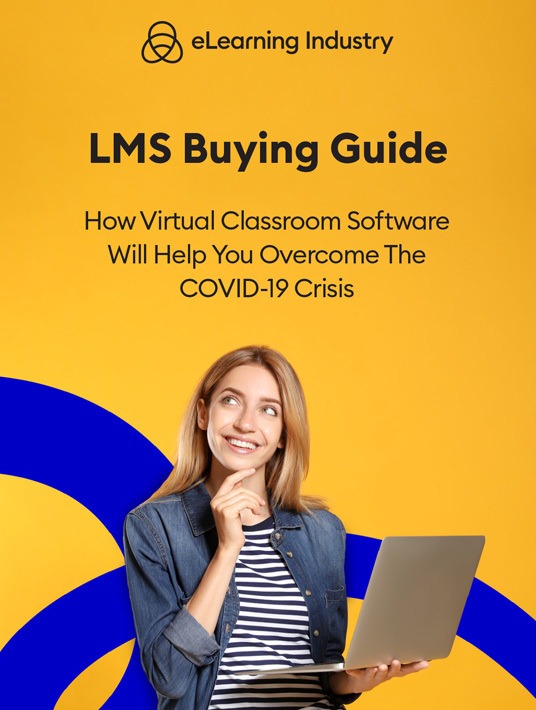 eBook Release
LMS Buying Guide: How Virtual Classroom Software Will Help You Overcome The COVID-19 Crisis
Discover all the insider tips to choose the best virtual classroom software for your business and adapt to the new reality.
Virtual Classroom LMS Support Features To Enhance Functionality
1. Online User Forums
Many virtual classroom platforms have user forums that feature tips and tricks. The question is, are they active? Check out their user community to see if LMS owners are willing to share their insider secrets. You can also visit the archive for buying pointers. For example, a user recommends certain add-ons or product upgrades to boost ROI. Another thing to focus on is the layout. Is it easy to navigate around the site and search by keyword? Lastly, post a test question to see how users respond and get a feel for the community, as a whole. Snarky remarks are probably a bad sign.
2. LMS Knowledge Base
A virtual classroom training LMS knowledge base is hosted by the vendor. They post helpful tutorials, demos, checklists, and troubleshooting videos for the most common issues. This online training library allows you to resolve tech challenges on your own. This is ideal for quick fixes that don't require phone calls to a trained specialist. For example, you can't add an employee to the customer service group in the reporting dashboard. Demos are there to walk you through the process right away. Vendors tend to expand their knowledge base over time because it benefits their bottom line, as well. They don't have to spend as much time answering emails or hire more call center staffers because you can turn to the online training library for assistance and use their advanced support services as a last resort.
3. Live Chat
Live chat is one of the quickest and most convenient options. Plus, you can screen share or upload images to help tech experts identify the problem. The rep usually asks for some basic authentication information to keep your account details secure. Then they ask targeted questions to diagnose the issue. If it's not software-related, they can refer you to the appropriate department. For example, the billing team to figure out why an extra charge showed up on the credit card statement. Or if you need to upgrade your subscription to include more active users.
4. Phone Support
There are some LMS obstacles that require a phone call. This way, the virtual classroom LMS company can explore all the options with you and expedite the process. For example, you encounter a glitch every time you upload a task simulation. The specialist recommends 3 possible solutions and how to prevent the problem as you move forward. You're able to ask questions and try their suggestions while you're still on the phone just in case nothing works, and they need to refer you to the IT department.
5. FAQs
It's the most basic virtual classroom LMS support service. But FAQs are often packed with helpful pointers to improve tool functionality as well as avoid common implementation pitfalls. Best of all, you can evaluate this support option before you finalize the contract thanks to the fact that FAQs are usually posted on the product landing page or vendor website. Preferably, they should be divided into categories so that it's easy to find what you're looking for. Bonus points for hyperlinks to tie-in resources that expand on the topic.
6. Email Support
Every virtual classroom training platform should come with email support. In fact, some companies have different email contacts for different problems. For instance, you can reach out to this person with video conferencing issues, while this team member handles product sales. During your free trial, send a test email to see how quickly they respond and if it's a personalized email or template.
7. Webinars
A webinar may be what drew you to the LMS in the first place. The presenter was knowledgeable and touched on all the key points. However, many vendors host webinars for paying customers, as well. It's one of the ownership perks. The guest speaker might share their top 5 tips to maximize reporting features. Or show you how to launch a virtual classroom certification program in the LMS. These sections are also recorded so that you can watch whenever your busy schedule allows.
8. Help Desk
The vendor's help desk covers everything from announcements to upcoming events. It's usually more interactive than the knowledge base thanks to its ticket/messaging system. For instance, you can submit trouble tickets and review past queries as well as view the status of current support requests. In most cases, it's reserved for customers who already own the product so that they receive the VIP treatment. In other words, your tickets are fast-tracked.
You could hire a dedicated IT team who knows everything about the software. But is that truly cost-effective? Why not choose a virtual classroom system with built-in support, like live chats, webinars, and a user-friendly help desk to get you through the rough patches? And don't forget to test drive their support options during the free trial or demo. This way, you can gauge quality versus quantity. For instance, they might have a broad range of services, but their tech team has limited tool knowledge.
If you're looking for other resources to help you navigate the "new normal," we've got you covered. Our eBook, LMS Buying Guide: How Virtual Classroom Software Will Help You Overcome The COVID-19 Crisis, walks you through the entire process, from setting a realistic budget and identifying must-have features to finding the right support services to boost tool functionality.