Virtual Classroom LMS Budget Tips
Are you searching for ways to juggle your virtual classroom LMS budget? Welcome to the club! Due to the global pandemic, most organizations are searching for ways to stretch available resources. Granted, this is usually a top priority in the best of times. But the coronavirus crisis exacerbates the budget crunch. Thankfully, a virtual classroom LMS can help you reduce training costs by moving everything online. Face-to-face sessions switch to VILT courses and employees get anytime, anywhere support. But it all starts with a clear expense sheet to prevent overspending and maximize returns. You need to factor in hidden fees, product upgrades, and employee payroll. Here are 7 insider secrets to set a realistic virtual classroom software budget that's easy to stick to.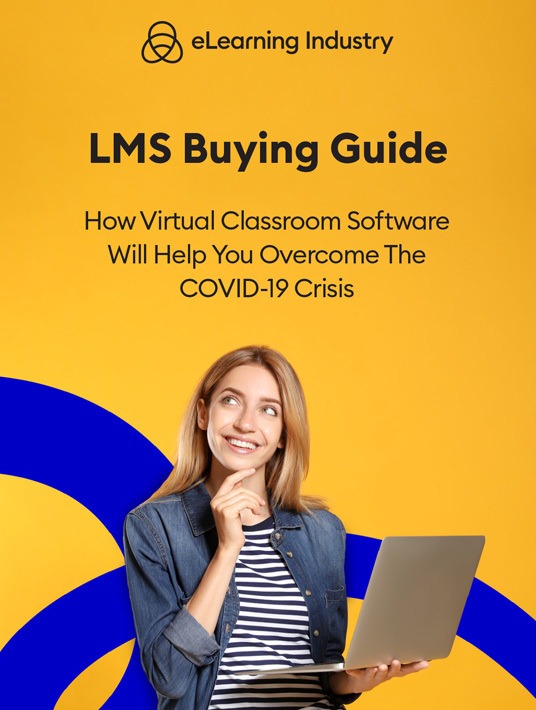 eBook Release
LMS Buying Guide: How Virtual Classroom Software Will Help You Overcome The COVID-19 Crisis
Discover all the insider tips to choose the best virtual classroom software for your business and adapt to the new reality.
1. Can You Think Of Any Inventory Reusable Assets?
Before you dive into the expenses, take a closer look at your asset library. There might be resources you can reuse for your new virtual classroom strategy. But there's an ulterior motive, as well. An asset inventory helps you find a system that suits your online training needs and won't cause compatibility issues. For example, you can upload your digital job aids to the new platform right away instead of reformatting for the next week. This also gives you an opportunity to identify weak points in your online training plan. Like resources that are outdated or lack real-world application. In other words, it's a great time to do some L&D housekeeping before you start the selection process.
2. Identify Essential LMS Features For Virtual Training
Now that all your assets are in order, start compiling a list of must-have features. Keep in mind that there's a difference between wants versus needs. Essential features come first in your budget. Then, if there's enough room, you can gradually tack on the "luxury" items. This allows you to cut costs and achieve your core online training objectives without breaking the bank. Look at product listings in online directories to see what's available, for example, the common set of features most virtual classroom solutions deliver. Then choose the ones that align with your L&D priorities and gaps.
3. Evaluate Pricing Models To Define Your Virtual Classroom LMS Budget
You need to do some market research to identify a realistic price range. Like how much companies charge for an LMS for virtual classrooms and what that entails. But you should also evaluate pricing models to see which fee structures suit your budget. For instance, do you prefer a one-time fee up front or a monthly subscription? Some vendors offer open source platforms that are free but require programming know-how to customize. This comes with its own set of costs and tech challenges.
4. Don't Forget To Include Upgrades, Updates, And Add-Ons
A common misconception about virtual classroom software, and LMSs in general, is that everything is included. You simply download the system and use it for years to come. In reality, there are upgrades and updates to consider. Some vendors make this part of the package, while others charge extra. For example, you need to pay for the new version of the tool to maximize functionality and keep up with tech trends. Add-ons are another cost factor. Do you need plugins or additional asset libraries? If so, what are the fees involved? Finally, does the vendor charge extra for advanced support, like phone calls or live chats?
5. Submit RFPs For Detailed Virtual Classroom LMS Budget Estimates
A request for proposals is usually your introduction to the vendor. It includes all the project details so that they can submit proposals. However, it's also a great LMS budgeting tool. For example, you send 5 RFPs to your top contenders. All of them respond with detailed cost breakdowns, product features, and other crucial buying info. As a result, you can adjust your budget based on their personalized quotes. Are all of their prices higher than you thought? If so, you may need to revisit your budget or reevaluate your features list.
6. Take Into Account The Learning Curve
Some employees will adjust to the new LMS for virtual classrooms from day one. They'll know how to use all the features and migrate data with ease. On the other hand, certain staffers need more time to get used to the new system. And this learning curve isn't free. You still need to consider payroll expenses while they set up and implement the virtual classroom software. That said, you can lessen the learning curve—and costs—by creating support resources, like online training tutorials, demos, or tip sheets to help them master the new tool. Some vendors even have knowledge bases that cover all the essentials.
7. Test Drive The LMS Tool To Find Hidden Fees
Last, but not least, dive into the LMS headfirst to identify hidden fees. Test drives give you the opportunity to gauge how it performs in the real world. But you can also determine if additional support services or add-ons are necessary. Another perk is evaluating the UI firsthand so that you know how much prep work is involved. For example, you'll probably spend a week or two on LMS training and uploading existing assets. Finally, LMS free trials allow you to narrow your list of features even further. Do you really need those extra items to boost functionality? More importantly, are there any crucial features you overlooked?
Above all, the secret to setting a realistic virtual classroom LMS budget is a TNA, even if it adds another step to the implementation process. You need to know what your current Learning Management System is missing and how those shortcomings tie into online training gaps so that you can choose new virtual classroom software that checks all the boxes and maximizes ROI. A Training Needs Analysis also helps you repurpose existing assets to cut costs and improve resource allocation.
If you're looking for other resources to help you navigate the "new normal," we've got you covered. Our eBook, LMS Buying Guide: How Virtual Classroom Software Will Help You Overcome The COVID-19 Crisis, walks you through the entire process, from setting a realistic budget and identifying must-have features to finding the right support services to boost tool functionality.