How To Leverage VR For Your Training Program
Many organizations avoid immersive learning in its many forms because they think it's too challenging to implement. However, modern tech gives every company the opportunity to make the most of VR for training and facilitate real-world application. But where do you even begin and which tool is right for the task? This eBook explores the fundamentals of Virtual Reality for training to help you get started.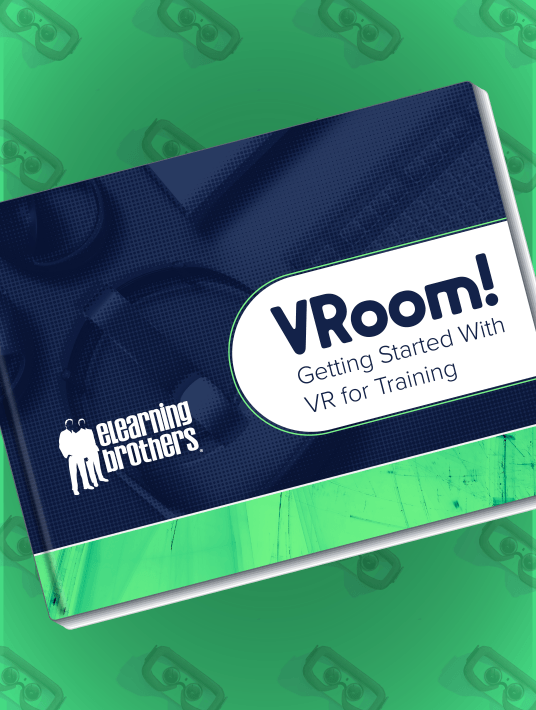 eBook Release
VRoom: Getting Started With VR For Training
From higher retention to improved muscle memory, there are dozens of reasons to embrace VR. If you're ready to try it, this eBook guides you through each step and element.
Why VR Is Such A Powerful Training Tool
VR for training is one of the most effective ways to provide hands-on training minus the risk, whether your staffers work remotely or are back in the office. Employees have the power to test out new approaches, perfect their performance behaviors, and build crucial skills in a safe and supportive environment. They also get immediate feedback, which allows them to bridge gaps on the spot and avoid workplace mistakes. In short, Virtual Reality gives every member of your team the chance to broaden their professional horizons in a fraction of the time and continually develop their talents.
About This eBook
Why should your organization consider VR for training? How can you prove that it will pay off? Which software should you use to lower the learning curve and implement VR as quickly as possible? eLearning Brother's eBook has the answers to your most pressing VR questions. Here's a brief glimpse of what you'll find inside this VR training guide:
Project Inspiration: Why does this learning work better in VR?
Corporate Buy-In: Set expectations, maximize internal resources, and consider how to demonstrate ROI.
Filming Scenes: Explore the "stitching zone" and avoid common mistakes.
Scenario Creation: Add interactivity like any other authoring app.
Conclusion
Download the eBook VRoom: Getting Started With VR For Training to unlock the full potential of Virtual Reality for your L&D program.