How To Continually Develop Your eLearning Skills And Knowledge
The eLearning industry thrives on the latest information and cutting-edge tech. eLearning professionals need to continually strengthen their knowledge and establish their expertise. But how do you find the time to cultivate your talents and become a lifelong learner yourself? Here are 8 simple ways to hone your eLearning skills and knowledge to ensure eLearning career success.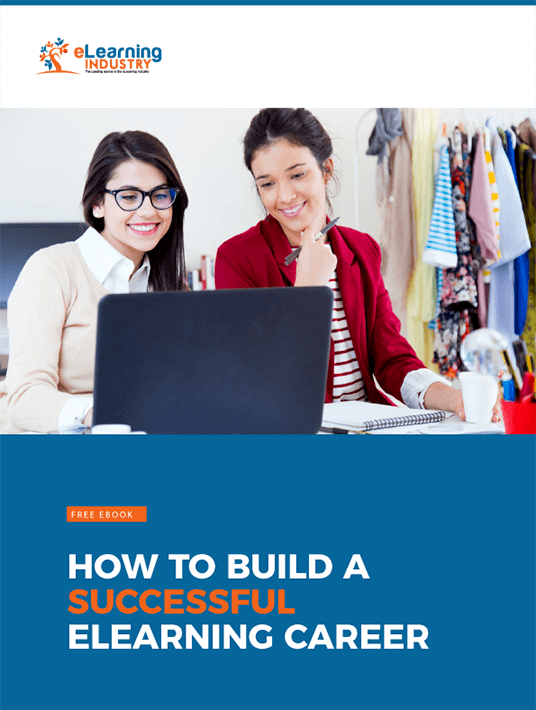 eBook Release
Get a Free PDF Download on How To Build A Successful eLearning Career!
It's time to find all the answers you seek about how to build a successful eLearning career.
1. Create eLearning News Alerts
One of the simplest ways to get the latest eLearning information is to follow the eLearning industry news. Instead of combing through countless irrelevant articles and seeking out information, let information come to you. It's easy to set up a news alert on your favorite online search engine. That way, any news that is published online with specific keywords is automatically sent to you. You can even control the frequency of alerts, so that you aren't inundated with content every time an eLearning article is published. For example, opt for a weekly digital digest of the current news in the eLearning field delivered right to your inbox.
2. Get Involved Outside Of The Virtual Classroom
There are a lot of great ways to develop your eLearning skills beyond your role as an eLearning professional. One option is to join a society or group with an eLearning or Instructional Design focus. Some of these eLearning groups are formal and require membership, while others are more loosely constructed and require less effort. For example, open social media groups or online discussions. It all depends on your personal preferences and needs. There are also great eLearning summits and gatherings that feature presentations by leaders in the field. These eLearning events give you the opportunity to interact and engage with others who are passionate about eLearning. Plus, you have the chance to network and find potential job leads.
3. Try Other eLearning Courses
Do you want to know more about eLearning? Become an online learner yourself! It will give you unique insight into the role that online learners play in making an eLearning course successful. You will also get to preview how other eLearning professionals develop and deploy their eLearning content. At the end of the eLearning course, you'll walk away with knowledge about a new field. Not to mention, some interesting tips and tricks to improve your own eLearning course design approach. Ideally, you should opt for eLearning courses that are relevant to your niche. For example, a negotiation skills class to help you create more effective sales online training courses.
4. Play With Technology
Technology plays a pivotal role in the eLearning experience. With this in mind, you should be open to try new technology and digital platforms yourself. This allows you to think of new and innovative ways to enhance your eLearning course design and content. Familiarize yourself with online video platforms, eLearning authoring tools, and new LMS solutions. Take advantage of online training tutorials, demos, and reviews to find the software that's right for your needs. Always be on the lookout for emerging game-changing eLearning trends that you can use on future eLearning projects.
5. Stay Engaged With Online Learners
A big part of learning is listening. More specifically, active listening and open communication. To develop your eLearning skills in the field, you should have a channel of communication with your online learners and clients. Listen to what they enjoy about the eLearning course, and take that information with you to future eLearning projects. That includes constructive criticism. Use all their eLearning feedback to make your next eLearning course even more valuable. Online learners give you the power to see your eLearning course with a fresh perspective, which may shed light on areas for improvement.
6. Step Inside Your Online Learners' Shoes
Some eLearning professionals may only see things from a single perspective: the viewpoint of the Instructional Designer or eLearning developer. However, you could probably benefit from some self-review. Improve your eLearning skills by test-driving your latest eLearning course design. Notice areas where you excel, and those that may need some more work. As an eLearning professional, you need to reflect on your Instructional Design and find gaps in your knowledge. Identify your strengths and weaknesses so that you can remove roadblocks standing in your way and fine-tune your talents. This also allows you to facilitate meaningful change in your online learners and help them challenge their own assumptions.
7. Join An Online Discussion
This is a great low-maintenance way to brush up on your eLearning knowledge. People can post their questions and ideas, and get opinions from other eLearning professionals. Online discussions give you the opportunity to see what other people in your position are thinking about. It is also a great way to get input if you are stuck on a particular subject or idea. Less formal than joining a society, these online discussions put you in touch with like-minded individuals. You might find useful suggestions or topics that you had never considered before.
8. Attend Webinars
You may host webinars to attract potential clients but it's also wise to attend these interactive live events as a participant. You can improve essential eLearning skills, gather new ideas, and interact with your peers. Attending webinars also gives you the chance to perfect your own hosting style. For example, the host may use a scripting approach that you can apply in your next live event. In addition to webinars, participate in live Q&As on social media, eLearning blogs, and other social learning activities.
Creating an impressive eLearning course is just one step toward success in the eLearning field. You also need to improve your knowledge of the eLearning industry and continually evolve your eLearning skills. Staying engaged with experts in the field, voicing your thoughts and opinions, and exchanging eLearning feedback are all part of the process.
Are you looking for a comprehensive guide to get your eLearning career off to a successful start? Download our Free eBook How To Build A Successful eLearning Career for valuable tips and tricks!