Why To Customize New Hire Training With A Vendor For Your Onboarding
Off-the-shelf training has its place, but onboarding is…not it. If there is any type of training that calls for a customized approach, surely this is it. Whether your program is virtual onboarding, face-to-face, or a blend, onboarding provides your new hires with their first glimpse into the company culture, values, and structure. Each organization has its quirks and specificities, and these should be reflected in the onboarding program. But if you're going to create customized training for your onboarding process, you might need help. Let's look at 5 reasons why you might want to partner with a vendor to develop a robust, customized new hire training program.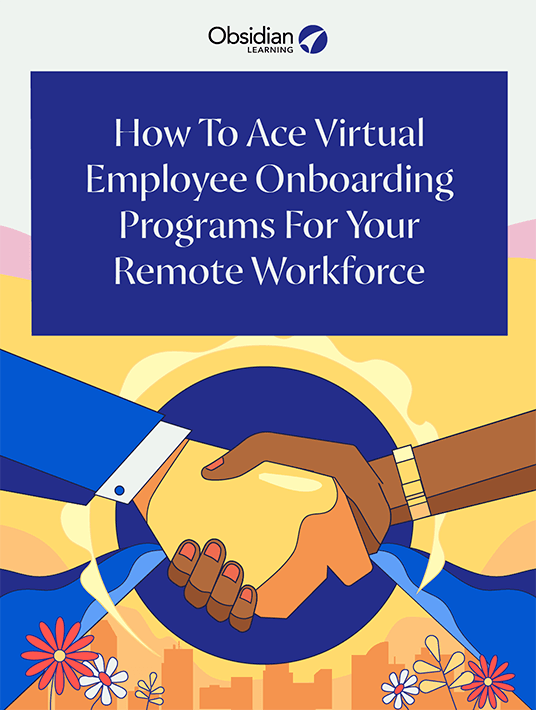 eBook Release
How To Ace Virtual Employee Onboarding Programs For Your Remote Workforce
Discover insights, tips, and practical advice about virtual onboarding of new and returning (reboarding) employees.
1. Availability
While your employees might possess the institutional knowledge to set up a customized new hire training program, they might not have the availability. They have daily tasks that require their attention, and it can be difficult to carve out the time to focus on a project that is not directly related to their day-to-day responsibilities.
A vendor, on the other hand, is focused on getting the ball rolling on your project as soon as you've signed on the dotted line. They will develop a mutually agreeable timeline and will be focused on getting the job done according to the terms outlined in your contract. Hiring a strong vendor for your customized new hire training increases capacity and ensures speed to implementation [1].
2. Specialization
The services your vendor will provide are associated with specialized skillsets that might not be internally available. A vendor's fully fleshed out Learning and Development team might include a program manager, learning strategists, Instructional Designers, animators, and graphic designers that function like a well-oiled machine. Such a talented group of individuals will be focused on learning and visual design and can provide you with fresh ideas, fresh approaches, and fresh eyes when it comes to your content.
Particularly in today's context, be on the lookout for a vendor with experience in rapid conversion of existing materials for virtual deployment. As the COVID-19 pandemic has so vividly demonstrated, organizations should be prepared to pivot to virtual onboarding as necessary. A competent vendor should offer content analysis services, engagement strategies, and a detailed design for your customized new hire training program that will provide a roadmap for the conversion process.
3. Engagement
Your staff might have a good handle on the necessary content for your onboarding program, but can they make it interesting? Can they leverage the latest developments in adult learning theory? Can they implement strategies to boost engagement? If you've selected a qualified vendor, they should be able to tackle all of these items and more.
Ideally, your vendor will partner you with a qualified learning strategist who will parse through your content and identify opportunities for engagement. This might mean implementing elements of gamification, social learning, microlearning, animation/video—but don't assume this always means a significant financial investment. You don't always need slick production values or professional animation to maintain engagement, and a skilled learning strategist will direct you toward those elements that fit both the content and your budget.
4. Organization
It can be tricky to keep track of an internal development process. As the training goes through various iterations, you can get to v10 before you know it. And if the customized new hire training program has been designed according to blended learning principles, it's a good bet that there will be a lot of moving parts.
At the conclusion of a project, any vendor worth their salt will leave you with a neatly packaged bundle of deliverables, and should provide a clearly outlined list of all assets (file names, locations, etc.) that includes a short description of each item. In terms of efficiency, this is a clear advantage as compared to digging through the sub-sub-sub folder where a vital piece of content might be buried. Leaving your files in good order is crucial to easy maintenance, which is the lynchpin of sustainability and long-term value of your customized new hire training program.
5. Perspective
While the strong institutional knowledge of your employees has the potential to enhance your custom new hire training program, it can also lead to an overabundance of content. How do you sift through all of it? A vendor can help you distinguish between "need to know," "good to know," and "save it for later"—and will provide solutions for how to treat all three categories of information.
Coming from a vendor, such determinations can be easier to accept than if originating from internal sources. You should be able to rely on the objective voice of a third-party consultant, as they should have no link to internal company politics, entrenched positions, or history—their sole aim should be the success of the program.
Finally, a vendor can provide a clarifying perspective to your customized new hire training. As they're not steeped in company culture and practices, they will more easily spot those things that might be puzzling to new hires, and can help identify opportunities for messaging or conveying a specific organizational vision.
Conclusion: Customizing New Hire Training
Team building is vital to the success of any business. If your employees don't feel that they're working with a common purpose toward common goals, it can seriously affect morale and productivity. Developing a strong, customized new hire training program is the first step toward ensuring that your employees are getting off to the right start. With a talented vendor in your corner, you can be confident that the program is in professional hands and will have the intended impact.
Be sure to download How To Ace Virtual Employee Onboarding Programs For Your Remote Workforce to discover why it's imperative for organizations to offer remote onboarding programs that will fully integrate new hires. Also, join the webinar Onboarding, Reboarding, And Upskilling: A Manager's Guide To Leveraging Your Virtual Onboarding Programs to learn how to evaluate and boost your organization's performance.
References:
[1] 10 Questions to Consider When Selecting A Custom eLearning Content Provider