Why Should You Use A Learning Management System?
The word LMS, many a time, makes us think of eLearning delivery and reports whereas the LMS (Learning Management System) makes entire corporate learning and development quicker, faster and better for both online and face-to-face delivery.
Using LMS for employee training management is highly beneficial for the organization. When the entire training initiative is system-driven, the data provides for trends, knowledge matrix, skill gaps, insights and most importantly helps you build a culture of learning in your company. In turn, the organization becomes and remains competitive and innovative.
eBook Release
The Complete LMS Implementation Guide To Ensure Employee Training Success
Learn how to successfully implement an LMS for greater effectiveness.
Let's look at the benefits in detail.
Anytime, Anywhere
Training features very high on every company's To-Do list. Your employees need to update their skills, customers need training on how to use your products or services, distributors and partners need to know the latest on what you offer. The information keeps updating and employees are either busy or on-site, offshore or in satellite offices. Getting people under one roof to train is a logistical nightmare, let alone the high cost of having people fly in and out and their lodging and boarding. Moreover, look at the vacations people need to cancel and customers that go out of sight on the training days. The organization needs to look at this problem seriously and an LMS can easily help you with this issue. All the training made available when and wherever you want, on any device.
Standardization, Updates And Self-Paced
Often, face to face training has people bored because they know half the stuff or, at times, they don't understand the trainer's accent. Also, some struggle to keep up with the rest of the people around them. With eLearning and LMS mechanisms, companies could have professionally developed content in multiple languages and people can take it at their own pace without having to change other people's speed. And when one can't answer or struggles to understand, one could just repeat the same content until one has understood. Benefit? Saves embarrassment among peers and subordinates!
Create And Curate Content
The meat of the training lies in the contents and a systematized approach lets you quickly create content on the fly. Good LMSs will allow you to create courses quickly by way of a simple to use tool and people without content creation background can publish courses. That reduces the organizational dependency on graphic designers, animators, and programmers and offers quicker turn around to deploy training content. Some LMSs also offer the ability to curate content from web links, platforms like YouTube and SlideShare. That is a huge benefit to the organization as it lowers the time and cost of content acquisition. Moreover, world-class content from renowned content publishers, universities and thought leaders.
Track, Test, And Measure
Employee training revolves around two main mechanisms—face to face and online/computer-based. And both need to offer a tracking mechanism and assessments to arrive at insightful reports of employee performance. LMS offers to let you create, upload and track digital content, create quizzes and also mark attendance of the face-to-face training events, webinars along with a key benefit to show training consumption patterns, interim knowledge checks, assessment on the topics covered and skill gaps.
Learning Paths For Employees
The efficacy of employee training rises rapidly when the organization delivers the training basis for your department, role, past performance, skill gaps, and career path. Using an LMS helps organizations drive the learner's journey along the career path. For employees, the importance and relevance of training starts to soar when learning and growth are complimenting each other. And when learning is strategized in an organization, performance reaches new heights across departments and locations.
Analytics
Without any monitoring system, training as a function remains ad-hoc, event-based and at times remains a function without accountability. The whole exercise of training should actually offer to give insights to the training department, HR and Management. Not just that, even the employee should know where he or she stands in terms of expected vs actuals with skills and knowledge. Training is necessarily a performance enhancement tool for all corporates and the journey from today to your exit should be based on the analysis of where you are. The journey should keep offering analytics throughout the travel. The LMS can actually tell you where you are, where should you go and what you will need to go there and most importantly, if you have actually reached where you had to and if not, why and what needs to be done to get there. The LMS does this well with intuitive dashboards with multiple parameters.
Download the eBook The Complete LMS Implementation Guide To Ensure Employee Training Success to discover more about the successful implementation of an LMS for achieving better effects in your organization. Join the webinar to delve into the secrets behind a victorious LMS implementation.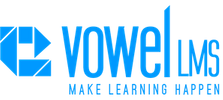 Vowel LMS
Vowel LMS is a flexible learning management tool that allows you the freedom to manage every form of learning within your organization – be it online, or in the classroom.