Achieving Training Results With Rapid Custom eLearning Solutions
When urgency pressures organizations to create rapid custom eLearning solutions, quality remains paramount. Inno-Versity rapidly delivered effective learning packages to a cyber-security company and an educator-development association—one needing courses from scratch and the other calling for custom content conversion.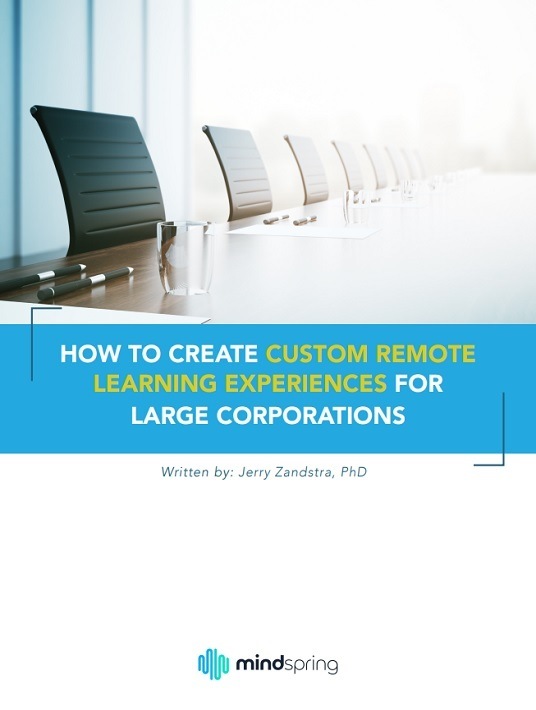 eBook Release
How To Create Custom Remote Learning Experiences For Large Corporations
Learn how to deliver quality training in the shifting sands among onsite, completely remote, and blended learning.
Accelerator: A Single Collaborative Process
Instead of a traditional model of syncing up our agency process with the client's process, we streamlined it into a single process together with the client. Using cloud-based storage, productivity, and collaboration tools, all client and vendor team members had real-time access to the content and feedback. Reducing emails and lengthy meetings, this single-process adaptation saved hours and days to be otherwise dedicated to rapid delivery.
Accelerator: Choosing The Right Tools Of A Rapid Custom eLearning Solution
Each client opted to deliver the most learning value for the timeline constraint, which required strategic deselecting. This included eliminating the need for audio narration, which simplified and sped up the development of the rapid custom eLearning solution, without loss of instruction or engagement. And instead of relying on time-intensive filming shoots, we utilized the vast available store of relevant stock images and, as needed, modified them to suit the clients' needs.
One of the biggest wins was using a collaborative, web-based, mobile-responsive authoring tool. This tool lent itself to our procedural pivots and maintained project priorities, offering a multitude of interactions for powerful custom eLearning.
Accelerator: Nonlinear Development
IV effectually removed the storyboarding process. Creating and then utilizing a template allowed IDs to informally storyboard within the authoring tool, selected to achieve the ambitious program goals. The IDs evaluated each other's drafts and had a creative specialist do a final review. At any given time, sixteen courses were in flight. This parallel assembly-line afforded an aggressive schedule that produced courses, four at a time, within four weeks.
Accelerator: Streamlined Collaboration In eLearning
Instead of relying on complicated threads for client communication, IV set up standing video check-ins. This allowed for status updates, answering questions face-to-face, and escalating risks in real-time. These co-creation sessions built upon already-established trust and created a rhythm that ultimately served the projects' expedited timelines. The routine brought clarity, cohesion, and a faster collaboration in custom eLearning.
Along with the cloud-based software used to cross-review the courses, we used other collaborative software to handle the many moving parts. With sixteen courses in design and designers tackling twelve to sixteen tasks per course, having an efficient rapid custom eLearning solution was crucial to successfully achieve the goals of these accelerated projects. IV could track each part of the process, and the clients could sign off at any time.
Accelerator: Agile Efficiencies
The selected authoring tool enabled client visibility to review progress and offer feedback before anything got too far down the road. This ensured the final product was delivered according to the client's wishes without needing major revisions.
Priorities Of Custom eLearning Solutions That Lead To Superb Results
Aligning priorities to the program goal is the foundational piece of the rapid-development puzzle. A rapid timeline can't afford the creative space of a traditional schedule. But condensed timelines don't call for a deep dive into excessive creativity. Rapid custom eLearning solutions deliver effective learning and bring to the bottom-line results that are immediate. Such development prizes consistency and keeps all instruction on-brand. The tools we used and the customized procedures in which we utilized them ensured the consistency, branding, immediacy, and effectiveness the clients expected and rapidly received.
The modern corporate environment undeniably needs to implement remote learning practices. If you're wondering how to deliver quality training in the shifting sands among onsite and completely remote and blended learning download the eBook How To Create Custom Remote Learning Experiences For Large Corporations and find out all you need to know! Also, join the webinar Why Curriculum Mapping Is The Cornerstone Of Custom Remote Learning Success, and discover more about the subject.

MindSpring
MindSpring is an award-winning agency focused on delivering engaging and transformative digital content. We create digital experiences using exceptional creativity, the best of learning science, and innovative technology. (Previously Inno-Versity)