Driving eLearning Demand With The Right Marketing
In this second installment in our series on marketing online education, we address three new challenges faced by marketers working in the online education industry. Marketing online education, whether it's promoting career boot camps, universities, or K-12 online education, possesses distinct characteristics that set it apart from marketing other products and services. While the core principles of marketing remain relevant, there are unique challenges and considerations specific to the educational landscape.
Today we will explore how educational seasonal patterns evolve and change marketing effectiveness, the long-term decision process of picking a school, and the increased use of content as three more factors that differentiate marketing online education from marketing other products and services.
Looking For Ways To Overcome Your Education Marketing Challenges?
Help your educational institution sell more courses by teaming up with eLearning Industry.
Challenges To Overcome In Online Education Marketing
1. Evolving Seasonality
Everyone knows that most university and K-12 students enroll around the same time in the fall, which makes for a hectic marketing effort leading up to those dates. But the impact on marketing activities goes much deeper than that and can influence the rolling enrollments used by coding boot camps and other adult career learning programs as well.
In most businesses, there's some amount of seasonality. In the auto industry, there tend to be more sales in the summer than in the winter because it's a more pleasant time to shop for a car. What's more is that the probability of making a sale per visit also changes, but in the opposite direction. Few people car shop in winter weather for the fun of it, so winter shoppers tend to be more serious and ready to buy. But in education marketing, on top of the normal effects of high and low seasons, there are also critical enrollment dates after which the student either can't enroll or would be at a disadvantage by having missed important material. These dates have several important impacts on marketing effectiveness.
As the deadline for enrollment approaches, the customer's decision process gets shorter by necessity, and that makes the appropriate lead time between advertising and the expected response time shorter as well. When educational providers are trying to time their media expenditures for maximum effect, and when they are measuring its impact, understanding that the time between the ad and the enrollment is shortening is important in order to get the most out of it.
Another unique aspect of educational enrollment dates is that the enrollment dates tend to correlate with student success. Early enrollees, who are committing to a program well in advance, tend to be more committed to their path and have a higher probability of completing the program, whereas last-minute enrollees sometimes have lower completion rates. Good marketers in the online education market understand those relationships and factor them into their planning process.
2. Long-Term Decision-Making
Choosing education involves a significant investment, both in terms of time and money. The decision-making process for education is typically longer and more complex compared to purchasing other products or services. Prospective students research various options, and compare curricula, accreditation, faculty, and reputation. Marketers must provide comprehensive and transparent information, address concerns, and guide students through the decision-making process. Building trust and providing support throughout this journey is essential to secure enrollments.
From the standpoint of getting the most from media investments, these long sales cycles, and the corresponding cutoff dates for enrollment, can make a larger-than-expected number of enrollments derive from the advertising of prior enrollment cycles. There's not just a larger lag between advertisements and sales, it's closer to a buildup and release of pent-up demand.
3. Educational Content Marketing
Content marketing plays a more pivotal role in marketing education than it does in many other industries. Prospective students are not just hungry for information about the programs. They are also implicitly judging the school's ability to teach them by how sophisticated the materials they are given seem to be. Marketers should partner with educators to create valuable and informative content, such as blog posts, whitepapers, eBooks, and videos, that address common questions, provide guidance, and showcase the expertise and thought leadership of the institution.
Moreover, this content should be optimized for search engines to ensure that it reaches the target audience and positions the institution as a valuable resource. Content that isn't seen, isn't impactful.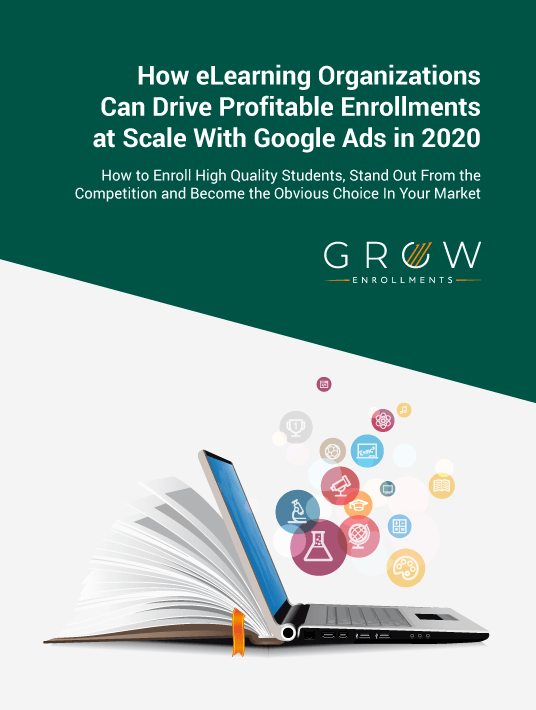 eBook Release
Drive Profitable Enrollments For Your eLearning Organization At Scale With Google Ads
Do you want to help your educational institution sell more courses? Here's a proven guide for Google Ads success.