7 Tips To Boost LMS Sales Using Content Marketing
Content marketing builds awareness of your brand while offering readers helpful insights they can use in their everyday lives. It's a win-win. As a matter of fact, value-added content can even turn your trickling revenue stream into a deluge. If you have a solid plan in place, that is. Here are 7 tips to use content marketing to boost LMS sales.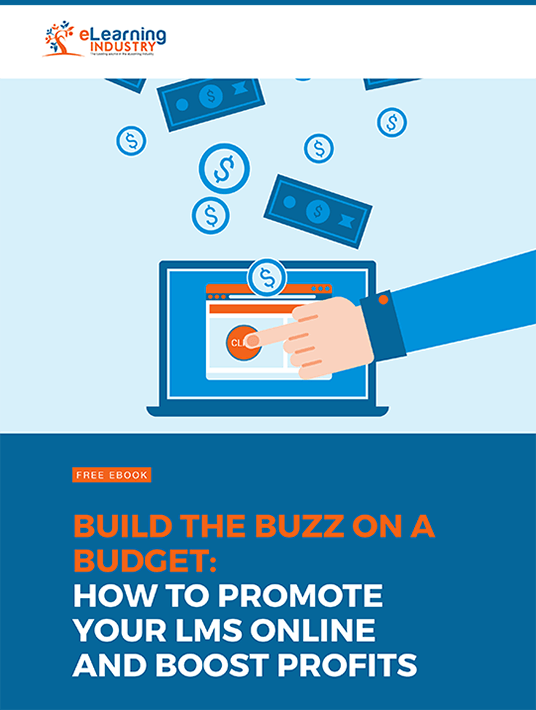 eBook Release
Build The Buzz On A Budget: How To Promote Your LMS Online And Boost Profits
A useful tool for Marketing professionals in the Learning Tech industry who want to make an impact.
1. Find The Ideal Marketing Platforms
You must have a place to post your content once it's been produced. Ideally, a platform that already has an established readership in your niche, so that it helps boost LMS sales through content marketing. Every online marketing site has its own submission guidelines. Thus, you need to research their requirements in advance so that you know how to craft the perfect piece. For example, do they have a maximum word count? Are you only able to discuss certain topics? Some platforms even allow you to track reader engagement with built-in analytics. For example, eLearning Industry helps you monitor views, referrals, clicks, and user locations.
2. Include SEO Keywords
Search engine optimization increases online visibility, which can potentially boost LMS sales. Targeted keywords help you rise in the search engine rankings so that interested readers will find your content quickly instead of getting lost in the millions of eLearning articles that are already indexed online. Try to use keywords that aren't overly saturated, but still see a significant amount of traffic. There are plenty of keyword tools available online, simply type in your word or phrase of choice to see its frequency, volume, and competition level. Some tools also feature a CPC estimate so that you can create more targeted PPC ads for your LMS.
3. Become A Niche Expert
People are looking for information that can help them solve a problem or make a well-informed decision. For example, which LMS should they purchase based on their training requirements and budget? These individuals are more likely to buy software from an LMS provider that has established an online presence, particularly niche experts who know their stuff and are willing to share their insights. You must be ready to offer readers free tips and advice to become an expert in your field and boost LMS sales.
4. Always Link To Your LMS Product Page
The primary purpose of content marketing is to get people to buy your LMS product. Building credibility and trust with your target audience is an added benefit. Always include a link to your site or landing page so that readers can quickly access more information. Ideally, they'll be so impressed by your content that they click through to the LMS product page and sign up right away. You should also include a brief call to action that encourages them to tap that button or link. To boost LMS sales, you can also mention one of the top features that makes your LMS a worthy contender, or include a free perk for users who purchase the software via the link, such as an eBook or special discount.
5. Focus On Practical Problems
The content you employ to market your LMS and boost LMS sales should offer practical solutions to everyday challenges. For instance, how to improve employee performance by switching to online training, or how to avoid the most common LMS implementation obstacles. Of course, the content must tie in to your LMS product and its unique features, but it should be done in such a way that readers don't feel forced. We've all experienced content marketing that was more of a sales pitch than an informative guide. Make your potential clients feel at ease by addressing their problems first, then offering an example of how your product can help.
6. Include Multimedia To Captivate Your Audience
Content marketing isn't just text-based eLearning articles and eBooks. You can also include multimedia to keep them entertained and engaged. A demo video shows them how to use your LMS, emphasizing the user-friendly interface. Or your weekly podcast highlights the benefits of owning your LMS software, citing specific examples or case studies. You can even incorporate media into your eLearning articles to make them more interactive, such as relevant images or video clips that sum up the LMS product specs. Webinars are also a very effective way to inform and train your customers and prospective clients on new features and the use of your product.
7. Use Analytics To Custom-Tailor Content
A thorough study of your Analytics apps will help you devote resources to content marketing strategies that make the most impact and boost LMS sales. As an example, your website stats show that an eLearning article you posted last week saw a surge in traffic. This means that you may want to focus on this topic again in the future given that so many people were interested in the subject matter. You might even consider an eBook that delves into more advanced tips. Likewise, a social media post that saw low reader engagement usually indicates one of two things: either you need to switch social media platforms or focus on other topics that grab followers' attention. Another benefit of analytics is that you can compile survey findings and create data visualizations. For example, a recent poll found that most of your Facebook followers are interested in SMB Learning Management Systems. In response, you devote online training resources to a new article and video series that showcases your LMS's benefits for small businesses.
A great place to start your content marketing campaign is with eLearning Industry. You can post eLearning articles on our platform and be seen by over 600,000 eLearning professionals. We'll also share your content with thousands of our social media followers, many of whom are in the market for a new Learning Management System. Submit your eLearning article for review and gain maximum exposure.
Is your LMS marketing strategy achieving results or is it proving to be more problematic than expected? Download our free eBook Build the Buzz on a Budget: How To Promote Your LMS Online and Boost Profits to identify your LMS's unique selling points and use social media to your advantage. We'll also highlight some innovative marketing techniques to help you build the buzz and generate more business.
We also offer a results-driven PPC platform to advertise your Learning Management System (LMS) online. Get targeted PPC internet marketing for your Learning Management System and gain maximum exposure from hot prospects.