Exploring AI's Impact On B2B Demand Generation
Industries across the globe, irrespective of their nature of work, are adopting Artificial Intelligence (AI) as the technology is getting smarter day by day. Its features, such as predictive analytics, personalization, cybersecurity, and speed, are some of the reasons that are contributing to the increasing trust businesses have in this technology. Now, if we talk about B2B demand generation specifically, there is much to look forward to and discuss. Moving ahead, in this article, we are listing some of the possible ways AI is impacting and transforming B2B demand generation. Now, before we proceed to the discussion of using AI to create B2B demand generation, let's understand what this term stands for.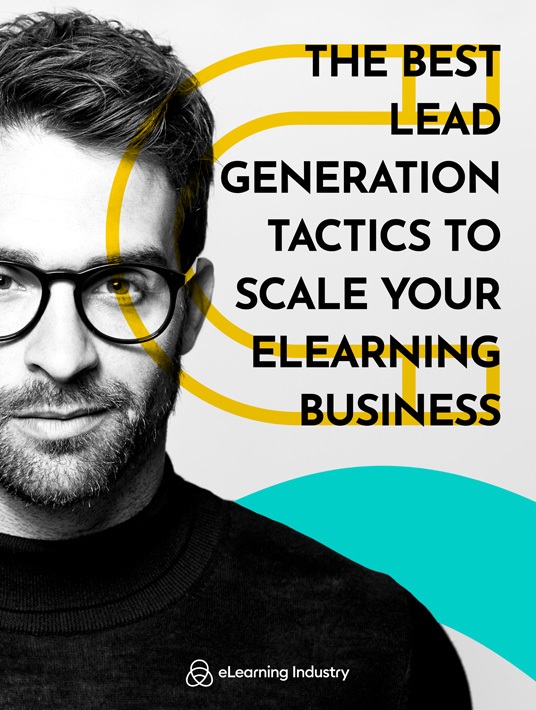 eBook Release
The Best Lead Generation Tactics To Scale Your eLearning Business
Wanna boost your lead gen efforts? In this marketing eBook, you'll find tried and tested techniques and innovative ideas for lead generation.
What Is B2B Demand Generation?
As the name suggests, demand generation is a goal that businesses try to achieve by optimizing their advertising and business processes to create a demand for products and services. These tactics may include marketing, personal selling, personalization, and more. Specifically for B2B demand generation, the demand is created for tools, products, or services that businesses might find useful. For instance, video editors, stationery items, digital marketing services, and more.
How AI Enables B2B Demand Generation
1. Effective Decision-Making With Predictive Analytics
AI's capability to predict approximate outcomes using data is called predictive analytics. This quality of AI has influenced the way businesses work. Businesses are using predictive analytics to better understand their target markets. AI also helps businesses understand gaps that can be filled by launching a new product/service that users might want. For instance, the eCommerce juggernaut Amazon is using AI to predict the demand for products. The company leverages historical data that it collects through the shopping and search behavior of users to predict demands. It also uses this data to create demands by optimizing its advertising campaigns accordingly.
2. Personalize User Experience To Create Demand
A report by Accenture states that 91% of customers prefer making purchases from brands that offer relevant product recommendations and personalized offers. Everything you do on the internet is tracked and converted into digital data. AI is supported by technologies like deep learning (DL) and Machine Learning (ML). DL collects the data and ML helps the AI find patterns in this massive dataset that users generate by exploring and buying products or services.
The data also helps top Artificial Intelligence companies predict what potential customers might like, and shows recommendations on their screens accordingly. Each user on the platform gets product/service recommendations depending on how they make purchase decisions. This ability of the technology helps platforms create demand by showing customers products they might need but did not know about.
Among the major examples of personalization are names like Netflix, Amazon, Spotify, and more. Netflix and Spotify track the way users stream content on these portals. Using data generated from this activity, recommendations for more content to stream are shown on their screens. This helps users find movies, shows, music, and other such content that they might like.
3. Enhanced Advertising Campaigns
The right advertisement strategy contributes to improving the ROI of an organization. AI helps businesses optimize their advertising campaigns. The data generated by tracking users' behavior in making purchase decisions helps AI to figure out the taste of potential customers. This helps businesses create and deploy more personalized advertising campaigns.
On users' screens, advertisements are shown on the basis of what they like. Brands like Google use this personalization to show ads on several websites, apps, and on platforms like YouTube. A Wunderkind report suggests personalized marketing campaigns improve, on average, 28% of the brand loyalty of millennials.
4. Enhanced Quality Of The Marketing Content
The quality of marketing content, whether written or graphics, influences the ROI positively or negatively. So, it has become crucial today to focus on the quality of the content that is shown. Even search engines like Google and Bing consider quality in their algorithms as one of the crucial factors to rank websites for. The goal of these search engines is simple: to offer relevant but best-quality content in top recommendations. So, using AI can help you fill this gap, even if you do not have language or design experts in your organization.
There is a massive boom in AI generative tools thanks to the top Artificial Intelligence companies. There are plenty of design tools and writing tools in the market currently that lets users generate unique content using simple commands. You can use tools like ChatGPT and Bing AI, among plenty of others, to generate high-quality written content within seconds. These tools also let you customize the intent of the content, its tone, word count, etc. For graphics, there are popular tools like Canva, Midjourney, and Dall E-2 which generate visuals within minutes once the commands are submitted. Using AI tools as an advertiser, not only can you improve the quality of your marketing strategy, you can also increase the quantity of your advertising content.
5. Creating Demand Through Customer Service
Customer service is a good way to communicate with your customers and inform them of products and services they can use depending on their purchase behavior. Using AI, this process can be automated. Many industries use AI in their chatbots. Major users of AI chatbots include banks, retail companies, digital grocery stores, and more.
The goal is to resolve customer queries faster than ever before, and the improving quality of AI is also boosting the quality of customer service and helping brands boost their customer retention rates. Now, apart from offering satisfactory and fast customer service using AI, which ultimately helps brands build trust, AI is also useful in pitching possible products or services that the targeted customers might prefer.
Wrapping Up
AI is revolutionizing the way businesses work and helping them scale better. However, AI is also creating a situation that will require much more effective strategies. This technology will be bringing about fierce competition in the corporate world where many start-ups and small businesses still do not have the ability or budgets to achieve quality in their advertising campaigns, as compared to large businesses.
Do You Need A Consistent Flow Of High-Quality Leads?
Team up with us to create and execute a successful lead gen strategy. In our Media Kit, you'll find high performing solutions to promote your eLearning products and services to the right buyers.