Blended Learning LMS Buyer's Guide: Tips To Bring The Best Of Both Worlds To Your SMB
SMBs should be able to reap all the rewards an LMS has to offer. But there is still something to be said for the traditional ILT approach. So, how can you walk the fine line between online training and face-to-face sessions? The solution is a blended learning LMS that helps you overcome the drawbacks of both. Our eBook, Blended Learning LMS Buyer's Guide: Tips To Bring The Best Of Both Worlds To Your SMB, features tips and tricks to successfully implement a blended learning platform. But first, let's explore some of the hurdles that a blended learning LMS helps you break down.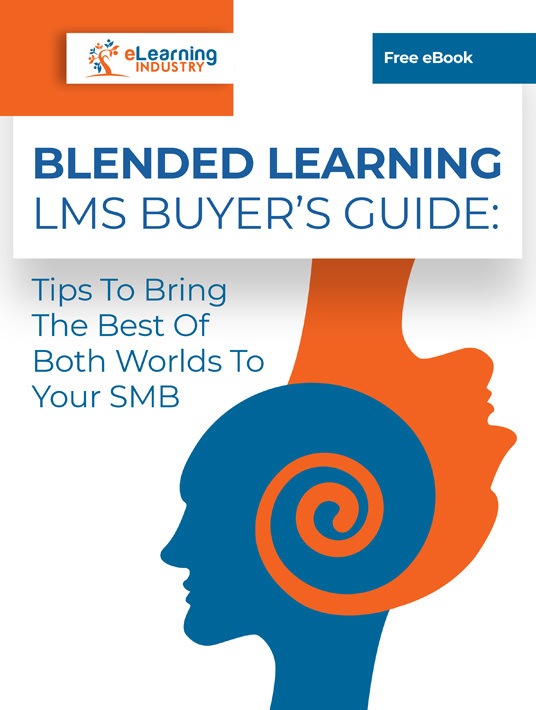 eBook Release
Blended Learning LMS Buyer's Guide: Tips To Bring The Best Of Both Worlds To Your SMB
Discover how to remedy traditional training gaps and bring the best in your SMB using a blended learning LMS
ILT And eLearning Obstacles A Blended Learning LMS Can Overcome
1. Lack Of Human Connection
Humans are social beings. Even the most introverted person needs contact from time to time. However, online training can be a bit isolating. Employees are all over the globe and don't really have the chance to engage with one another. Especially if you rely on a solely self-paced and asynchronous strategy. Even ILT sessions have their human connectivity roadblocks. For instance, there are so many attendees that very few employees get a chance to meet with the instructor. A blended learning LMS bridges the divide and allows employees to interact with ease. They can attend live events or face-to-face training sessions. As well as access autonomous training tools that bridge the gaps and allow them to go at their own pace.
2. Accessibility Obstacles
One of the most common hurdles of traditional training is not being able to get moment-of-need resources. If employees have a problem, they have to either wait until the next training session or ask their managers. So, many performance and skill gaps will go unchecked because they don't want to lose face and seem ignorant. Blended learning gives them JIT tools so that they can quickly address challenges. Either on their own or by using social learning and peer-based support tools. Just make sure that your new blended learning LMS is mobile-friendly and/or allows offline access.
3. Skyrocketing L&D Expenses
The costs can quickly spiral out of control for both ILT and eLearning. In the case of ILT, you need to factor in on-site instructors, site rental fees, printed materials, and travel expenses. Not to mention payroll hours for seat time. eLearning involves other costs, such as developing content. However, you can supplement or replace some of these resources with live events and face-to-face training sessions if you switch to blended learning with the aid of a blended learning LMS. While still eliminating many of the costs you'll incur with an ILT-only strategy. As a result, you can get your L&D spending under control and allocate resources more efficiently.
4. Inflexible And Difficult To Scale
ILT training requires employees to attend an event at a specific time and location, which doesn't leave much room for their busy schedules. It's inflexible and difficult to scale. Given that you have to account for printed manuals, the site's occupancy, travel fees, etc., blended learning makes it easier to accommodate the 'overflow' and employees can choose the best training time for them. You can train as many employees as you need, while still ensuring that it meets everyone's expectations.
5. Low Motivation
Though there is no cure-all for lack of employee motivation, blended learning can give them a nudge. ILT doesn't give them a viable way to receive support outside the structured training environment, while eLearning often leaves them on their own to bridge gaps. A blended learning LMS, on the other hand, can motivate them to do better by personalizing the process. They can use self-paced resources to address areas for improvement and attend live events for follow up support, or vice versa.
Bringing The Best Of Both Worlds To Your SMB
SMBs working with limited resources don't have room for buyer's regret. As such, you need to find the right blended learning LMS the first time around. Our eBook features everything you need to invest on, wisely. Here are just a few tips, tricks, and techniques you'll discover in Blended Learning LMS Buyer's Guide: Tips To Bring The Best Of Both Worlds To Your SMB:
Traditional training gaps that a blended learning LMS can bridge
Reasons to opt for a blended learning strategy over a full-fledged eLearning program
Blended learning platform myths and the truth behind blended learning LMS implementation
Tips to leverage your new blended learning software for management training
Blended learning gems to add to your new platform to improve workplace performance
Top concerns your L&D team has about launching a blended learning program and tips to ease them into the new platform
Tell-tale signs that a blended learning approach is best for your organization
Budgeting tips to help you stretch your blended learning resources
Ways that blended learning redefines instructor and facilitator roles in compliance training
Features that set blended learning platforms apart from traditional online training solutions
If you're ready to make the move from traditional training our eBook can help you choose the best blended learning solution within your budget. It covers all the essentials, including features to look for, how to leverage your software for management training, and activities to add to your library. As well as the most notable reservations your L&D team has about blended learning and how to help them transition to the new tool. It's available to download and will help you implement your blended learning LMS more effectively so that you get the best value for money.
How is conventional training problematic, and how can the blended learning approach fix it? Is there any way to convince employers blended learning software is the way to go? Download our eBook Blended Learning LMS Buyer's Guide: Tips To Bring The Best Of Both Worlds To Your SMB and discover how to remedy traditional training gaps, leverage your blended learning platform for managing online training, and how to bring the best in your SMB by using a blended learning LMS.