What To Ask When Consulting Your eLearning Content Provider
Many organizations avoid eLearning outsourcing not because of the costs or of giving up control. They understand that you have to pay for professional expertise and that their team will take the reins. The real reason for their apprehension is choosing the wrong company, which makes these drawbacks even more disastrous. For instance, an eLearning vendor that disregards the online training objectives sneaks in hidden fees or doesn't give the organization any creative input. So, how do you find an eLearning content provider who understands your online training needs and works within your budget? Here are 7 questions to ask your outsourcing partner during change management consulting.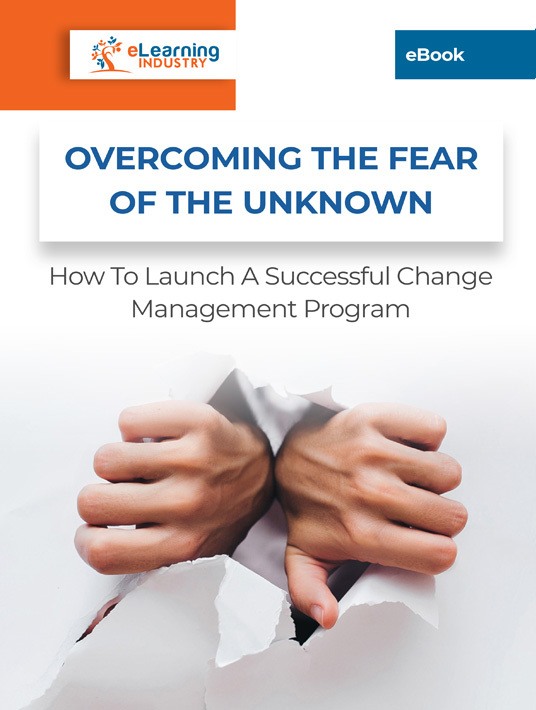 eBook Release
Overcoming The Fear Of The Unknown
Launch a change management program that is destined to be a roaring success.
1. What Is Your Experience In This Niche?
The eLearning content provider might have an extensive work history but very little experience with your industry. Do they understand the unique problems associated with change management in your organization? Or do you need to spend the first few days familiarizing them with internal processes and protocols? Even then, they may not have the insider know-how to achieve your online training objectives. Ask them to elaborate on their experience and on how they'll apply it during this project. For example, mistakes made in the past have taught them valuable life lessons that can help you avoid the same slip-ups.
2. How Will You Address Employee Reluctance?
Most employees will shudder at the thought of change. They know it's in the best interests of the company, but the process is usually stressful for staffers. How will the eLearning content provider make change management online training easier on team members? How will they address their apprehension and highlight the importance of active participation? Do they even understand the stressors involved in change management online training, to begin with? A part of this process is to identify motivators. Why are employees so reluctant and how can you tap into their internal drive?
3. Which Online Training Resources Will You Include In The Change Management Strategy?
Having a general online training strategy is one thing but change management consulting needs to get down to the brass tacks. How are they going to implement their plan at the resource level? Which support online training tools will they use to reinforce knowledge and facilitate real-world application? The key is to impart the information in an engaging and entertaining way without downplaying the significance of change. Can the eLearning vendor create online training activities that resonate with your employees and ease them into the transition? Can they cater to different preferences and learning needs, including staffers with special considerations?
4. Which Other Solutions Do You Offer?
You're probably focused on change management right now because it's on everyone's mind. But the truth is that you need an eLearning content provider who can offer diverse solutions. Change management is such a broad topic that involves multiple facets. From JIT online training support and skill-building to serious games that encourage real-world practice. Even after you've implemented the change, you should still be able to call on the eLearning vendor for future projects. So, ask about their solutions menu to see if they're multi-talented and ready to pursue other online training avenues.
5. How Will You Make The Transition Process Personal?
Staffers know that change management online training is mandatory, but that doesn't mean it has to be purely professional. In fact, your eLearning content provider must be able to personalize the process and create an emotional connection. How will they cater to different online training needs, preferences, and styles? Will they expect everyone to use the same online training resources or can they customize activities for every department/user group?
6. How Do You Plan To Get Employees Involved?
Even after the eLearning vendor overcomes the apprehension hurdle, there's still the matter of employee involvement. This goes beyond emotional investment. Staffers need to actively participate in online training to get the most from the experience, as well as facilitate peer-based support within your organization. How does the eLearning content provider plan to spark engagement and collaboration? Are live events and social media groups part of the plan? Will they develop simulations and scenarios to immerse them in change management challenges? How will they identify employee needs in the first place? For example, do they conduct surveys and online training assessments, or is that something you need to take care of beforehand?
7. What's The Best Way To Maintain Positivity During The Change?
There's no place for negativity in your change management online training program. The mere idea of change can put some employees on edge. They don't know if their position is still available after the transition. Or how the change will impact their job duties. Thus, your online training course needs to maintain a positive tone to let them know you're there to help. That your organization will support them during this time of flux and give them all the online training tools they need. How will the eLearning vendor maintain positivity throughout the process? Do they understand the tone you want to convey and how to incorporate it into the strategy? How do they plan to address naysayers or critics of the change management plan? What will they do to make everyone feel included?
New business practices, leaders, and policies usually mean more work for your L&D team. But hiring an eLearning content provider can reduce their workload and improve ROI. The trick is to find a partner that meets your expectations and doesn't bring any unwanted surprises with them, such as hidden fees and lack of niche experience. Ask these questions to choose a change management consulting provider that lends their insider expertise to your online training program.
Every organization must endure change from time to time, and this can be frightening. Download the eBook Overcoming The Fear Of The Unknown: How To Launch A Successful Change Management Program to discover how to launch a change management program that is destined to be a roaring success.