How Your Organization Can Profit From Change Management Consulting
Your eLearning company is ready for new leadership. Or maybe you're expanding into different markets, which calls for fresh policies and protocols. Whatever the reason, change is on the horizon. Is your team prepared for the obstacles that await them? If the answer is anything but a strong "Yes!" it may be time to enlist the help of a change management consultant. Someone who can step in and look at your current approach with an unbiased POV. But is it really worth the time and expense? Or should you try to tackle the change management online training course on your own? Here are 6 surprising perks of hiring a consulting firm for eLearning companies.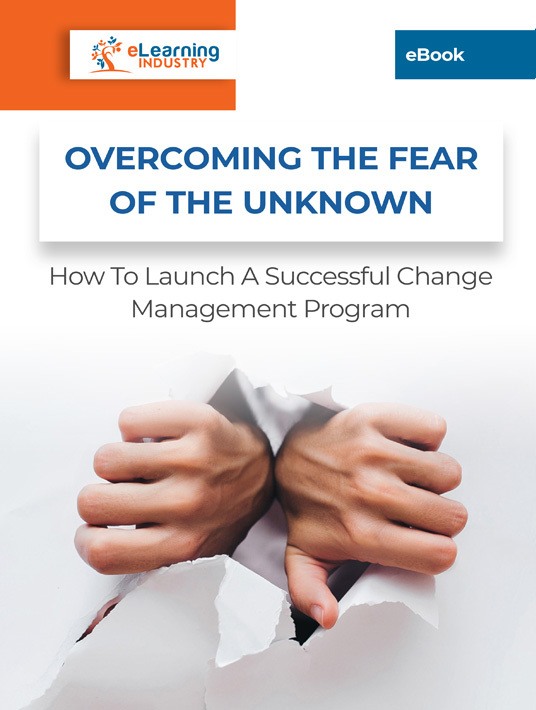 eBook Release
Overcoming The Fear Of The Unknown
Launch a change management program that is destined to be a roaring success.
1. Get A Fresh Perspective
Your team is in the midst of change or just about to implement the new plan of action. They've also worked in the organization before the transformation and possibly even developed the current online training tools, depending on their role. Change management consulting brings in a new POV. Someone who doesn't have any emotional attachment to the "old" practices or online training strategy. As such, they bring in fresh ideas and opinions to help you improve your change management plan. Another reason to bring in a third-party consulting firm is to avoid internal conflicts. The members of your organization have different approaches to change. Or different strategies that might lead to arguments and power struggles. An eLearning outsourcing partner serves not only as a mediator but also as a decision-maker.
2. Reduce Development Costs
You might assume that hiring an eLearning content provider might be more costly than doing it yourself. However, their expertise can help you stretch online training resources because your team can tackle other matters. It's a better use of company assets, in most cases. You don't have to worry about overspending on support online training tools that are irrelevant. Or spending weeks developing a simulation that the outsourcing partner can create in a day. You must also consider the ramifications of change management online training development on your staffers. Hiring an eLearning content provider allows them to perform their regular job duties and maintain the same level of productivity.
3. Achieve Faster Implementation
Some changes occur more gradually than others. You have plenty of time to make the switch and acclimate the employees to new processes. Then there are changes that need to happen quickly. For example, you lose your top leaders and need to introduce their replacements or new rules go into effect. This is when change management consulting becomes crucial because it allows you to implement new practices rapidly. They've seen it all before. So, they know what it's like to work on a tight timeline and deliver a high-quality finished product, AKA a change management online training course that covers all the key points and fosters emotional connectivity.
4. Improve Online Training Engagement
eLearning content providers know which points to address in online training for change management. More importantly, they know how to deliver the information in a way that's easy to digest and comprehend, rather than boring your employees to the point that they click away and mentally disengage. For example, they're aware of the distractions and stress factors that might pull employees away from the experience, as well as how to make things personal and relatable for every member of the organization. This is why it's so crucial to look for an eLearning vendor with multiple solutions. They approach online training issues from multiple angles instead of just relying on a single design methodology. For instance, create microlearning tutorials for external partners who are constantly on the go. Or interactive branching scenarios for employees who prefer more experiential and hands-on activities.
5. Identify Hidden Gaps In Your Online Training Strategy
Your L&D and HR departments know the inner works of your online training strategy. However, they might be too close for comfort. They're unable to see the flaws in your online training strategy or have learned how to work around them. An outsourcing partner gets to the root of the problem by identifying those hidden gaps and devising creative solutions. Here are just a few of the ways that change management consulting can help you identify areas for improvement:
It conducts surveys and polls to gather eLearning feedback from the employee training participants' POV.
It carries out a Training Needs Analysis that involves LMS reports and online training assessment metrics.
By evaluating engagement stats for your online training library to see which online training resources are spot-on and which need some minor adjustments. This also helps them develop new online training content based on employee needs and expectations.
6. Retain And Destress Top Talent
This is a two-fold benefit of change management consulting. Firstly, you retain employees who participate in online training because they have all the support they need. Online training resources are engaging and relevant. Secondly, you retain your back-end development and admin team who are charged with online training implementation. They don't have to deal with the stress of custom content creation or analysis. The eLearning content provider is there to lighten their load so that they can focus on other tasks. Like developing new online training content for other aspects of your online training strategy and collecting eLearning feedback from employee training participants.
Of course, all these perks hinge on choosing the best outsourcing company for your business transformation, whether it's going global or simply modifying a few policies and compliance regulations. Meet with potential eLearning vendors to see who fits the bill and delivers top value for money. You can also ask for a sample project to verify their industry knowledge and design expertise. Lastly, get the whole team involved. Especially employees who will work closely with the eLearning content provider to realize your vision.
Every organization must endure change from time to time, and this can be frightening. Download the eBook Overcoming The Fear Of The Unknown: How To Launch A Successful Change Management Program to discover how to launch a change management program that is destined to be a roaring success.