Meeting The Training Needs Of Your Remote Workforce
Training external partners and remote team members isn't the same as training your in-house staff. For one thing, their compliance requirements are different. In some cases, you can simply tweak your regular course to fit your remote workers' needs. But you do need specific tools to service them. Especially those who are always on-the-go and need to be able to access support tools from anywhere in the globe. Let's look at some of the "special needs" your off-site team requires, and how you can cover them with the right compliance training software.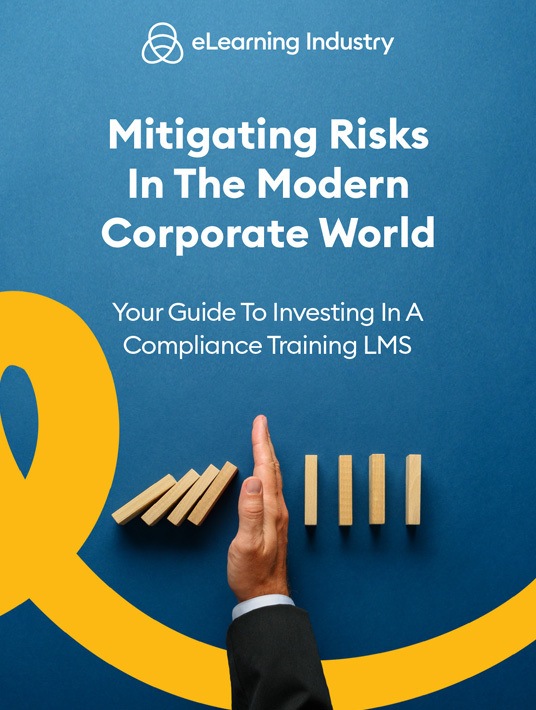 eBook Release
Mitigating Risks In The Modern Corporate World: Your Guide To Investing In A Compliance Training LMS
Revamp your compliance training strategy by implementing a compliance training LMS.
Must-Have Features Of Compliance Training Software
1. Off-Site Compatibility
External workers fall into several categories. They might work from home, be based in a different office branch, or mostly operate on the road—the latter mostly applies to your sales team and distributors. If they're freelancers, they might have a work station, but mobile workers don't. That means they'll likely train on their smartphones and tablets. Ensure your compliance training LMS has the capacity to link to these portable screens, allowing them to log in anywhere. The LMS also needs the ability to create offline access in training courses. This enables your remote team to study even when they're not linked to the web. A responsive LMS automatically detects their device of choice to display the most suitable version of the online training content, meaning that everyone reaps the same rewards.
2. Notifications And Alerts
When you're in the same physical space as your corporate learners, informal communication is easy. You could post a memo, or bump into them in the office corridors. You could even go to their desks if you need to. Off-site workers don't have that kind of access. They probably don't even have regular 9 to 5 hours, and maybe they only check their emails once a day. You need to send them in-course reminders when they fall behind. They probably need these alerts more than the desk-based colleagues. Why? Because without an office base, their days may be so freely structured that it's easy to forget online training sessions. Your LMS has to have intuitive push notification tools, ideally, the automated kind. Also, for your remote teams, look for compliance training software with automatic certification renewal notifications to ensure they're always up to code.
3. Effective Tracking Tools
Aside from reminding them to keep up with their studies, you need to see exactly how they're doing. Adult learners won't always admit when they're struggling, especially in the corporate setting. The workspace can be immensely competitive and admitting ignorance can feel like a show of weakness in the "business jungle." Plus, remote workers may already feel insecure and out of the loop. However, it's still crucial to indicate when there's a problem. Like if they keep failing a particular compliance test, or if they haven't moved past a specific chapter in the online training course. Then, you can send help, for example, reference materials and supplementary reading lists. But you can only do so if your compliance training software has remote tracking tools for your employees. So, add advanced reporting to your must-have LMS features list.
4. Convenient eLearning Feedback Tools
Similarly, on the occasions when your out-of-office team does need to get in touch, they can't just knock your door. And it's not convenient to bring up a training matter via text or phone call. In-course online training is far more immediate. It also helps them pinpoint the exact issue. If they had to text or email, they'd have to give you context, which takes more time and effort. Given the additional work involved, they might not even bother. Check that your LMS can create relevant eLearning feedback tools specifically for remote functionality. There should even be some form of peer-based feedback. For example, the tool supports social learning so that every member of your team can collaborate and share insights.
5. Interactive Design Capabilities
We all agree that online training courses, compliance or otherwise, work better if they require active involvement. But the kind of responsiveness available for mobile varies. Your staff may have gadgets that can detect and apply corporate learner activity. You have to build those elements into your online training course though. Think about the interactive features you want (e.g., pop-ups, light-boxes, timelines). Then, ensure your compliance training LMS contains them in its online training palette.
6. Multimedia Provisions
Immersion is best achieved using elements like ambient sound, haptic feedback, and closed caption video. These online training content formats should be easy to find, navigate, and maneuver. Your online training course should have mute, pause, and replay options. These are all put in during online course creation, then extended to your remote workers. Confirm that your LMS course design tools can enable these features for your off-site corporate learners.
7. Multilingual
If you're working with a geographically dispersed team, your LMS needs to speak their language. Many corporate compliance training software platforms feature multilingual support. Remote employees automatically receive online training content based on their physical location. But they're also able to customize their preferences when traveling. For example, opt for English content when they are "on loan" to your German branch.
Your compliance training software for remote teams is a multipurpose tool, and you may not know all the features you require ahead of time. But if you know you have a significant external team that needs compliance training, tick those features off. You need an LMS that allows them to log in no matter where they are. It needs to present the ability to send your corporate learners training reminders and to track their learning progress. Interactive courses are the most effective, so be sure your compliance training LMS can create them. You also need feasibility for multimedia uploads. Finally, ensure your off-site corporate learners have intuitive eLearning feedback features so they can stay in touch with you.
What are the most common pitfalls to avoid when implementing a new compliance training LMS? How do you create an accurate budget that accounts for all the hidden fees? Download our eBook Mitigating Risks In The Modern Corporate World: Your Guide To Investing In A Compliance Training LMS to find out all the insider secrets for compliance training as well as how to overcome challenges that might occur.