Best Compliance Training LMS Software For Corporate Training
The right compliance training LMS software can help you boost employee engagement and mitigate risks. Let's face it, most staffers would rather get a root canal than sit through another compliance presentation. The second they hear "mandatory," they mentally check out. This is because employee compliance training gets a bad rap. It's synonymous with long handbooks and boring lectures, with a few outdated safety training videos thrown into the mix, of course. However, moving your compliance training courses online can turn the tides as it allows you to launch a learner-centered strategy for your remote workforce.
Check out our top compliance training LMS software list to:
Focus on compliance training LMSs that fit into your budget
Check out the top compliance training LMS features for this use case
Evaluate LMS reviews to get top value for money
Compare LMS solutions for compliance training
Find the right LMS for your needs
In this top list, we've gathered the best Learning Management Systems for compliance training. If you're looking for all-around corporate training LMSs, you can check out our full directory.
Here Is eLearning Industry's Top Compliance Training Software List
Discover The Ideal LMS Solution For Your Compliance Training Needs
Visit our directory to compare top LMS tools and their features. Save money and time by checking ratings and reviews!
What Were The Criteria That Determined Which LMS Companies Made The List?
Global recognized LMS experts, including C. Pappas, and our editorial team did a thorough review of each vendor's eligibility and relevant published content (articles, eBooks, webinars). Our committee ranked the best compliance training LMS software based on the following 9 criteria:
Customer support
Customer Experience
Software features
Software innovation
Customer reviews
Economic growth potential
Company's customer retention
Employee turnover
Company's social responsibility
Now that we've revealed the best LMS for compliance training, let's go over some of the buying essentials.
So, make sure to read our tips on what you need to consider when opting for a compliance training LMS tool.
Benefits Of Online Compliance Training For Your Organization
Every organization needs effective compliance training to minimize risks and keep employees safe on the job, regardless of your staff size or sector. It also ensures that all the L&D records are in order if you're ever audited. For example, you can prove that every employee has received proper training and understands the local regulations. But that's only the beginning. Investing in compliance training LMS software can bring many benefits to your bottom line.
Reduce Employee Turnover
Top performers are more likely to stay put thanks to effective employee compliance training. They know that you have their best interest in mind and prioritize on-the-job safety. For example, you provide health and safety training online to help them avoid workplace hazards. The right compliance training solutions also prevent accidents that cause long-term absences, like slip-and-fall injuries that result in hospital stays and rehabilitation.
Bridge Performance Gaps
Most employees aren't natural-born rule breakers. In fact, they're usually unaware of negative habits or behaviors that lead to compliance violations. One of the advantages of compliance training is that you get to identify common pain points. But employees still have the opportunity to evaluate personal gaps that relate to their job duties.
Improve Your Brand Reputation
Customers' preferences indicate that they like doing business with companies who keep everything above board. The same goes for job candidates. As such, ethics and compliance training can help you build credibility and improve your brand rep since employees know how to implement company policies and mitigate risks in the workplace.
Lower Business Expenses
Online compliance training is more cost-effective because it eliminates travel expenses and printed materials. Not to mention, instructor fees and site rentals. It also reduces training seat time and L&D payroll expenses. Lastly, compliance training LMS software can help you decrease insurance premiums and workers' comp claims.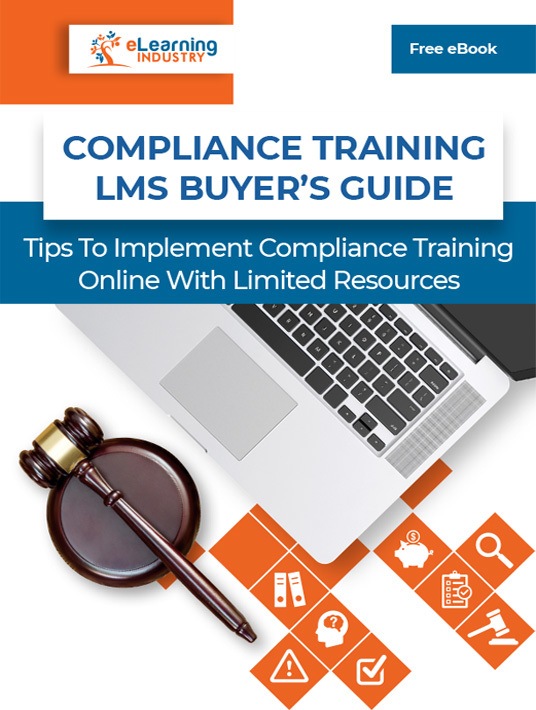 eBook Release
Compliance Training LMS Buyer's Guide
Get all the tips you need to implement compliance training online with limited resources
What To Consider When Comparing The Best Compliance Training Vendors
Above all, finding the ideal compliance training LMS calls for in-house analysis. You need to gauge your expectations and team skillsets, as well as calculate an accurate expense sheet to avoid overspending. When choosing the best compliance training LMS software for your organization, here are a few things to keep in mind:
Team Tech Experience
Is your team already familiar with Learning Management Systems for compliance? Do they know their way around an authoring tool? What about other software and apps that are vital to your business? You need to assess your employees' tech expertise to find the best compliance training LMS. Ask for their feedback early on in the selection process. For example, conduct surveys and polls to see just how tech-savvy they are.
Current eLearning Toolbox
Ultimately, you need a compliance training Learning Management System that's compatible with your existing tools. For instance, it supports the same format and tech specs as your eLearning authoring software. Or maybe offering web conferencing integrations is a must-have for your online training needs. This is yet another reason to get input from your team as they know which tools you have and can highlight potential conflicts.
Compliance Training Budget And Time Frame
What does a realistic budget for a compliance LMS platform look like? And how quickly do you need to implement your new compliance training strategy? You should always include a time frame and how much you are going to spend in the compliance training software RFP as it helps you find systems that meet all your expectations. For example, you need to launch your new software before certain regulations go into effect. Furthermore, it must be in your price range and include all the essential support services.
Must-Have Compliance Training LMS Features
Create a list of all the LMS features you can't do without. Ideally, these features should meet 2 criteria; they should help you get the best value for money and achieve your compliance training objectives. Employee engagement is another crucial factor to consider. For example, your new LMS must be mobile-friendly to break down the accessibility barriers.
Define Objectives And Goals Before Making Your LMS Decision
One of the most crucial decision-making factors is your compliance training objectives. Ultimately, you must determine how the top LMS for compliance training fits into your strategy, as well as the outcomes you need to warrant the investment. After all, you have to focus on measurable goals to make a successful business case. These tips can help you clearly define your online training objectives before buying your new LMS for compliance.
Evaluate Current Compliance Risks
Risk assessment is a top priority. You must identify potential hazards and negative habits to target with personalized compliance training content. It's also wise to reevaluate company policies, just to make sure they still align with your objectives and goals. For instance, you have new protocols that employees need to be aware of. Or your current safety policies undermine the local regulations.
Determine How Risks Tie Into Employee Performance
Next, you have to determine how these risks connect to real-world performance. Namely, employees' roles, responsibilities, and job tasks. For example, warehouse staffers need to know which safety gear to wear. Or how to operate heavy machinery without causing a catastrophic injury. How do these risks tie into their daily duties? And which skills or behaviors must you address in online compliance training?
Conduct A TNA To Identify Hidden Gaps
A Training Needs Analysis allows you to spot hidden pain points in your strategy. Evaluate business reports, LMS metrics, and employee survey data to look for gaps. To illustrate, your customer service team has low certification completion stats. Get their feedback to find out why. Is the course too long or tedious? Does it cover redundant compliance training topics? Are they unable to see the practical benefits?
Which Businesses Can Benefit From An LMS For Compliance Training?
Every company needs a robust LMS for compliance training. However, there are some tell-tale signs that you should fast-track compliance training content development. Especially if you want to prevent costly breaches and keep everyone safe in the workplace. Here are some red flags that L&D professionals should look for.
Spike In Compliance Violations
One of the most obvious warning signs is a surge in compliance breaches. It may be centralized in one department or it may be a company-wide issue. Usually, the culprit is ineffective compliance training resources that cause cognitive overload. It may even be a lack of employee motivation because they have negative preconceptions about compliance training. The right safety training LMS can help you launch a learner-centered strategy that reduces risks and gets employees actively involved.
Frequent On-The-Job Injuries
Accidents are on the rise and your current compliance program may be the culprit. Employees simply don't know which gear to wear or how to avoid on-the-job dangers. In some cases, they aren't even aware that compliance resources exist. This is why many LMS solutions feature push notifications and reminders to keep staffers in the loop.
Employees Are Unable To Move From Theory To Practice
What is compliance training in real-world context? That's the question every online training course needs to address. The problem is that many employees don't know how to apply what they've learned. They memorize the policies but aren't sure how they fit into everyday duties. However, interactive compliance training LMS software support real-world activities, like branching scenarios, simulations, and serious games. All these facilitate practical application and mistake-driven learning.
Low Customer Satisfaction Scores
Another warning sign that your business can benefit from compliance training software is poor customer service stats. Employees aren't getting the policy and ethics training they need. And that has a domino effect on your consumers. As a result, business is slow, and repeat customers are few and far between.
What Are The Types Of Compliance Training To Consider
Every organization needs to custom-tailor their compliance courses based on industry challenges and employee gaps. However, there are a few common compliance threads that run through every sector. For example, all businesses need company policy training to create a united front and keep their brand reputation intact. Below are a few top compliance training use cases to consider for your program.
Scenario-Based Compliance Training
Compliance usually centers on practical problem-solving. Scenario-based compliance training gives employees the chance to troubleshoot and identify areas for improvement. Best of all, it's versatile enough to suit any compliance training topic. For example, you can include simulations that focus on coworker conflicts or safe handling procedures. Scenario-based training has storylines you can easily adapt based on current objectives.
Security Compliance Training
Security compliance training covers a broad range of topics, from anti-harassment to data safety. The key is to highlight security issues for each department. This way, staffers can know the warning signs and how to report potential breaches. For instance, how to deal with a coworker who is violating their personal boundaries.
Cyber Awareness Training
Most business is done online these days. Thus, employees should know how to prevent breaches and avoid common mistakes. Social media falls into this category, as well. For example, they need to accurately represent your brand when interacting with customers online. So, cyber awareness training also covers social networking etiquette.
Health And Safety Courses
From ergonomics to COVID-19 protocols, health and safety courses are the core of your compliance training strategy. However, your program should go beyond physical risks. For instance, staffers receive training on how to lower stress levels and achieve a work-life balance.
Which Must-Have Features Should The Ideal Compliance Training LMS Platform Include?
First off, when choosing the best LMS for compliance training, you should focus on your specific goals and objectives. The budget and implementation timeline also come into play. However, there are certain compliance training LMS features every organization needs to maximize ROI.
The key elements of top compliance training LMS software:
Certificate Management
Certifications hold employees accountable and allow you to track progress. You can see who has all the necessary training and intervene when necessary. Certificate management features also help you identify top performers. Then turn them into peer coaches so that they can enlighten and inspire their coworkers.
Multilingual Support
Your workforce should be able to access the compliance training LMS software on any device. That's a given. However, staffers must also have resources in their native language to improve comprehension. Multilingual support allows you to deliver targeted safety courses and interactive training to every member of the team, no matter where they are or their cultural background.
Interactive Videos
Employees usually think of retro safety videos when you mention compliance training. But video-based compliance training can be a powerful tool. Especially when done right. For example, interactive videos include resource links and hot spots. Some solutions even support 360 videos and VR training.
Customizable Reporting
Above all, your new LMS needs advanced reporting features. You should be able to customize report delivery and user groups. For instance, your sales manager needs certification reports for their team every Monday before the weekly meeting. This way, they can follow up and provide feedback.
Evaluate And Compare LMS Vendors Before Starting Your New Compliance Training Project
Vetting LMS vendors for compliance is an essential part of the selection process. You need to know that the provider stands behind their product. That they understand the role of tech in compliance training and stay on top of trends. Below are the top evaluation criteria to compare corporate compliance training LMS software:
Industry Know-How
LMS vendors for compliance training must understand the unique challenges you face, such as industry risks and how the platform can help you address them head-on. They also need to stay on top of tech trends and training techniques so that you can deliver the best compliance training resources to your team for years to come.
Verifiable Social Proof
Ratings, reviews, and social media presence are just a few ways to verify a vendor's reputation. However, it's not just about staying active on social media. You also need to pay close attention to how they interact with followers. Do they answer questions promptly? Do they lash out at negative comments?
Transparent Pricing
The price tag isn't everything. That said, you need an LMS that fits into your budget and delivers the best ROI. Preferably, without having to deal with hidden fees. The vendor should be upfront about the costs as well as the pricing plans that are available. For example, they offer a monthly subscription that covers X amount of users.
Last, but not least, most compliance training LMS software have free trials that allow you to test drive the platform. Or offer live demos that show all the features in action. This gives you the opportunity to determine if the software suits your compliance needs and delivers max value for money.
Next Steps After Checking Out eLearning Industry's Top Compliance Training LMS Software List
Selecting the top compliance training solutions doesn't have to be a logistical nightmare. Not when there's a list of the best compliance training vendors to simplify the process. That said, you should still follow up and make the most of LMS free trials. In fact, make it a team effort so that everyone can offer their input and evaluate real-world performance. It's also wise to submit RFPs for personalized estimates and ensure they have solid social proof.
You can also check out eLearning Industry's Top Learning Management Systems if you're looking for other features and types of online corporate training. It has the top vendors for every use case and budget. Another way to find the best compliance training systems is by getting a quote with your ideal LMS match. Our experts can provide you with a list of personalized Learning Management System recommendations.
Need more pointers on how to choose the ideal interactive online training platform? 6 Overlooked Reasons To Invest In A Compliance Training LMS has all the info you need to make the best business case.
Finally, we'd like to invite all vendors (who haven't already) to create a free listing on eLearning Industry. Join our leading niche-specific directory and improve your SEO ranking without biting into your marketing budget.