Using Learning And Engagement In Tandem
Learning and development is vital for driving EE. It's seen by employees as a major indicator of how much a business cares and is willing to invest in them. And, of course, it's about helping unlock employees' potential, so they can bring more value and feel more valued in what they do. But while L&D has the potential to make a huge difference to engagement and add real value, it has to be done right. Namely, you need to implement creative employee engagement ideas that encourage team members to play a more active role.
Engagement is not a commodity that can be bought or gained by token gestures. In fact, get your L&D strategy wrong and it will have a negative impact on engagement and could negatively affect business outcomes. A sprinkling of gamification? A shiny new social learning platform? These are not the places to start. EE is a mindset and it needs a culture of openness, collaboration and empowerment, supporting real needs and personal development.
However, we have got some good ideas to get you started...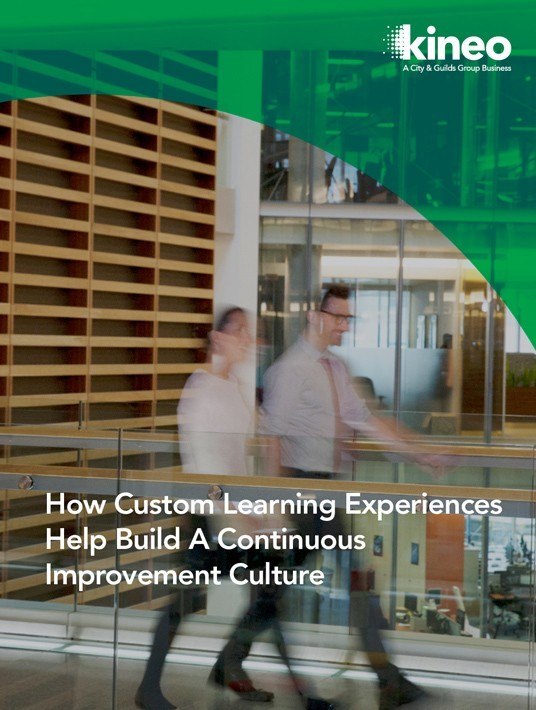 eBook Release
How Custom Learning Experiences Help Build A Continuous Improvement Culture
Discover how to support and develop a continuous improvement culture with custom learning.
6 Creative Employee Engagement Ideas
Learning opportunities are among the largest drivers of employee engagement and strong workplace culture – they are part of the entire employee value proposition, not merely a way to build skills.
- Deloitte Global Human Capital Trends 2016
1. Create Real-Life Scenarios
If your learners are anything like me, they're convinced that the best way to become proficient at anything is through practice and experience. This might seem to contradict the driving philosophies behind all eLearning, but there are ways to incorporate on-the-job experiences into your course content and creation. That's going to mean different things for different competencies and sectors, but it holds true regardless. When approaching learning design, avoid getting too in the weeds of the theory. While theory is important, it's the practice that will engage learners and build the core functions and skills.
2. Incentivize Learners With Gamification
One of the most creative employee engagement ideas is gamified learning solutions. We've talked a lot about gamification on the Kineo Blog because it's a proven method for developing interactive learning content. Game-based learning often features points or rewards to incentivize correct decisions and/or overall engagement from your learners. Kineo has implemented solutions where users are rewarded coins that can be redeemed for physical merchandise, right there in their LMS. But even when rewards aren't online, games help keep learning interesting. The element of competition can often push learners to give their best efforts while completing courses.
3. Build In Opportunities To Provide Feedback
Learning has never been a one-way street and that rule still applies in the digital world. Students should have opportunities to speak up and provide feedback on what's not working, and what is. When you encourage trainees/students to continue the dialogue, they are better set up for long-term success and ongoing knowledge sharing. Many times this can be as simple as providing a digital comment box at the end of the course or carving out time after trainings to discuss any areas that may still need attention. Communication ensures understanding and leads to growth, so don't shy away from that.
4. Make Assessments More Fun
Everyone's favourite – the dreaded assessment that is often bolted on to the end of the learning. Does this truly measure comprehension of the key learning points or is it a short-term memory test? Sometimes assessments are done out of habit. Is an assessment even required in the first place? Would a self-certification be adequate at times? If it's a compliance piece, it's worth double checking what the regulatory bodies really require from you.
If it is required:
Are you missing an opportunity to have some fun with a scenario or gamified approach? There are plenty of creative employee engagement ideas that can be used as knowledge checks.
Could you put it upfront to allow those more experienced staff to prove competence so they can get back to their day jobs?
Are you setting the complexity at the right level or is it devilishly difficult to complete? Is there a mechanism in place for helping those that can't pass?
How you do acknowledge achievement? Some people might really value a badge, accreditation or personal 'shout-out'; others may not.
5. Learn everywhere
One off learning events are fading out fast. Learning is pervasive – continuous and real time. We value speed of access - we're happy to get the information we need and move on. But we also need to be able to return to it. Can people easily find their way back to your learning afterwards? Are they able to jump back into a specific part? Ideally you won't just dish up the same content, but offer refresher learning, takeaway activities, on-the-job support tools which all help embed the learning in the real world.
6. Get Feedback
Ultimately the best way to improve the overall learner journey is to be open to feedback. Only by listening deeply to what our learners tell us, gathering evidence of impact in the short, medium and long term, and refining our approach as we go, will we create genuine learning cultures within our organisations. This isn't just about 'doing better next time' but constantly revisiting our content and ensuring that it remains current and useful for your business.
Conclusion
Winning L&D strategies will create an engagement (and learning) ripple that genuinely involves employees, inspires change and empowers and respects people – meeting their needs and supporting personal development. It's not simply a matter of offering one-time mandatory training. Instead, you must get team members actively involved in their own personal and professional growth with these creative employee engagement ideas.
How do you retain top talent and fuel continuous development? Download the eBook How Custom Learning Experiences Help Build A Continuous Improvement Culture to discover how a solid strategy and custom learning experiences can transform your L&D infrastructure.