Must-Have Wellness Perks For Remote Employees
Whether your company is fully remote or operating on a hybrid system, it's evident that WFH offers numerous benefits that employees and employers alike can't deny. There is no rose without a thorn, though, and remote employees face other problems every day, such as increased pressure and anxiety, tech hurdles, or mental and physical health issues. In this article, we reveal 8 creative wellness perks you can offer your remote staff to help them overcome these challenges and improve their productivity.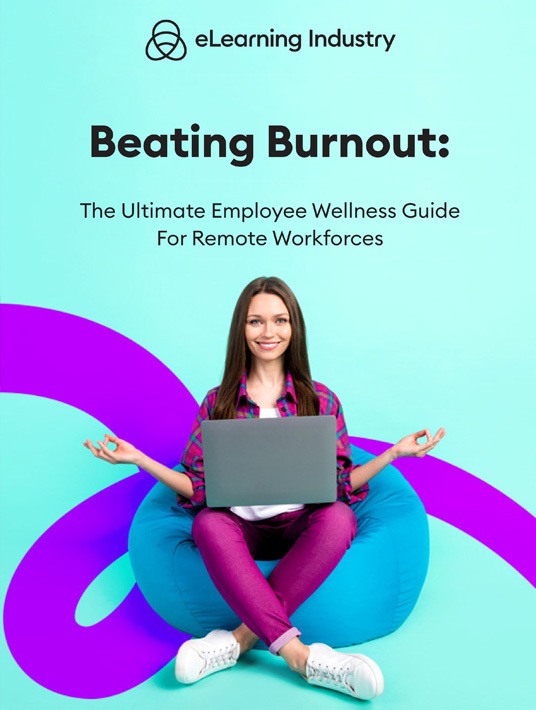 eBook Release
Beating Burnout: The Ultimate Employee Wellness Guide For Remote Workforces
Discover how remote working affects employee well-being as well as tips to beat burnout for your teams!
Why Are Wellness Perks Important For Your Business?
Moving out of the office might have kickstarted a new era in the business world, but employee well-being must remain high in your list of priorities. Just because your staff is working from home, that doesn't mean their working conditions are out of your hands. The perks we describe below will show your employees you truly care about their wellness. They will become an extension of your company culture and help them feel connected to the organization. Apart from the obvious benefit of top talent retention, wellness benefits can attract new hires. If your competition is trying its best to make WFH as easy as possible for its employees, then so should you.
8 Wellness Benefits Your Remote Staff Will Love
1. Offer A Flexible Schedule
Flexibility is the first wellness perk that comes to mind when talking about remote work. But how can employers encourage their staff to embrace the flexible workday lifestyle? Firstly, WFH allows employees to escape the 9-5 schedule and work when they're most productive. As long as their work doesn't directly depend on collaboration, they can start working later in the day or split their workday into two parts. Another great option that significantly promotes work-life balance and increases job satisfaction is allowing employees to work one short week each month, as long as it doesn't interfere with their workload.
2. Expand Health Benefits
Concerns around financial stability and health have led employees to look for positions that offer at least a basic health insurance program. However, considering that everyone is trying to move forward with the pandemic still going on, you might need to step up your game. Expand your basic health benefits package by including free testing for the virus, a wider variety of check-ups, or discounts for family members. As a result, your employees' stress levels will significantly decrease, improving their overall performance.
3. Create A Mental Health Resources Library
Mental health has come to the forefront in recent years, and employees are expecting management to be open and supportive about it. And what better way to show your genuine interest in the matter than to build a library of useful resources? You can add links to mental health support websites and podcasts or applications they can use to practice meditation and mindfulness. Collaborate with your health insurance company to create a counseling support benefit that covers psychologists or counselors. Don't forget to add all benefit guides and information to your resources.
4. Offer "Duvet Days"
This is a relatively new wellness perk that refers to a day off that an employee can take without being sick or giving prior notice. In other words, it's a "mental health day" meant to help employees recharge their batteries and decompress. Allowing your staff to take a guilt-free break from the daily grind without having to sacrifice their annual leave days creates an atmosphere of trust and understanding in your business. Simultaneously, after taking some much-needed time for themselves, employees come back to work feeling more motivated and engaged.
5. Support Healthy Activities
Many companies try to prove their commitment to improving employee well-being by investing in virtual yoga classes or mindfulness apps. However, fitness can be different for everyone. How about, instead of trying to get everyone to do the plank challenge, you create a well-being bonus? Enforce a "use it or lose it" policy and encourage them to spend it on gym memberships, personal trainers, virtual fitness classes, or exercise applications. This way, everyone stays healthy doing what they like.
6. Fund Their Professional Development
Every day might look the same when working from home, but that doesn't have to apply to professional growth too. In fact, given the speed with which things are changing, personal and professional development is more crucial than ever. That said, a wellness perk you can provide your employees with is the time and money to upskill themselves. Once you allow them to take reasonable time off work and alleviate financial costs, they'll start attending seminars, taking training courses, or signing up for classes. The best part is that all those learning benefits will eventually help your business boost its efficiency and productivity levels.
7. Help Them Eat Healthily
Although they're always at home, many remote employees struggle to find time during the day to prepare proper meals. Thankfully, there are ways to help them maintain balanced eating habits, even without access to the office lunchroom meals. Reallocate the budget for office catering services to meal-kit plans you can send to your remote staff. Another option is to send them a snack box with a personalized message from their boss every month. Everyone will enjoy the free goodies and the convenience of not having to worry about cooking so much.
8. Establish A Home Office Stipend
Think about this: all employees in the office use the same computers, desks, chairs, monitors, etc., so that they can all perform their tasks comfortably. Why not extend that level of equality to your remote staff? A home office stipend is a wellness perk that will be especially appreciated by those employees who lack essential pieces of equipment at home or need an upgrade. Grant an annual stipend for remote employees to buy ergonomic equipment, pay for high-speed Wi-Fi, or get a larger monitor. This way, they will be just as efficient (if not more) than when they worked in-house.
Conclusion
Remote work is here to stay, and employees are looking to employers to help make this transition easier. Wellness perks can come in the form of resources, stipends, gift boxes, or simply open communication about needs and concerns. If you are interested in retaining your top talent and helping them develop professionally while maintaining a healthy body and mind, follow these tips and watch their productivity and engagement levels skyrocket.
Download our eBook Beating Burnout: The Ultimate Employee Wellness Guide For Remote Workforces to support and nurture your teams from afar.