Introducing A Superb 4 Step Plan: Ensure The Right Start With Your Outsourcing
For years, training managers have been outsourcing the design and development of eLearning to ensure employee performance. Thanks to developments in technology, such as rapid authoring tools, when companies outsource eLearning development today, they receive courses that are shorter, have a quick turnaround time and, most importantly, cost less. Before you outsource custom eLearning development to overseas eLearning vendors, there are certain measures to be taken to ensure a smooth process. This article discusses 4 essential steps to follow before you start outsourcing your custom eLearning development.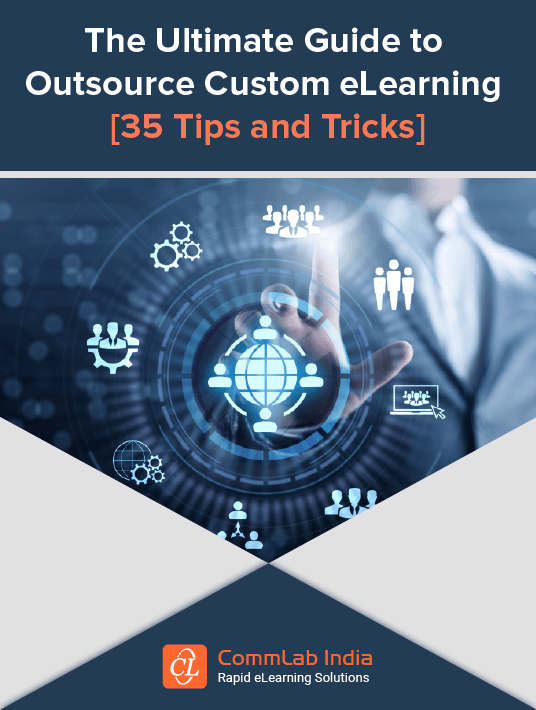 eBook Release
The Ultimate Guide To Outsource Custom eLearning
Read up on practical ideas on designing learner-centric courses within set parameters, without compromising quality.
Get Answers To These Questions Before You Outsource Custom eLearning Development
1. Do We Have Available Content?
When outsourcing custom eLearning, organizations might have existing content (used for classroom training), which can be repurposed or reused. Here are 2 places you can look at for inputs:
Classroom Training (ILT Material)
If classroom training materials need to be converted to eLearning, ensure all existing material, such as paper-based manuals, PPT presentations, classroom recordings, is ready because these are excellent source materials for new eLearning courses. These materials, however, can't be directly placed online—good eLearning vendors apply appropriate instructional strategies to develop learner-centric courses for a self-paced learning environment. (For example, role plays are commonly used in classroom training programs for sales reps. They can be converted to scenarios in online courses.)
Legacy Courses
If you have online learning in place, refurbish legacy courses (for example, convert Flash courses to HTML5). In this case, identify which courses need a technology uplift, content updates, and/or new instructional treatment. A great methodology to apply to custom eLearning development.
2. Do We Need To Invest In A Learning Management System?
If you are new to eLearning, you will need a quick-and-dirty means to host your courses. Successful eLearning implementation entails having a good delivery mechanism and many companies that have eLearning as their dominant training strategy host their courses on a Learning Management System (LMS). An LMS is a centralized platform to administer, monitor, and deliver courseware material and helps in streamlining all training activities. In simple words, it is a repository for all your training material that learners have access to 24/7. Almost all eLearning courses created today using rapid authoring tools are SCORM-compliant. SCORM is a learning standard that determines how eLearning courses interact with a Learning Management System.
Hosting your SCORM-compliant courses on an LMS will ensure that they can be accessed, read, and run on different platforms, reaching a wide audience of learners. A good eLearning vendor, along with eLearning design and development, will also be an expert in administering and maintaining an LMS. When outsourcing custom eLearning development, ensure you have an LMS to host the outsourced material (i.e. eLearning courses) or have this as one of the criteria when selecting a vendor to partner with. Taking advantage of your vendor's expertise in LMS management means you will need to train less personnel and maintain fewer technological resources at your end.
3. Are The Subject Matter Experts Onboard During The Custom eLearning Development Process?
Ensure relevant stakeholders of your organization—IT administrators, training managers, facilitators, instructors, Project Managers and, most importantly, Subject Matter Experts (SMEs)—are all on board before the vendor is contacted.
Here's a brief look at how each can contribute:
SMEs play a vital role in the creation of effective eLearning courses as they are instrumental in defining learning objectives, filling gaps, validating content presentation, ensuring accuracy, and providing valuable feedback.
IT administrators maintain the technical infrastructure necessary to handle the classroom-to-custom eLearning transformation.
Project Managers are the first points of contact with the outsourcing vendor and keep the overall process on track.
4. Have We Shortlisted Possible eLearning Vendors?
Deciding how to select the right vendor and what to look for is a crucial step before proceeding with outsourcing custom eLearning. When shortlisting suitable candidates for your outsourcing project, do not go by what the vendor claims on the website. Instead, get in touch with them, ask for samples and evaluate their capabilities.
Communicate to the shortlisted vendors how you would like your eLearning to be and look like.
Assess their expertise on multiple parameters:
Ask for eLearning samples to assess the vendor's Instructional Design capability
Review the projects they've undertaken thus far—preferably projects related to your industry
Check case studies of past projects
Review their Project Management processes
Check their expertise in training, eLearning design
Review directory listings on industry associations
So here are the 4 steps to plan the outsourcing of custom eLearning development accordingly. Download the eBook The Ultimate Guide To Outsource Custom eLearning to delve even deeper into the matter than before.
So, there you are—have this checklist ready and tick all the boxes before you start outsourcing your custom eLearning requirements. If you are looking for more insights on outsourcing custom eLearning, join this interactive webinar that offers tips and workarounds to make the collaboration a win-win partnership. RK Prasad, the CEO, and Co-Founder of CommLab India takes you through such intricacies and more in the webinar.
CommLab India Rapid eLearning Solutions
Working with multiple outsourcing vendors can be stressful, and a waste of time & money. With CommLab India Rapid eLearning Solutions, all your online training needs are taken care of, rapidly and economically.