How To Implement And Support DEI&B Education Initiatives
DEI&B isn't just a compliance acronym that calls for box-checking. It's about making your teams feel safe, supported, and heard in the workplace. But how do you ensure that it's woven into the fabric of your company culture? It all starts with an L&D plan of action, and this eBook can help you launch DEI&B education initiatives for employees.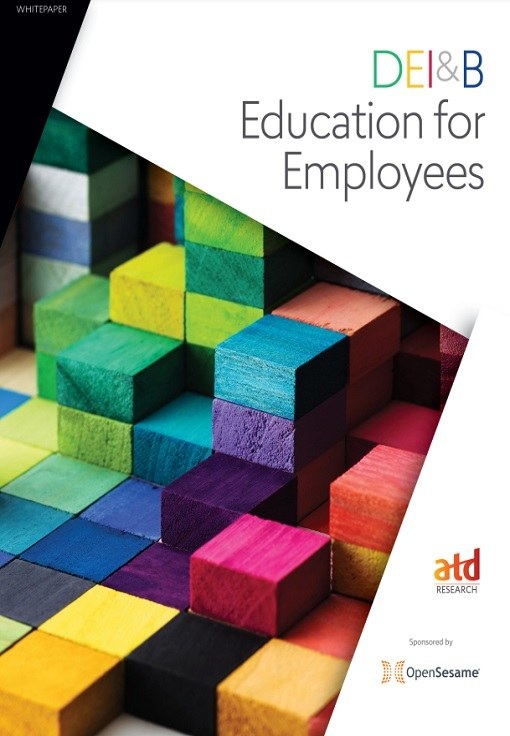 eBook Release
DEI&B Education For Employees
ATD surveyed talent development professionals from 392 organizations. This research uses statistical analysis to identify Diversity, Equity, Inclusion, and Belonging education practices and policies linked to better DEI&B outcomes.
Why DEI&B Education Matters So Much In The Corporate World
DEI&B doesn't just help you attract top performers from a wider talent pool, it also helps you hold on to your current staffers who possess the right skills. DEI&B training also improves team performance, as employees are able to see things from different perspectives and respect coworkers' points of view. Every member of your organization feels like they're part of a corporate community that respects and values their contributions.
About This eBook
What makes successful DEI&D initiatives stand apart from the rest? How can you continually develop your talent and create a collaborative learning culture? Here's a sneak preview of what you'll find in this eBook:
Executive Summary: ATD Research surveyed 392 talent development professionals who were able to discuss their organizations' DEI&B training. Participants were asked to report how well their organizations were doing on three key DEI&B metrics adapted from the Gender & Diversity KPI Alliance's standards.
Key Findings: Slightly more than half of organizations have formal budgets for DEI&B education. Download the eBook to dive into more of the data.
Conclusion And Recommendations: Based on the report findings and interviews with subject matter experts, ATD Research offers recommendations to help DEI&B, talent development, and HR leaders make the most of their DEI&B education.
Conclusion
Download the eBook DEI&B Education For Employees to delve into research and uncover best practices for Diversity, Equity, Inclusion, and Belonging training for your workforce.