4 Ways To Turn Unsuccessful eLearning Courses To Successful Ones
According to the Harvard Business Review, American companies are spending over $160 billion dollars on employee training and education. Moreover, they have spent close to $356 billion globally alone in 2015, and yet they are not getting a good Return On Investment.
Recently, a company called Bottom-line Performance conducted a survey of 150 Learning and Development professionals. They were asked to improve one thing about Learning and Development in their organizations, and the results are given below: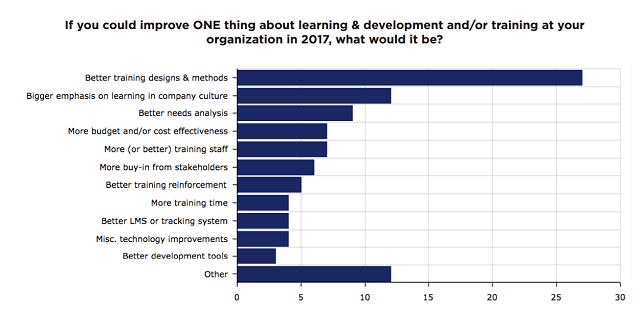 Learning and Development professionals are not satisfied with the training and design method. The main reason is that we are missing some basic components of Instructional Design, or else ADDIE.
Most companies do top-level analysis where they set the scope of eLearning projects, scalability, budgeting and hire resources, such as IDs in our case, to design eLearning content. Once hired, they give an overview of the project with PowerPoint presentations, contact details of Subject Matter Experts, and a laptop with an authoring tool such as Storyline or Captivate. We all know that most of the content is design for employees and don't have enough room for analysis because of the strike deadlines.
Technically, we are starting our project with development and skipping the first two most critical phases of ADDIE.
A doctor is considered to be one of the most respected professions in the world. It doesn't matter whether you know the person or not. If you see Dr. before their name accompanied with a white coat, there is high chance that when your life or your loved one's is at risk, you will ask for their help. Nevertheless, that Dr. will still not prescribe you anything unless he completes a proper analysis and later identifies the problem.
Why don't we use the same analogy here? It is impossible to produce best results without doing front-end analysis and identifying goals.
The front-end analysis describes the ideal performance or instruction to meet the project requirements, and identifies acceptable alternatives. That typically includes performance analysis, need assessment, and job analysis in some cases.
Performance Analysis
Problems or issues that reflect the organization reputation are all called performance analysis. Those failures occur due to lack or improper use of skills.
Need Assessment
A critical thinker, an open-minded person who is able to find the root cause, presents different perspectives and helps you to solve problems.
There are 4 approaches can help you to identify goals.
1. Subject Matter Expert Approach
A person who has expertise on the product or profession, is considered as a Subject Matter Expert. The knowledge of an SME exceeds the general public's one. When they are asked to design the content, SMEs most likely fill in what they have learned. Depending on their knowledge, they either try to replicate or improve it for their students. This approach to the teaching-and-learning process assumes that a student wants to be taught what the SME knows and emphasize on it.
2. Content Outline Approach
This approach occurs when the right type of content is being used, following certain standards of each organization. For example, corporate policies, training manuals, and equipment manuals. One danger is that this approach is locked up with the content standards that may no longer be relevant or do not fulfill social needs.
3. Administrative Mandate Approach
The goals are already set by the mandate, with the valid definition when required by the federal or state law. If proper planning and insight are exercised by the administrator, then the training will happen. An Instructional Designer with good political background and great negotiation skills will wish to redirect the goals after verifying the facts; unfortunately, the latitude for negotiation is little and chances to miss the mark are high.
4. Performance Technology Approach
Instructional Designers like this approach a lot where the goals are set, based on problems or opportunities within the organization. They attempt to work with those departments who are responsible and ensure to meet the goals.
Once the front-end analysis is complete, or one of the approaches above is finalized, the next step is to design the content.
I talked about this in webinar How to design an effective eLearning course?. The webinar was about learners who have to access boring eLearning content with no learning styles and individual needs. Thanks to technology providing us with authoring tools, now we can customize the content the way we want and make learners' life much easier. I also talked about the design philosophy of Stanford University, where according to learners' problems you can build solutions that match their needs.
Sources:
Beer, M., Finnström, M. & Schrader, D. (2016, October). Why Leadership Training Fails—and What to Do About It. Harvard Business Review
CEB (2015) L&D Functional Effectiveness Survey, internal CEB report