7 Steps To Develop AR/VR eLearning Resources
There are many ways in which Augmented and Virtual Reality technologies can be used to make an eLearning course more productive, innovative and fun. You just need to know where and how to apply them. Some of the applications are online training simulations, branching scenarios, and serious games. However, as these technologies are of an advanced nature, incorporating them in any eLearning course requires a significant investment of both time and money. Rest assured. If done correctly, they hold the power to improve the performance and proficiency of your online learners. Here is a 7-step guide to develop AR/VR eLearning resources from scratch.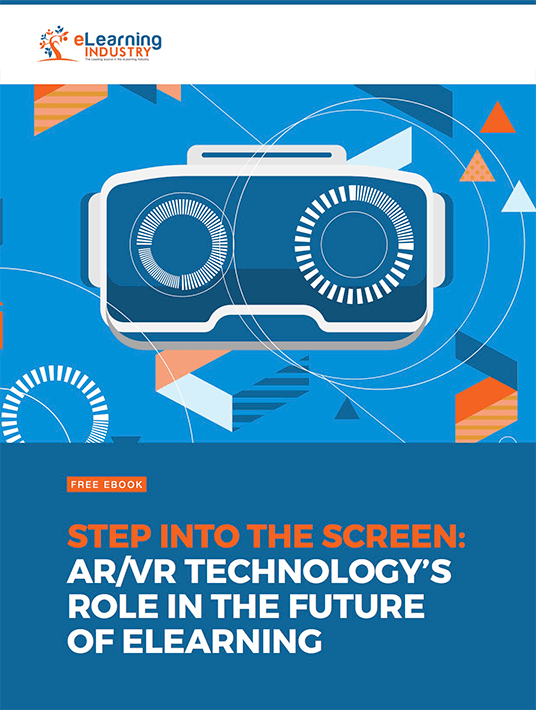 eBook Release
Step Into The Screen: AR/VR Technology's Role In The Future Of eLearning
Discover all the benefits of using Augmented and Virtual Reality technologies in eLearning.
Step 1. Determine If AR/VR Is The Best Approach
Sometimes it is necessary to use online training simulations or hypothetical situations to ensure that the message gets across. It is best to use Augmented/Virtual Reality when the subject matter is either delicate, has high risk involved, or is rare. For example, if you are preparing a safety online training for a construction project you can walk your users through the different hazards involved using Virtual Reality. In this way, you can make them see how non-conformity with safety standards can put a life in danger. Likewise, by creating an operation theater scene, a doctor or a nurse can be taught about the importance of each minor detail. All this builds experiential knowledge without putting anyone at risk.
Step 2. Understand Your Target Audience
The key lies in detailed project planning. Therefore, the first requirement is to be well aware of the needs of your target audience. Who are they and what are they looking to achieve through the AR/VR experience? That includes their background, experience level, and existing knowledge base. This will help you to figure out the best possible way you can make use of AR/VR eLearning resources to satisfy their needs.
Step 3. Craft The Story
Once you know what your users' expectations are, design a story that addresses their concerns and targets their needs. You can do that by either creating a hypothetical situation or using a real-life experience. The choice lies with you, but be sure to include the user's pain points. Also, they should be able to relate to the story so that they feel the importance of the subject matter in their own lives. It's essential to create an emotional connection that enhances the value of the eLearning experience and makes it more memorable.
Step 4. Present Solutions In An Effective Way
This step is arguably the most important, as it is going to be the decisive factor for the success of your entire eLearning course. You need to be sure that the solutions presented in the AR/VR experience are the best ones. In other words, the online learner needs to be convinced that the solutions given are practical and correct. For convincing your online learners, you can design different AR/VR eLearning resources with different outcomes. This way, you can lead them to the desired learning objective of the online training.
Step 5. Develop The AR/VR Experience
You can either outsource this step or have it built in-house. Whatever the case may be, the developer needs to understand the expectations of the end users. Then comes the technical and most time-consuming part. Usually, the duration of this stage can be anywhere from sixty days to a year. The time period for the development stage depends on the complexity of your application. Let's suppose, you want a simple VR video game; it may take only 2-3 months. However, if you want to develop a multi-player role playing activity, it will not only take at least six months to develop, but the number of developers required to complete the task will also skyrocket. Resources and launch dates are often the key determining factors. However, there is one key area you need to focus on during your AR/VR resource development stage: Keeping detailed and well-planned product documentation.
Step 6. Post-Production Stage
Another benefit of using AR/VR technology is that it can be reused for different eLearning courses. All it requires is a little modification. Hence, remember to develop your AR/VR eLearning resource in such a way that it accommodates modifications and additions. Maintenance of your AR/VR eLearning resources is another element to be considered at the post-production stage. If you outsource your development, ask the vendor about their revision/update policy. For example, they may include one or two modifications over the course of the next year.
Step 7. Arrange The Essential Equipment To Support The AR/VR eLearning Resources
After the developing stage is over, you will need to invest in equipment to support your AR/VR eLearning resources. There are three equally important areas to be considered in this part.
Hardware: You need to have AR/VR capable devices e.g. workstations, head-mounted displays, mobile devices etc. We're not at the point where a BYOD strategy is viable, as the hardware required is either expensive or difficult to acquire.
Visual: In some cases, you'll require panoramic 3D footage for the creation of virtual environments.
Audio: Obtain an enhanced audio device for a more immersive AR/VR experience.
Once you have gathered all the above equipment, all you need to do is a little coding to provide seamless interaction with users.
This 7-step guide gives you all the information you need to incorporate AR/VR tech into your eLearning course. With these detailed guidelines, you can now make your own AR/VR eLearning resources from the ground up. Although it's a time-consuming and costly investment, it has the potential to boost your eLearning ROI. Moreover, gaining expertise in this field now can help future-proof your deliverables, especially when you use alternate reality tech wisely and seamlessly integrate it into your eLearning course design.
What is AR/VR's true potential for online training? Download our free eBook Step Into The Screen: AR/VR Technology's Role In The Future Of eLearning to discover innovative ways to use AR and VR technologies in your eLearning course design. You'll also learn the best practices for incorporating alternative reality into your eLearning strategy and explore how AR and VR will impact the future of eLearning.