Workplace Learning Trends: What's On The L&D Horizon This Year?
The learning industry is constantly evolving and changing to keep up with modern challenges and make the most of the latest tech. So, how can you stay ahead of the curve and always be in the know when it comes to techniques, tools, and methodologies? The first step is to download this workplace learning trends eBook to delve into Industry 4.0, learning cultures, emotional intelligence, and much more.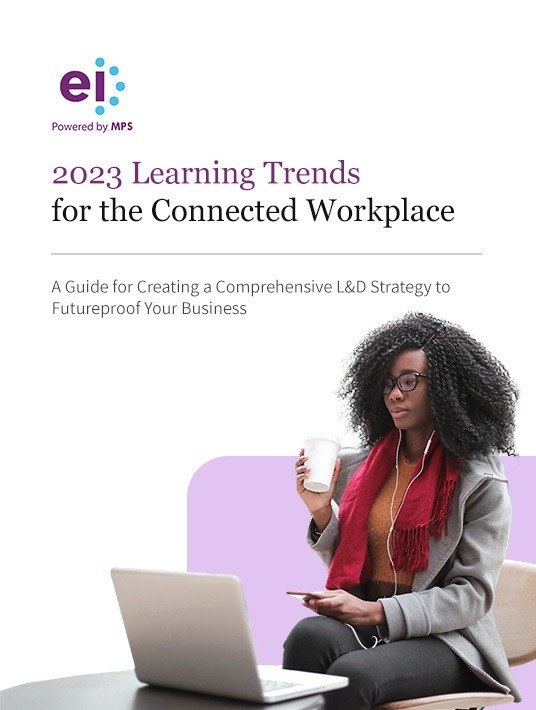 eBook Release
2023 Learning Trends For The Connected Workplace
Leverage the current learning trends to develop a comprehensive L&D strategy that delivers business results.
How Workplace Learning Trends Can Help You Chart Your L&D Course
There's no exact science for developing learning experiences that make a lasting impact and increase employee motivation. However, keeping up with workplace learning trends gives you the opportunity to leverage technologies and solutions that align with your business objectives and fully engage your teams. You're also able to mitigate risks by implementing tried-and-tested strategies that are based on research and best practices. This eBook by EI features the top trends for this year so that you can determine what works best for your organization and how to meet the needs of your remote or hybrid workforce cost-effectively.
About This eBook
How can you use learning tech to drive performance and create a memorable L&D experience? Which factors should you consider when crafting your training strategy? Here's a sneak preview of what you'll find in this guide:
Leveraging Emotional Intelligence In Learning
Measuring The Impact Of L&D On Both The Business And The Employees
Robust Learning Technology Stack To Drive Employee Experience
Training Needs You Should Factor For Or Relook
Mature Learning Solutions For The Hybrid Workplace
Building A Strong Learning Culture
Industry 4.0: Revolutionizing The Way Companies Work
How To Get Your Copy
Download the eBook 2023 Learning Trends For The Connected Workplace by EI today to develop an L&D strategy that connects and engages your workforce.