Top Workplace L&D Trends Of 2021
No one knew how 2020 would end at the beginning of the year. The current global pandemic hijacked the business world and exposed it to major disruptions, increasing the levels of uncertainty. We all had to quickly adapt to newer and challenging ways of working, mostly from the confines of our homes. The pandemic also forced businesses to adopt digital transformation, thus setting a precedence for the future of work. While 2020 was all about surviving the harsh effects of COVID-19 and staying afloat, executives will want to test and implement new and efficient ways of working based on the knowledge they have accumulated across the board to accelerate growth in 2021. Who better to support and realize these change initiatives than the Learning and Development (L&D) team?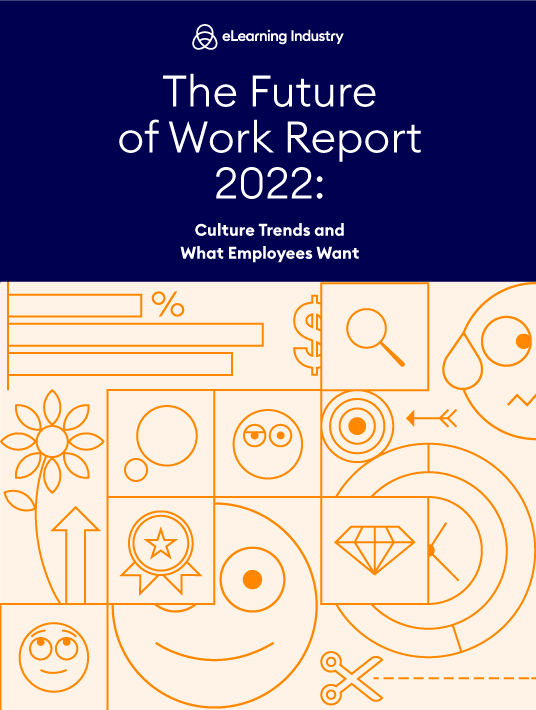 eBook Release
The Future Of Work Report: Culture Trends And What Employees Want
Is your business out of touch with what employees want? Dive into this report and discover how you can create a great workplace!
L&D teams showed immense caliber as the lockdown restrictions forced the workplace learning ecosystem to pivot overnight and quickly adapt to remote working. To maintain business and learning continuity, in-person trainings had to be converted into virtual trainings, courses had to be updated based on the changed regulations, and safety and compliance training had to be given extra focus. Well, it does not stop just here. As we foray into the new year, businesses will look to supercharge their growth curve while adopting the shift in technology. The responsibility then falls upon the shoulders of the L&D teams to ensure that the workforce of today is well-equipped with the skills needed for tomorrow to assist businesses to realize their goals. L&D teams must ensure that all the employees are armed with the skills required to perform in the new normal through innovative and effective training programs.
So how can L&D leverage forward-learning strategies to meet the challenges of the learning workplace in the new normal? How can it drive and elevate digital forms of communications and collaborations? Above all, how can it foster a culture of continuous learning amongst the dispersed workforce? In this article, we've culled some of the workplace learning trends for 2021 as L&D takes center stage to support new business initiatives.
Striking The Balance Between Efficiency And Engagement
The world of work underwent a paradigm shift owing to the global pandemic disrupting our lens to the workplace. In a matter of a few days, organizations transformed digitally, transitioning their working and learning into a virtual avatar. For L&D, this meant pivoting from classroom training to adopting virtual, mobile tools for conducting training programs. This shift however contributed to less spend on physical training, given that budgets were already spread out thin across functions. The efficiency quotient of L&D function as a whole sure jumped higher. However, in the scheme of chopping and delivering long in-person training sessions and converting them into virtual training, learner engagement took a hit somewhere. With dipping attention spans and learner fatigue setting in, this workaround did not yield desirable results. In such a scenario, to drive higher learner engagement, L&D can focus on these three areas:
1. Content Design
In a classroom training format, the facilitator drives learner engagement. In such a scenario, although not ideal, content design takes a back seat. However, in a virtual training environment, bad and ineffective content design gets noticed, leading to lower rate of learner engagement, thus dropping the training effectiveness. L&D teams must ensure adequate focus is given to create meaningful, relevant, and must-have content while keeping in mind the short virtual sessions.
2. Star Power
Roping in a well-known expert or an industry leader to conduct some part of the training, if not the whole of it, contributes to driving higher learner engagement.
3. Credentialing
Nowadays, before accepting a job offer, candidates evaluate if the organization can make a material impact on their professional profile through offering courses or certifications. The EdTech market is booming year after year. These companies are tying up with premium educational institutions and universities to provide the most sought-after courses for working professionals. L&D teams can offer these courses and customize them to align to their business goals to engage talent.
Soft Skills Development For Business Success
Popular research by Carnegie Mellon Foundation and the Stanford Research Institute found that 75% of long-term job success depends on people skills and only 25% on technical knowledge. This particularly holds true for leadership roles. As the pandemic has induced high levels of stress and anxiety amongst employees, the onus lies on the leaders to display emotional intelligence and empathy along with being agile and adaptable to change and to navigate the workforce effectively during uncertain times. Owing to this need of the hour, developing soft skills has become a top priority for the L&D teams. However, these behavioral or power skills need ample practice to master. While the preferred one-on-one training is difficult to conduct during these times, Virtual Instructor-Led Training and gamification are quickly picking up as alternative options to coach and track these crucial soft skillsets.
The Need For Customer Education
The lockdown restrictions compelled many brick-and-mortar stores to shut shop. This led to a shift in the consumer buying pattern. Consumers are buying differently today. With limited avenues to view and test products, consumers today seek and expect the availability of customer education programs. This has led to companies investing more in their own customer education training. To adapt to how companies can best educate their customers, L&D teams need to collaborate with business leaders and chart out a robust training program to aid consumers with their buying decisions. The business ecosystem has changed leaps and bounds, becoming more competitive by the day. It is during these times than ever that organizations should work toward providing exceptional customer services to strengthen their bonds with the existing customers and attract new clients.
Upskilling Through Continuous Learning
The World Economic Forum estimates that 50% of employees will need to be reskilled by 2025. The sudden workplace changes brought about in 2020 warranted the workforce to wear multiple hats in a short time to perform at their jobs. One of the key areas of change was the tech adoption that shot through the roof in the last 7-8 months across industries. With remote work coming into force, the shift to a virtual setting was inevitable. However, this digital shift uncovered the IT and technical skill gaps amongst the remote workforce as troubleshooting technical issues on their own became an issue. To address this, L&D teams need to formulate continuous learning programs to upskill and reskill employees to stay relevant during the changing times. By closely working with business unit heads and identifying the skill gaps aligned to the business goals, L&D teams must build sustainable employee upskilling and reskilling programs that prepare them to be future-ready and in turn drive business growth.
Conclusion
With 2021 on the horizon and businesses getting even more competitive to capture consumer attention in the new normal, L&D teams will need to step up their game to build a future-ready workforce and support organization-wide change initiatives.