Use These 3 eLearning Best Practices For Corporate Knowledge Sharing In Your Company
How do we drive people to access and share their job-specific know-how in a meaningful way? JD Dillon (workplace strategist at Kaplan University) highlights 5 critical factors to create a knowledge sharing system within your organization:
Value.
Subject Matter Experts (SMEs) should perceive value in sharing. What's in it for them to share their experience.
Awareness.
SMEs should be aware of various means (authoring tools, sites, etc.) available to share the knowledge.
Simplicity.
Tools must be extremely straightforward to use and more so, with zero learning curve.
Reliability.
It is essential that tools are reliable to meet the SMEs' needs and solves the pain points of knowledge sharing.
Integration.
Blend in with the existing ecosystem and offer a seamless working experience to make sure knowledge sharing has no barriers.
How can we put these factors into practice? Let's break down 3 proven best practices to make employees share knowledge within your organization.
1. Establish A Knowledge Sharing Habit
The key to getting SMEs to share knowledge is to educate them about how their shared learning will reap massive benefits, and help them remember how their fellow worker's experience benefits them.
Deciding on the right tools would be the next step, but before anything else – it is the shift in mindset you need to establish. Employee-driven and employee-generated learning is the new wave that is scaling knowledge sharing through free and low-cost content created by employees, for employees.
Here's a visual illustration of what you need to do to get them into action: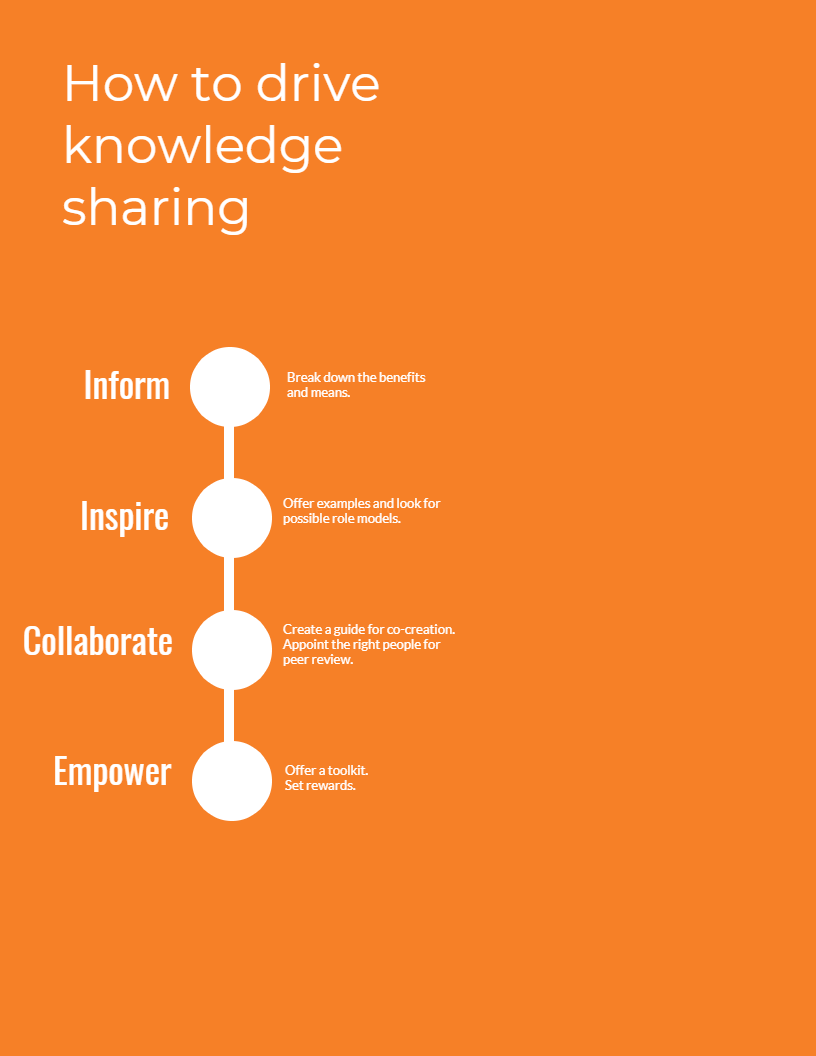 2. Go SaaS For Knowledge Sharing Content And Keep Formal Content For Learning Management Systems
Keep it simple - to access, to author and to integrate. Usually, authoring tools aim towards Instructional Designers. Don't choose authoring tools that are too feature-rich and require too much learning curve for SMEs (non-Instructional Design background). So, here's the checklist on how to choose the right tooling:
Instant access.
Online or cloud.
Intuitive to use.
User Experience in tune with SMEs and doesn't require any training to learn the tool.
Meaningful to the author.
Didactically sound reusable content templates and collaborative options.
Instant sharing.
Most SaaS-based authoring tools offer direct link sharing.
Responsive output.
Compatible with mobile and browser options.
Easy to administer.
Manage multiple roles of SMEs and managers within organizations.
Compatibility.
Integrate seamlessly with existing Learning Management Systems and internal sites. For example SCORM compliance.
3. Save Time By Offering Re-Usable Templates
Speed Over Pixel Perfection, Good Is Good Enough!
Here's an analogy to help you understand the 80:20 rule behind good is good enough. Despite having an expensive DSLR camera, most of us take photographs using smartphones Why? Because more often than not, they serve the purpose of just capturing the moment, that is to say, a smartphone is 80%, close enough and you do not need the remaining 20%.
Same goes for authoring tools. You may have licensed super awesome authoring tools that may have stood tall in the Fosway group-9 grid, but your SMEs gravitate towards simpler tools (80% is close enough) which let them focus on sharing their knowledge. So, here's a little guidance for you to help decide tools. Check for these must-have features in your tools, rest is a bonus and belong to the 20%.
Multiple Reusable Templates
Don't assume that SMEs can create end-end courses. Look for tools that are progressive and offer several content options like courses, resources, nuggets, modules, knowledge sheets, etc. across a broad genre of subjects. A template should both inspire the SME and give an idea as to what is possible.
Embedded Didactical Support – Gentle Guidance On Learning Design
As the SMEs are not familiar with the basics of pedagogy or course design, it is best to choose tools that have embedded didactical support in subtle ways. For example, Easygenerator offers a Learning Objective Maker that gently guides the SMEs to think about the goal, outcome, and content at a generic level.
Start By Embedding And Enriching Existing Content
Don't reinvent the wheel for your content; every organization has a plethora of documents spread in several systems, employees' local hard drives or personal accounts. How do we get employees to create or generate content? We have already spoken about reusable templates which is a decent starting point to start shaping the content. Encourage them to think of any nuggets of existing information to be embedded into these templates. Explain to them that templates would enrich information to quickly solve work-related issues. For example product codes, sales phrases, technical cheat sheets, etc. At a later stage, you can explain to them that by adding a question or two will blend the course elements to increase the learning impact or knowledge retention.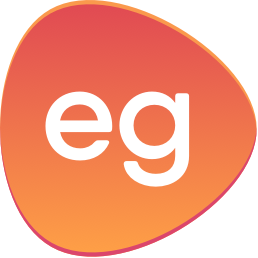 Easygenerator
Easygenerator is an online e-Learning authoring tool for people without an e-Learning background. Create courses and quizzes and host them in our cloud and see learner's results at no extra charge. Uploading to your website or LMS is also possible.