The eLearning Business Case: How The Business Benefits Of eLearning Can Help Bolster Your ROI
In the first part of this article, we examined how, thanks to the benchmarking processes involved in eLearning, it is considerably easier to calculate your training regime's ROI in contrast to classroom training. Before we delve into how an engagement online training strategy will increase your ROI, let's take a look at the business benefits of eLearning.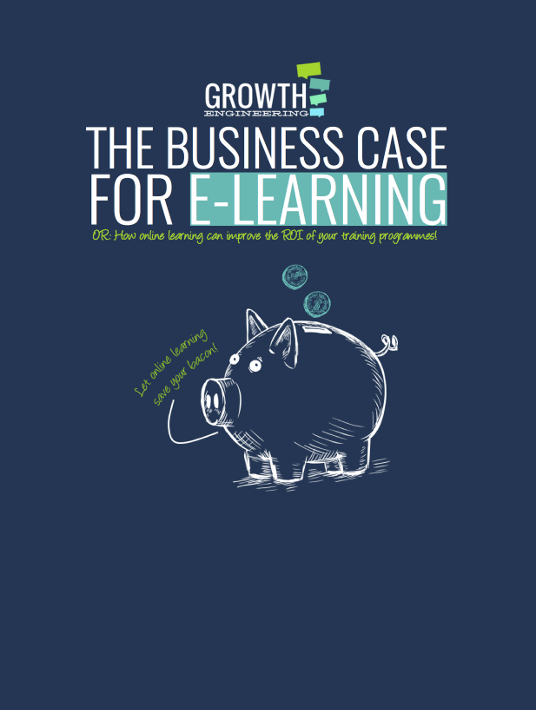 eBook Release
The Business Case For eLearning
Discover the benefits an eLearning approach delivers in 3 major areas and how adopting an engaging strategy will increase the ROI of your training programmes.
As we see it, an eLearning approach delivers benefits in 3 major areas as demonstrated in the diagram below. Some of these benefits and sub-benefits are provided through classroom training though many are not. All 3 benefits are linked in the following manner:
Evaluating these 3 benefits and applying monetary terms to them are key to establishing your ROI. Let's take a look at each benefit on a one-by-one basis.
1. Using eLearning To Cut Costs
Most organisations implement eLearning within their business to cut costs. Whilst there are heaps of sensible reasons to take your training experience out of the classroom (or implement a blended learning approach), budgetary restrictions often act as the catalyst for taking the plunge into eLearning's inviting waters.
It's true that eLearning can cut costs in just about every area of the training budget. There is no need to pay for travel or finding accommodation for your workforce. All you need is internet access. This flexible approach allows learners to work towards their self-development at their convenience. Learning can now take place during lunch breaks and in PJs just before bed. eLearning saves you money by increasing the number of home workers.
Because eLearning is considerably quicker and more effective than the classroom alternative, you will save a significant sum when it comes to opportunity costs. Induction times will be quicker and downtime amongst your staff will decrease to a minimum. eLearning saves money by ensuring that staff are away from work for the smallest period of time possible.
There is no need to book venues or hire instructors and you no longer need to supply your team with lunch. All these incidentals have been wiped from the board.
Let's take a look at some examples of how eLearning has been used to cut costs.
Growth Engineering recently helped Bensons for Beds roll out Bensons Academy. The aim was to improve staff performance, remove costs and raise staff engagement. Through the Academy, Bensons were able to communicate their future direction to every member of staff (1,500+) and help their team to develop a more effective sales process. The Academy was a rousing success and saved Bensons £500,000 in training costs.
When Dow Chemical switched to an eLearning approach, they cut their average spending per learner by $84 to just $11. In total, this saved them $34m (Shepherd, 2002).
Since 2001, BT have utilised eLearning to make 1,700 courses available to their staff. This has saved them upwards of £12m (Computing.co.uk, 2005).
Looking to save money on their training budget and push the benefits on their customers, Nortel adopted an eLearning training programme. Nortel estimates that North American customers saved $7.7 m between 2005 and 2006 thanks to their new learning approach (Bersin, 2007).
These are clear cases of organisations using eLearning to cut costs and secure substantial ROI on
their training spending. It has been estimated that, 'companies… experience a 40-60% cost savings when comparing instructor-led courses with technology-delivered courses' (GeoLearning, 2003).
However, there is more to eLearning than delivering financial results.
2. Using eLearning To Drive Efficiency
'The study's major significance lies in demonstrating that online learning today is not just better than nothing – it actually tends to be better than conventional instruction.' (Barbara Means, International Department of Education Report)
eLearning has evolved into a remarkably efficient and sophisticated form of training delivery. Yet it's often difficult to quantify this benefit in monetary terms. For those struggling to formalise their ROI calculations, Donald Kirkpatrick may be able to help. Since its first appearance in 1976, Kirkpatrick's training evaluation process has grown substantially in stature. He holds that the evaluation process is divided into four levels: Reaction, Learning, Behavioural impact and Results. Analysing all four levels can help you apply a monetary value to the efficiency of your training campaign and deduce your ROI.
Level 1: Reaction - User response
Level 2: Learning - Knowledge & skills transference
Level 3: Behavioural - Application of knowledge
Level 4: Results - Organisational improvement
Reaction refers to the response from those who took the eLearning. Was the learning experience a positive one? Are they awaiting their next online learning session with baited breath? Have any issues or concerns risen to the surface? Was the programme as a whole embraced? Analysis of this feedback can tell you the levels of eLearning acceptance amongst a workforce, or whether they thought the content was relevant to their job. It cannot tell you, however, whether the training actually worked.
The Learning level of evaluation is relatively self-explanatory. By comparing the pre- and post-test assessments, you should be able to see a clear positive development path throughout your workforce. This can also help you to determine whether they have picked up the knowledge or skills that the training was supposed to communicate. There are obvious limitations here. You are offered only a snapshot of the current developmental state of the workforce. There's no way of knowing whether the training has inspired users to continue their progression on the job or whether the learning process will trail off once training is complete.
That is why it is important to monitor Behavioural change following training. In most cases once the learner is released back into their work environment, the evaluation is complete. If you want to determine a training regime's ROI accurately, it is important that precise behavioural data is supplied and then qualified in monetary terms.
Has your workforce adopted a new skillset and are they utilising it at the right moments? Are they responding to scenarios and situations in the manner the training suggested? This kind of data can be collated through observation, interview and follow-up assessments. It is then up to you to boil this data down into monetary terms that can be fed into the ROI calculation.
Finally we reach the Results strand of the evaluatory process. This seeks to establish the level of improvement that training has engendered throughout the organisation. Did the training resolve in organisational growth?
When calculating the ROI on an eLearning training program you have to balance all these different levels of evaluation. Here are just a few success stories where eLearning has proven to be uniquely affective:
Spicers are Europe's leading wholesaler of office products. They rely on a network of 2,500 geographically displaced independent office dealers. Growth Engineering helped to roll out an Academy Platform LMS for Spicers and their dealer chums. The goal: up-skilling Spicers' channel partners and imparting a more effective approach to sales strategy. The Academy was a success. Tests showed that staff possessed an average 24.7% increase in sales knowledge. This in turn transferred into a 28% increase in the conversion ratio of prospects to customers.
BUPA have estimated that adopting the use of eLearning has reduced training time by 40% (elearnity.com)
BT's eLearning consultant Christina Humphrey Evans claims: 'We have found that eLearning saves people time, saves BT money and makes us a more efficient organisation. What would have taken at least 18 months to deliver using traditional methods saw 20,000 staff trained in just 12 weeks' (Computing.co.uk, 2005)
In 2009, a study of a number of prominent European organisations demonstrated that between them 30,000 hours of instructor-led training had been reduced into less than 700 hours of eLearning. That is an incredible 76% reduction! (Ezine, 2009)
These studies make it quite clear that classroom led training is no longer the most effective means for imparting new skills and information to a workforce. As we will see, eLearning's scope can also introduce new opportunities to build upon your ROI.
3. Using eLearning To Develop Intellectual Capital
As the importance of intellectual capital continues to grow, so too will the need for knowledge management. With the brutal sense of competition currently spreading through the business landscape, easy access to jobrelevant knowledge has become a means for increasing chances of survival. The right information stored in the right place could enable a member of your sales team to deliver a perfect sales presentation. It could also enable your workforce to adapt seamlessly around new technology. eLearning does more than simply dispense training – it affords knowledge-hungry workforces access to important information and a variety of reference materials. It is also an opportunity for a workforce to share their expertise and nurture communities of knowledge.
The benefits of knowledge sharing are numerous:
Encouraging innovation by promoting the articulation of ideas.
The communication of company values and a vision for the future.
Fostering a better understanding of market positioning and the customer base.
Improving customer service.
Streamlining operations, expanding skillsets and enhancing revenues.
Affording recognition and value to employee knowledge.
The need for a connected, systematic approach to organisational knowledge should be a major area of concern for any forward thinking business. eLearning and knowledge management are fast friends. Both attempt to improve individual, team and organisational performance by disseminating knowledge. Taking advantage of the potential for an LMS (Learning Management System) to act as a knowledge share is a great opportunity to boost the ROI of your training campaign.
A study involving 182 sales teams seeking to attract new client contracts within a management consulting company, found that the teams that utilised advice and expertise from their workmates produced higher quality work and finalised more contracts than those that did not (Martine Haas, M. T. Hansen, 2007).
Creating a culture where knowledge sharing is the norm is not easy. Knowledge is often stored at an individual level as employees try to engineer personal advantage. A bright salesperson may not wish to share his winning techniques for fear that they will drop down the rankings and no longer be considered top dog. Unless a collaborative culture is encouraged, an effective knowledge share may well be an unachievable goal.
But what better place to encourage knowledge transferal than through a Learning Management System? It is a great place for workmates to talk about their experiences, log effective practices and offer tips to their colleagues. The social learning potential of eLearning offers personal recognition to those who are good at their jobs and willing to offer their expertise. An LMS grants your workforce a voice and a chance for self-expression. What's more, adopting a system that rewards users for sharing can provide ample motivation for individuals to disseminate their knowledge.
Whilst it is possible to share experiences in the classroom, eLearning offers a knowledge share on a much grander scale. It is a fantastic opportunity to grow your ROI over time and build upon what is already a cost-effective and efficient training campaign.
In the final part of this article, we'll explore how adopting an engagement strategy will increase your training ROI. Stay tuned!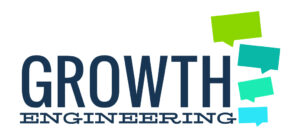 Growth Engineering Learning App
Introducing Growth Engineering Learning App, the world's most advanced mobile application for organisational learning. It places unlimited potential right where your learners need it — their pockets! 🔥