Practical eLearning Translation Strategies For Global Training
Organizations are expanding to new markets and entering new territories. This means they hire new workforce in the new regions, from among the indigenous talent pool. To ensure sustainability and improve results, organizations need to ensure that the performance of this globally dispersed workforce is on par with its international counterparts.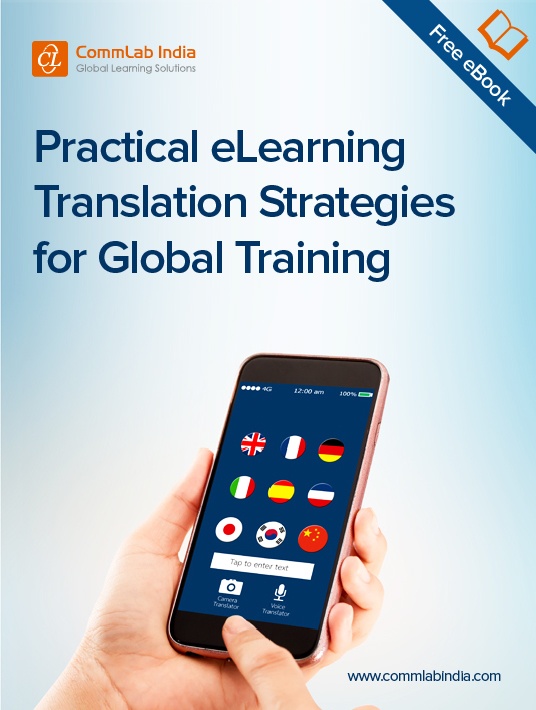 eBook Release
eBook - Practical eLearning Translation Strategies For Global Training
Discover translation and localization strategies to train your global workforce effectively.
It goes without saying that organizations should communicate with and provide all necessary resources to employees in their native languages. This includes a very important element – translation of online learning resources. Translating your eLearning courses is an excellent way to transition into the global marketplace. Learning resources in the native languages of employees enhance employee loyalty and make for a stable corporate culture and workplace.
Be that as it may, rolling out such material to a workforce across various geographies, dialects, and nations can be an overwhelming task. It is well-known that it is challenging to develop eLearning content that is interactive and engaging. Adding to this is developing eLearning for a global workforce, which involves additional steps, such as translation and localization. Access this eBook which will help you address all contemplations before embarking on developing global eLearning content.
So, When We Look At Translating Online Courses, What Are The Things To Be Considered?
Translation – changing content from the source to the target language alone won't suffice. You need to localize content to make it culturally acceptable to learners in the target locales. This involves taking care of graphics, symbols, idioms, and more.
Translation should be planned for right at the development of the source course. This will ensure the instructional, content, audio, and assessment strategies are taken care of to facilitate easy translations.
Using culture-neutral graphics, avoiding region-specific references to sports, humor, religious symbols, and using international formats (for dates, units of measurement) in the source course will make it easy to localize the course into different languages. Internationalizing source content will help cut down on strenuous localization work.
Is In-House Translation The Way To Go?
Though this may look like a feasible solution, given the low budgets training departments have at their disposal, in the long run, this will result in courses that are not linguistically accurate, as in-house subject matter experts are not language experts. You may also miss deadlines and find it difficult to address region-specific nuances with in-house translations.
Do You Opt For Human Or Machine Translations?
While machine translations turn out less costly and might cut down on development time, they can't match the understanding, clarity, and quality that humans bring. Machines often guess the meaning and can't select the right word, accurate for a particular context.
Human translation wins hands-down! Having said that, human translators do rely on tools to speed up work and cut down repetitive tasks. Read more about a few popular translation tools and their benefits here.
Is Working With A Translation Vendor The Way To Go?
Given the risks associated with in-house translations, it is optimal to outsource your translation requirements to a reliable vendor. This will also reduce the hassles of dealing with multiple vendors, for multiple languages. Look for a translation partner with an extensive background in offering comprehensive eLearning development and translation services. Such a partner will have a well-thought-out approach that will ensure excellence and consistency of the translation. Before you ink the deal, check their past work, experience in handling projects in your domain, and ability to work across various time zones.
Are Translations Prohibitively Costly?
Fortunately, contrary to popular belief, the translation and localization of courses does not need to cost a fortune. The secret is to plan ahead and ensure that the source course is designed to be translation-friendly. Here are a few practical pointers to help you get started:
Internationalize units of measurement, time, and currency
Don't embed text on images in the source course; use audio sparingly
Translate into local dialects as needed, select carefully
Use rapid authoring tools that can cut down translation costs
Translation is a humongous task and it can pose many technical difficulties, if not dealt with appropriately. However, careful forethought and the use of the right strategies will ensure your translated courses are a success – without burning a hole in your pocket. Offer globally-relevant, locally-accepted courses through translations.
Download this eBook that covers all these aspects in detail and much more.
Related Articles:
CommLab India Rapid eLearning Solutions
Working with multiple outsourcing vendors can be stressful, and a waste of time & money. With CommLab India Rapid eLearning Solutions, all your online training needs are taken care of, rapidly and economically.