What To Look For In eLearning Translation Vendors
Many organizations across the globe have a geographically dispersed workforce, and online training programs offer a convenient way to meet their training needs. Perhaps, the only barrier to implementing successful training programs across diverse geographical locations, is the language. But, thanks to the presence of eLearning translation vendors, this is a barrier that can be crossed easily.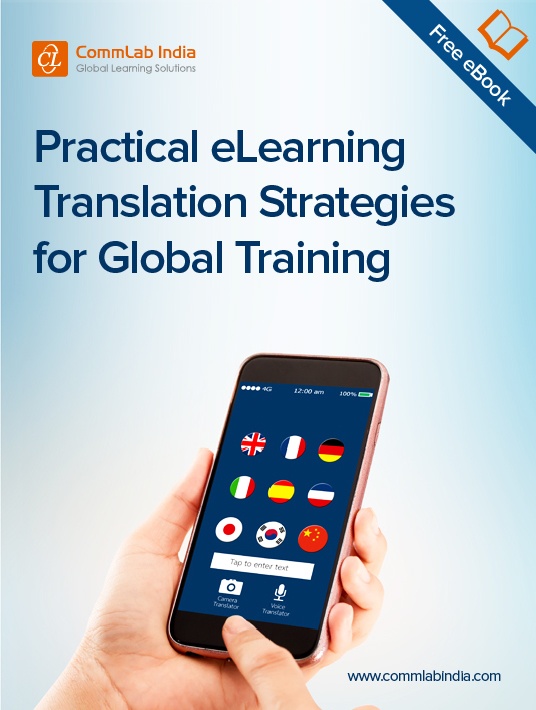 eBook Release
Free eBook - Practical eLearning Translation Strategies For Global Training
Discover translation and localization strategies to train your global workforce effectively.
A successful training program needs to go beyond simple translation. For instance, if your organization needs a course translated from English, to Arabic or Portuguese, it's not enough if text is converted to the new language. Training programs are more effective when some attention is paid to customizing content for the target audience. By choosing the right translation vendor, you can help your organization rollout successful training programs, in diverse languages.
How exactly can you arrive at the right choice of translation vendor? Look out for the following qualities of good translation vendors, to narrow down your search.
1. Vast Experience
Does it make sense to go with a translation vendor who does not have experience, but offers a low-cost translation service?
The answer is no, because it's only with experience that a translation vendor can offer the expertise that is required to translate the content and terminology used in your eLearning course. When the translation vendor is familiar with the subject matter being translated, it becomes easier for them to deliver high-quality translated eLearning courses.
Since the translation vendor is already familiar with the process of translating eLearning courses, the time taken for translation is reduced considerably.
2. List Of Reputed Clientele
Translation vendors who have worked with an A-list clientele understand the importance of meeting deadlines and providing effective translation services. Also, the opportunity to translate a wide variety of eLearning courses contributes to the experience gained by the vendor.
Providing quality work ensures that clients repeatedly work with the same translation vendor.
A vendor who has worked with reputed clients has more chances of working on multilingual translation projects. They may also be more experienced in handling urgent translation requests.
You can also check reviews and recommendations provided by clients on a particular translation vendor.
3. Provides Translation Samples
A reputed translation vendor is ready to provide samples of translated eLearning courses. This can help you gauge the quality of translation, as well as check whether the translations are similar to what you had in mind.
A look at samples of translated courses similar to your requirements, provides you with the opportunity to judge the translation vendor's quality. But before you evaluate translation samples, ensure that you define a clear set of evaluation criteria.
4. Uses Translation Tools
No matter how proficient a translation vendor is, access to translation tools is a must in order to find and use words in the right context. Using a translation tool can help in segmenting the text, thereby providing an effective translation service. The translation tool saves the translated segments in a database, known as translational memory. These segments can be reused anytime within an eLearning course, or even in a new course that needs to be translated.
Translation tools help speed up the translation process, and also ensure the quality of translation.
5. Provides eLearning Services
It is better to go with an eLearning vendor who doubles up as a translation vendor. You can also rely on the vendor to provide a Learning Management System (LMS) to host your organization's eLearning courses online.
When the eLearning vendor has the capability to meet translation requirements, it becomes easier to plan ahead for translation services. Even while the original English course is being designed, a list of translation requirements can be noted down. This makes the process of online course translation, simple.
6. Has Access To Native Speakers
Ensure that the translation vendor you choose, enlists the services of native speakers. The advantage in doing this, is that native speakers have a better command over the language, are aware of the various dialects in the language, and have an idea of the customs of people who speak that language.
Apart from ensuring the correct use of grammar and phrasing, native speakers can help with appropriate localization of content. You can be sure of better accuracy in translation services, with native speakers of the language.
If you have any queries on eLearning course translations, you will certainly benefit by downloading this eBook that talks about the strategies that can be used for online course translations to reduce global training costs.
Related Articles:
CommLab India Rapid eLearning Solutions
Working with multiple outsourcing vendors can be stressful, and a waste of time & money. With CommLab India Rapid eLearning Solutions, all your online training needs are taken care of, rapidly and economically.