Overcoming 4 Challenges Associated With In-House Course Translation
Are you thinking the in-house translation of eLearning courses is good enough to offer effective training to your multilingual, geographically dispersed employees? Have you given a thought to quality, timelines, learning effectiveness, and Return on Investment (ROI)?
In-house translations can be quite tricky. Translation requires a fine understanding of the subject matter, along with linguistic expertise. These skills sets are rarely found in a single individual and relying solely on internal resources to translate and localize training courses, leads to poor quality courses, delayed rollouts, and unnecessary costs – despite strenuous efforts.
Let's examine the challenges you are likely to face with in-house translations and the way out of this predicament.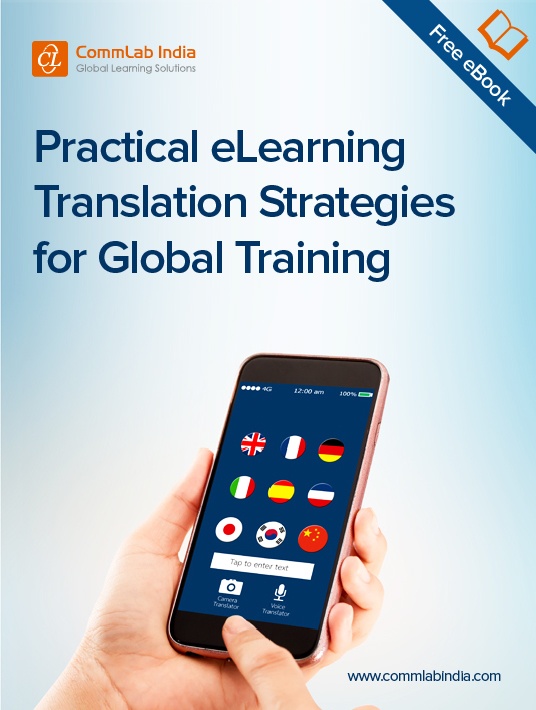 eBook Release
Free eBook - Practical eLearning Translation Strategies For Global Training
Discover translation and localization strategies to train your global workforce effectively.
1. Lack Of Combined Translation-Subject Matter Expertise
Though organizations have well-established in-house training, learning and development, and talent management departments, you will hardly find a dedicated team for translating online courses.
All Subject Matter Experts (SMEs) are not professional translators and vice versa. Though good at his subject, an SME might lack the ability to translate it accurately into several languages. Native speakers, among your employees, though fluent in their regional languages, don't understand the nuances of the topic. Both instances lead to poorly translated courses. The original impact may be lost and the thought may not be conveyed properly in the target languages.
2. Tight Deadlines
The need for translations is often planned, but sometimes it can arise suddenly. For example, training multilingual sales teams quickly on new updates to a product. Your employees already have their regular duties and core tasks and if such needs crop up suddenly, you will have enormous work to do within short deadlines.
3. Cultural Differences
Remember that your audience are scattered across the globe and have cultural and political differences apart from linguistic differences. Not just language, gestures, colors, dialects, clothing – all assume various connotations in different regions.
In-house translators won't be fully equipped to deal with the local nuances of different regions, this will lead to courses that don't cater to local sensibilities – you can end up losing your credibility. You have to strike a fine balance between training translation and localization.
4. eLearning Translation Is Not Just Content Translation
If it was so, it would be good and the in-house training department would be able to manage with the help of multilingual SMEs (though they are hard to come by).
eLearning translation is not just translation of content; translated content has to be integrated in the course, audio and multimedia elements have to be translated, audio has to be synced with onscreen elements – a lot of technicalities are involved in eLearning translation. So you will need SMEs, translators, proofreaders, graphic designers – imagine the complexity and cost of maintaining this team.
So, what is the way out of this murky business?
Overcoming Challenges
You can recruit native speakers as in-house translators but there is always the risk of they being unfamiliar with the intricacies involved in various training areas –specially compliance, legal, safety– where translated content has to be accurate.
Invest in translation memory tools or use free translation tools for consistency in the corporate lingo across all your translation projects. This will reduce your translation costs in the long run and enable you to complete projects faster.
Leverage latest authoring tools to incorporate the translated content into online courses, rapidly. You just need to download the content of the source course in a Comma Separated Values (CSV) format or XML document and send it for translation. The translated file can be uploaded directly in the course without any changes.
This will entail dealing with multiple vendors and agencies. If you want to avoid all this, you can partner with an eLearning translation vendor, with a strong background in offering eLearning translation and localization services.
Read more about the hassles of in-house translations in this handy free eBook. Plan for translation and localization at the start of eLearning development. This will help eliminate unnecessary delays. Leverage technology to reduce efforts and partner with a suitable eLearning translation vendor who will be the one-stop solution for all your translation requirements.
Related Articles:
CommLab India Rapid eLearning Solutions
Working with multiple outsourcing vendors can be stressful, and a waste of time & money. With CommLab India Rapid eLearning Solutions, all your online training needs are taken care of, rapidly and economically.