Ensuring The Success Of Your Global Training With Translation And Localization Of Online Courses
With the growth of multinational organizations and the globalization of business, it has become necessary to train a dispersed workforce. eLearning is a time- and cost-effective solution, but the catch is, it has to be translated into various languages and the content must be altered to suit diverse learners. Thankfully, this is possible with the translation and localization of online courses.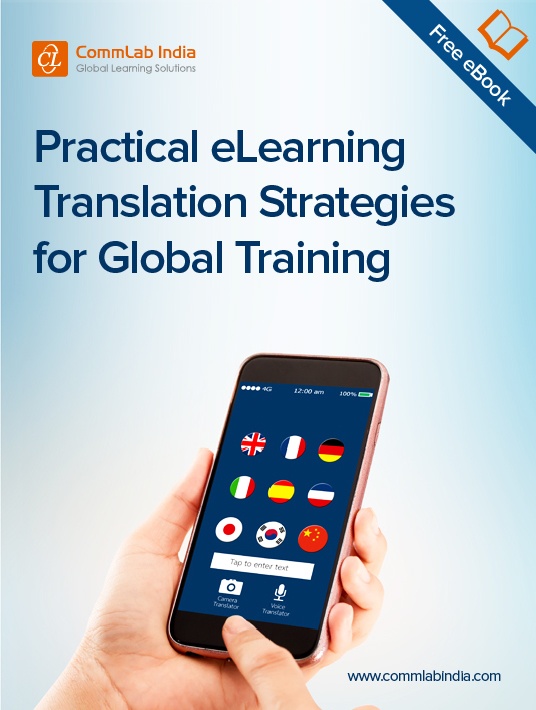 eBook Release
Free eBook - Practical eLearning Translation Strategies For Global Training
Discover translation and localization strategies to train your global workforce effectively.
Translation and localization are the twin strategies to successfully train a global workforce. Both require a unified approach because translation cannot happen without considering localization and vice-versa. Read more about this winning duo in this insightful eBook.
It is easier to define the strategies for translation and localization if you understand your target audience, their geographic location, and the customs they follow and those peculiar to their location. Once these strategies are decided, you can weigh your options on going for machine or human translations.
Machine Or Human Translations
Machine translations can translate text into any language. Some of the popular machine translation tools are Google Translate, Linguee, WordLens, and Bing Translator. Though they do a fairly good job of translating courses, there are certain drawbacks. The results are not comprehensive – the end result may not always be a fluent translation or can deviate from the original meaning. This makes tools less dependable compared to human translators. When you opt for human translators, they will likely use translation tools which ensure the accuracy and consistency of international translations.
Translation Strategies
For successful translation, it is crucial to define the scope of the translation; this makes it easy to decide on the strategies including the instructional strategy, content strategy, visual strategy, audio strategy, and the authoring tool to be used for the course. This helps create a course that will be translation-friendly.
Localization Strategies
Strategies are important for localization as well, the core of which is cultural sensitivity, crucial for global training success. Understanding the cultural nuances, selection of appropriate visuals and graphics, neutral content, and culture-specific subtleties are important for a successful localization strategy.
Cost Reduction
Many organizations think twice before opting for the translation of eLearning courses, thinking it must be expensive. Surprisingly, the cost can be reduced, provided you make some smart decisions when you are developing the course with the right design strategies that will be conducive to translation. You can:
Keep the course culture-neutral and content simple.
Use universal visuals to avoid the cost of sourcing images specific to each region.
Use audio and video prudently; replace audio with onscreen content and interactivities.
Avoid textual content on images because this means the entire image will have to be edited during translation.
Use rapid authoring and memory tools to quicken the process and reduce costs.
Use a Learning Management System that supports multilingual courses.
Choosing A Vendor
When you know it is difficult to do the translation in-house, choose a translation vendor for professional results. It is better to choose a vendor with expertise who will know the particulars of translating a course. They will have a translation process in place that will ensure quicker output of translated courses. A vendor who has handled a number of translations for a vast clientele will understand the importance of timelines, creating professionally translated courses, and meeting deadlines. A better option is to choose an eLearning vendor who can provide translation services as well.
Plan your translation and localization strategies well when working with a vendor to ensure that your translated courses can efficiently train your globally dispersed workforce.
Related Articles:
CommLab India Rapid eLearning Solutions
Working with multiple outsourcing vendors can be stressful, and a waste of time & money. With CommLab India Rapid eLearning Solutions, all your online training needs are taken care of, rapidly and economically.