Employee Training Software For SMBs: Major Advantages To Consider
Maybe you're still getting your business off the ground, so you're operating at a bare minimum. Maybe you're a boutique kind of firm that prefers to keep staff numbers below ten. Either way, the finances of a small firm need additional scrutiny. In this context, online training may seem frivolous. Truth is a small business can benefit as much from online training as big businesses can. In many ways, a small company can benefit even more, because the impact is more visible. Here are 4 reasons why employee training software for SMBs is a necessity.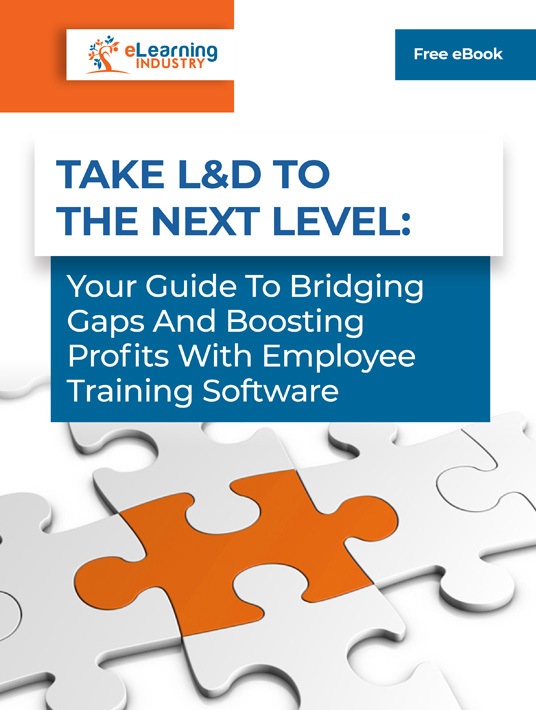 eBook Release
Take L&D To The Next Level: Your Guide To Bridging Gaps And Boosting Profits With Employee Training Software
Learn how to take your L&D to the next level with employee training software.
1. It Builds The Right Team
Recruiting doesn't seem particularly complicated, especially with the high global rates of unemployment. It feels like everyone is looking for a job, so it shouldn't be too hard to fill a position. And yet, it is. That's why entire industries and careers revolve around headhunting. Once you find the right people, you need to ensure they're not lured away. Many job seekers cite training opportunities as a desired benefit, so in-house training will help you attract top talent. You might worry that improving your team's skills will give them opportunities to find new work. However, those new skills will benefit your company while they're still working for you. And if you keep them happy, they're less likely to leave.
Don't think of employee training software for SMBs as an expense. Think of it as an investment, a building block. Combine it with competitive salaries and good benefits to find and keep the right staff. Pick your online training courses carefully so that they are tailored to your business model. This will also encourage employees to stay since their skills are targeted to your brand.
2. It Keeps You In The Loop
Online training doesn't just benefit employees at an individual level. It will boost the company as a whole, especially when it comes to advances in your industry. When you run a small business, it can be easy to overlook changes in your sector. You may not have exposure to the right circles or you may be too busy surviving to find time for progress.
Under such circumstances, the only way you'll keep up is if you make a deliberate effort to do so, and employee training software for SMBs can help you with that. Even if your firm has a handful of employees, assign someone to L&D. They can keep track of any changes in your area of business. They can also seek out cost-effective ways to help the team stay on top of these industry developments. Your IT person or social media guru would do well in this role. In the course of their work, they come across new, relevant information. They might not think it will interest anyone else. But if you make it their official responsibility, they'll keep an eye out. They can also translate and tailor it into the language of the rest of the team.
3. It Spots And Fills The Gaps
Small businesses often run like a family. Even if your team isn't related, they still form solid relationships. After all, they work in close quarters on a daily basis. This can be a good thing and a bad one, too. You get familiar with each other's strengths, but you also grate on each other's nerves. You know everyone's hot buttons and trigger points. This doesn't happen as easily in a big firm, and in this case, size does matter. The scale of your business makes it easier to tailor solutions. Identify talents and weaknesses, then find the right employee training software for SMBs to address them. Learn to complement each other in work situations. The size of the company can also allow you access to more online training. This seems counter-intuitive since small business means limited revenue. But it also means less overall online training costs since there are fewer corporate learners to enroll. Every dollar saved can be channeled into a new online training course. Your small team can end up doing three or four online training courses within the same budget.
Top tip: Look for employee training software for SMBs with customizable reports that allow you to monitor individual skill gaps, as well as track online training objectives that translate into a better bottom line.
4. It Keeps Customers Happy
When it comes to online training, we often focus on how it will affect our staff. It will keep them on the job, or help them work better. But there's another side: the customer. If your team is motivated, well-trained, and pleasantly compensated, they work better. This translates into better client engagement, higher quality products, and greater sales.
Small businesses tend to have a more personal touch because there's direct engagement. From a customer perspective, this means every slight is magnified. They know they're dealing with people, not a corporate machine. In the same way, every favor and benefit is more visible. Spend some time on online training and boost customer loyalty in the process.
How exactly do you substantiate employee training software for a firm with minimal staff, client base, or revenue? Well, when you need to expand, online training opportunities will make you more attractive to talented workers. It will also help you keep the people you already have, thus retaining acquired skills within the firm. You can stay relevant in an industry that may otherwise overtake your small company. It's easy to build on strengths and correct flaws. And best of all, it's good for your customers, which is great for business.
Download our eBook Take L&D To The Next Level: Your Guide To Bridging Gaps And Boosting Profits With Employee Training Software to discover how employee training software can increase profits and take your L&D to the next level. We'll explore the common challenges of selecting and implementing new employee training software, as well as tips to help you conduct a successful training needs analysis before you make the investment. Get your copy today to uncover the overlooked benefits of employee training software for SMBs, and discover which features to add to your shopping list.