How To Get Started With Audio Conferencing Solutions
Video conferencing gets all the glory. But there are plenty of reasons to invest in audio web conferencing solutions for your business, including lower implementation costs. There's no need to invest in additional hardware especially if you opt for a system with VoIP support that allows participants to chat online. But where do you even begin? And how do you choose the best software for your budget and use case? We've got you covered. Here are 8 tips to help you get started with audio conferencing software.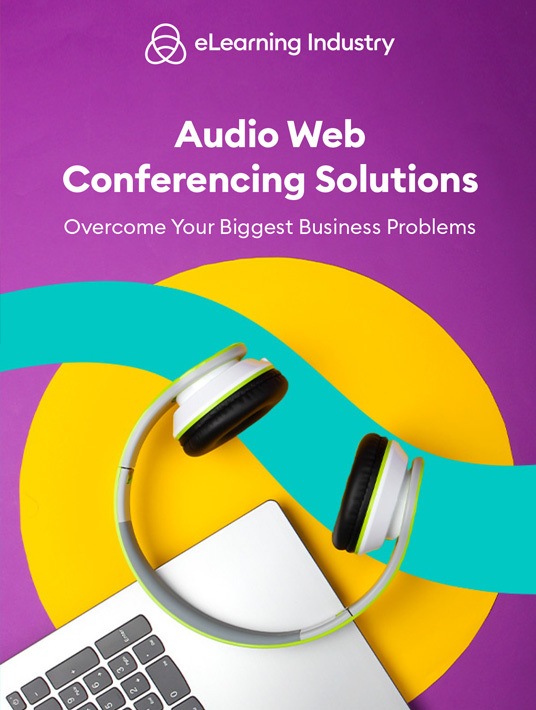 eBook Release
Audio Web Conferencing Solutions: Overcome Your Biggest Business Problems
Audio conferencing brings everyone together and reduces online training costs. Learn how these versatile tools can help you address business pain points.
1. Evaluate Your Audio Conferencing Software Budget
How much can you realistically spend on audio conferencing systems? More importantly, what do you expect from the investment? Your software budget should include setup costs and ongoing maintenance. Keep in mind that different vendors have different pricing options. For example, some charge a flat fee that features unlimited calls, while others charge by the minute. As such, you should review pricing plans to craft an accurate budget. Most vendors include pricing on their site. However, you should always inquire about additional costs. For instance, what if you go over your max user count or monthly minutes? Do they charge extra for calls to certain locations?
2. Assess Your Team's Tech Know-How
One of the perks of audio conferencing tools is that they're easy to use. There's not a steep learning curve. So, every member of the team can benefit from the software. That said, you still need to assess their tech expertise to find the best tool for your team. Many vendors offer free trials or demos so, you can see the platform in action. Is the UI intuitive? Is it easy to schedule meetings or invite users to join the current session? Vendors should have an online FAQ or tutorials to help you maximize functionality. Finally, ask your team about the tools they've used in the past. Do they have any recommendations? What did they like best and least about them?
3. Take Stock Of Your Current L&D Toolbox
Ultimately, you need audio conferencing software that's compatible with your existing tools. The last thing you want is compatibility issues standing in the way of remote collaboration. So, evaluate your current toolbox and ask the vendor about the tech specs. You can even mention which software you already use to ensure there won't be any conflicts down the road.
4. Identify Online Training Gaps
As is the case for any eLearning software, audio conference systems must serve a purpose in your organization. Specifically, they bridge existing gaps and maximize online training benefits for your team. So, are there any specific performance issues you need to fix? Is your current L&D program missing a crucial component that audio conferencing can help you address? Conduct surveys and assessments to identify hidden gaps and get employee feedback.
5. Determine Your Audio Conferencing Software Use Case
How will you use web audio conferencing solutions? Is it primarily for back-end development? For example, will you use it to allow your L&D team to collaborate remotely and consult with SMEs? Or are you going to use it in your online training strategy to host VILT sessions and live events? In most cases, audio conference systems are used across the board, for instance, to meet with clients, streamline collaboration, and move training online.
6. Compile A List Of Must-Have Features
Now that you know its primary use case and the gaps you're trying to fill, it's time to compile a wish list. This includes all the must-have features you're looking for, such as VoIP support, breakout rooms, and event scheduling. Once again, it's crucial to get input from your team. After all, they're the ones using the web audio conference software for L&D whether it's to get JIT support from peers or to discuss the latest course revisions. Another place to verify audio conferencing features is the exclusive directory. In fact, you can search by features to speed up the process. Plus, every vendor has a complete list of selling points on their product page.
7. Vet Audio Conferencing Software Vendors
The best audio conferencing providers deliver all your must-have features without going over budget. But how do you qualify vendors to get max value for money? Start with an online directory that features all the leading software companies. This should also include ratings and performance overviews. As well as comparison tools. Then you need to move on to the vendor's site to evaluate their pricing options and support services, as all their online knowledge base. For example, there are demo videos, guides, and user forums to help you troubleshoot common issues.
8. Create RFPs
The final steps are drafting an RFP and finalizing the contract. Of course, reviewing proposals falls somewhere in the middle. A request for proposal outlines all your software requirements, from pricing to use case. In return, vendors end proposals that showcase all their selling points, namely, how their product can help you achieve your online training objectives. After you choose the best software for your business, you can negotiate the contract terms. It's perfectly acceptable to schedule a meeting with the vendor beforehand just to make sure everything's in order and address your concerns.
Conclusion
Choosing the right audio web conferencing solutions requires needs analysis and vendor vetting. But you can streamline the process with a niche-specific directory. It features all the buying info you need to find the best audio conferencing vendors, including ratings, reviews, and pricing options. There's even a comparison tool to help you evaluate top contenders at-a-glance. Use our free audio conferencing software directory to find the best tool for your team today.
Download Audio Web Conferencing Solutions: Overcome Your Biggest Business Problems for tips to choose the right platform for your remote workforce. It has all the insider secrets to set a realistic budget, vet vendors, and create results-driven RFPs.