How To Implement Audio Conference Systems In Your Training Organization
Training organizations need to run like a well-oiled machine to bridge gaps and stretch available resources. Otherwise, poor employee performance wreaks havoc on your profit margins. Can audio conference systems help you keep all the cogs turning and cut online training costs? The right solution streamlines business practices and on-the-job productivity. It gives you the opportunity to bridge the geographical divide and create a sense of online community. So, how can HR managers and L&D pros leverage audio conferencing software?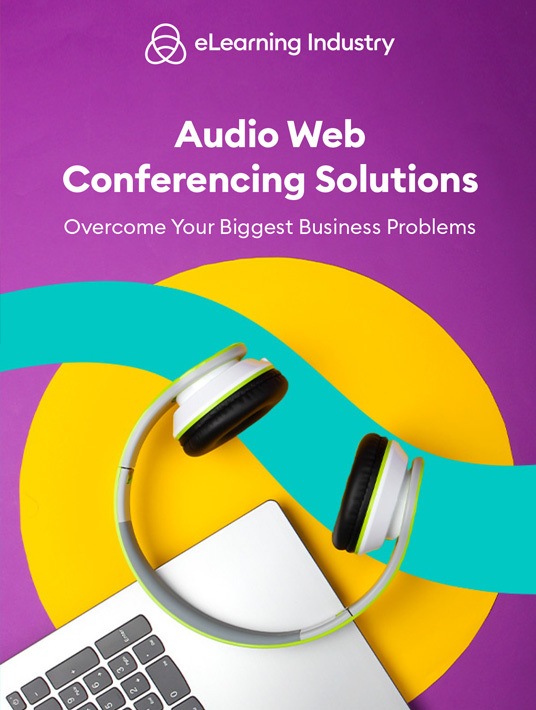 eBook Release
Audio Web Conferencing Solutions: Overcome Your Biggest Business Problems
Audio conferencing brings everyone together and reduces online training costs. Learn how these versatile tools can help you address business pain points.
7 Ideas To Get Started
1. Streamline Remote Collaboration
Every member of the team must be on the same page. They need to be aware of recent policy changes and new compliance regulations. And audio conferencing software is the key. However, the collaboration benefits don't end there. You can also use the system to streamline content development and revisions on the back-end. For instance, L&D collaborators share updates, provide feedback, and assign tasks from anywhere in the world. The audio conference tool gives everyone the opportunity to exchange ideas from the comfort of home—or remote office.
2. Team Up With Third-Party Providers
You may not need to onboard new employees for L&D and HR tasks. However, there are some tasks that call for third-party providers, such as external SMEs who can help you enrich online training content and summarize the key takeaways. Audio conferencing software allows you to consult with these partners instead of simply exchanging emails or springing for video conferencing software. And it's not just L&D projects to consider. You can also invite business analysts, marketing pros, and other experts to join your next audio conference.
3. Break Down The Client Communication Barrier
If you provide eLearning content or pre-built solutions for clients, audio conference software offers quick communication. Clients offer feedback, update objectives, and discuss future projects. You can even use it to host pre-contract meetings to iron out the details. Send them an email invitation in advance with the PIN code and some basic instructions just in case they're new to audio conferencing software. You should also let them know what's on the agenda so they can prepare questions. Finally, let them know that audio conferencing is part of your online training solutions menu. They might consider adding remote coaching and audio presentations to their contract.
4. Offer VILT And Live Event Hosting
Audio web conferencing solutions are ideal for VILT because they allow you to move your training online without going over budget. They also give employees more privacy than video conferencing tools. For example, they can attend audio conferencing events without having to worry about their attire. They can also train anytime, anywhere, even in crowded spaces thanks to the fact that audio conference calls have a mute option. Simply slide on headphones to listen in. Another application is live events such as webinars and workshops. Why not record them for later and add them to your online training library?
5. Schedule Team Brainstorming Sessions
Every week your departments meet up for a brainstorming session. They're able to share ideas and feedback with the group. As well as address their concerns about task protocols, policies, and online training courses. This also gives them the chance to get to know their coworkers. Especially if they work remotely. They get to see things from a different point of view. For example, one of their peers might have a unique problem-solving approach that they haven't considered. Once again, make sure to record the session so that you can listen back and jot down the ideas. You never know what creative things they'll think of during the live session. In fact, you should follow up with employees to learn more. Would they like to create a formal presentation? Do they know how much funding they'd need to implement the idea?
6. Build A Stronger Brand Culture
Audio conference systems are ideal for building community. This means that you can cultivate a stronger brand culture. For instance, your managers host a monthly Q&A or policy deep-dive. Every event features a specific topic that ties into your brand messaging, from your origin story to why the dress code is so important for your brand image. The main goal is to give employees a sense of ownership. They're part of your organization and should know how to reflect its core values. These brand culture events humanize your company so that staffers can take pride as well as work together to achieve common goals because they understand what those goals are and how they serve a greater corporate purpose.
7. Give Staffers Real-Time Support
The last item on our list is real-time support. It facilitates in-house knowledge sharing and reduces online training costs. Staffers meet once a week to review their performance and reflect on personal goals. This can be one-on-one or in small group settings. The objective is to tap into the peer support network, whether it's coaching, mentoring, or impromptu feedback sessions. You can even ask for volunteers to man the audio conferencing lines between certain hours. Coworkers can call in to ask for advice and share their experiences. That said, it shouldn't conflict with regular job duties or take an emotional toll on employees.
Conclusion
Your training organization can use audio conference systems to maximize ROI and bring personalized support to the masses, whether you're training a small team of local employees or selling pre-built solutions. So, how do you choose the best audio web conferencing tool for your budget? Use online directories, reviews, and ratings to qualify vendors. Also, take advantage of test drives to evaluate functionality and user-friendliness.
Get your copy of our eBook for tips to choose the right audio conferencing platform for your training organization. Audio Web Conferencing Solutions: Overcome Your Biggest Business Problems can help you craft RFPs that get results and gather relevant info before qualifying vendors.