Insider Secrets To Reduce Online Compliance Training Cost
Like other L&D endeavors, online compliance training costs can quickly spiral out of control. Unexpected delays, hidden gaps, and surprise revisions put a wrench in the works, which leads to overspending. And that has a domino effect on virtually every other aspect of your business, from employee performance to your profit margin. Since employees don't get the timely training that they need to reduce on-the-job risks. Thankfully, there are ways to cut costs without compromising engagement. As an added bonus, these tips can also help you reduce L&D workload and development time.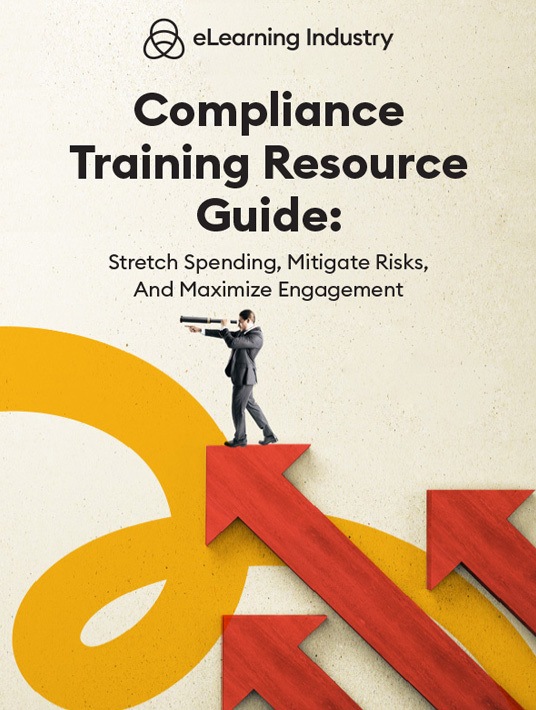 eBook Release
Compliance Training Resource Guide: Stretch Spending, Mitigate Risks, And Maximize Engagement
This eBook explores how to choose the right compliance training resources and stretch your spending without cutting corners.
7 Tips To Cut Compliance Training Resources Expenses
1. Host Live Events
Live events are the gift that keeps giving. For starters, the event, itself, gives employees the opportunity to ask questions in real-time. They interact directly with instructors, guest speakers, or team leaders who host the live sessions. But you can also record it and expand your video library. Or even break it into bite-size modules for microlearning support. Another benefit is that live events can substitute courses, in some cases. For example, the webinar features visuals and quizzes, as well as tie-in resource links. So, you may not have to develop a comprehensive course for this topic because the webinar has all the essential information. That said, it's not a magic cure-all for all your compliance risks. Certifications and traditional online courses may still be required for the more involved subject matter.
2. Re-purpose Assets
Reuse existing resources to save money and reduce development time. Conduct an asset inventory from a compliance perspective. Which resources align with your current needs and objectives? For example, there may only be a five-minute portion of the course that talks about the policy. But you can still remove that section using an editing tool and incorporate it into the new design. The secret is to get creative and come up with innovative ways to use resources you already have on hand.
3. Incorporate Peer Coaching
Peer coaching or mentoring is one of the most cost-effective compliance training resources because it involves in-house talent. Employees help their co-workers overcome personal challenges and avoid common compliance risks. For example, they might collectively explore performance behaviors and habits that lead to violations. This can happen in pairs or in a small group setting. Another option is to ask your peer coaches to host live events based on their area of compliance know-how.
4. Curate Online Content
There are numerous compliance training resources available online. Many regulatory organizations provide free guides and tip sheets. While vendors often have customer training resources that are ideal for compliance courses. Like demos and tutorials that show employees how to maintain equipment. There are some rules to abide by when using online content, however. Such as getting permission if you incorporate copyrighted assets into your course design. Especially if you take an eLearning eCommerce route to generate extra revenue.
5. Launch An Employee Generated Library
In addition to peer coaching and employee-hosted events, another great way to get them involved is through contributions. Launch an employee-generated library and ask them to upload presentations, podcasts, and other helpful resources. They learn more about the topic in the process of making these training activities. While peers benefit from their insider expertise and insights. Just make sure they pick a subject that resonates with them. For example, a customer service employee is a go-to person for front-end company policies. They know all about returns, data collection, and extended service plans. As such, they should develop content that ties into their strengths and leave sales skills, negotiation, and product knowledge to other in-house experts.
6. Invest In Rapid Authoring Tools
Many organizations choose to purchase rapid eLearning authoring tools even if they outsource. This gives you the opportunity to update and revise content provided by the training solutions company. For instance, add more to the template or adjust policies based on your current training objectives. The main reason to invest in rapid versus traditional authoring tools is that they're user-friendly and feature-rich. Most of them have built-in asset libraries so that you don't have to curate online content. Such as images, interactions, and cut-out characters. This further reduces costs because you don't have to spend time searching for materials and pay for third-party downloads.
7. Hire An eLearning Content Provider
It may seem counterintuitive to hire an eLearning content provider if you want to save money. After all, why would you pay a company when your L&D team is capable of handling the task? In truth, outsourcing lightens your workload and cuts costs. Rapid turnaround, lower software expenses, and improved resource allocation are just a few of the benefits. The right training solutions can even help you improve employee engagement. As they know how to foster mistake-driven learning and create an emotional connection. However, you need to set an accurate budget and send RFPs for personalized cost estimates. This also helps prevent overspending because vendors know your financial limits and what you expect from the investment. For instance, you need these resources, and this is your price cap. Can they deliver on budget? Do they have the necessary expertise and tools?
Conclusion
One common online training compliance cost that many businesses overlook is time. The time it takes your L&D team to develop content and for your front-end learners to assimilate the information. That's why many organizations turn to outsourcing partners. The right pre-built or bespoke compliance training programs reduce seat time and lighten the burden on your development department. As they produce high-quality content and have all the necessary tools and experience.
Download the eBook Compliance Training Resource Guide: Stretch Spending, Mitigate Risks, And Maximize Engagement to learn how to choose the right compliance training resources and stretch your spending without cutting corners.