Setting A Realistic Timeline For Your Onboarding Process
Everyone talks about budgets and goals, but one of the most crucial aspects of the onboarding process is time. How long will it take your L&D team to develop and deploy content, as well as track employee performance? This schedule must also account for front-end users. Will they need a week to acclimate to the training platform and complete basic certifications? Your onboarding process timeline impacts every other L&D endeavor. For example, longer time windows translate into more payroll hours and additional resources. Below are some top tips to help you develop a realistic new hire training timeline for your team.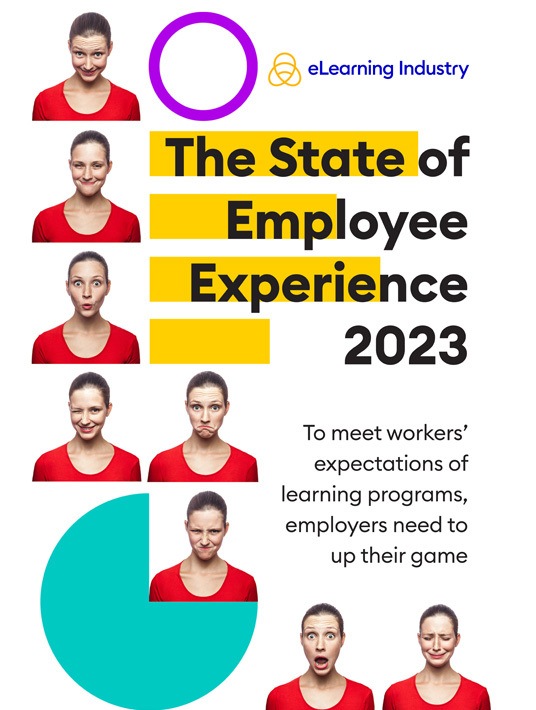 eBook Release
The State Of Employee Experience 2023
Explore upcoming corporate culture trends and how employee experience can be improved via improving onboarding, training, and employee engagement.
Top Tips To Set An Onboarding Process Timeline
1. Get Feedback From The Team
Unless you're involved in every task, you need to get input from your team to create an accurate onboarding process timeline. They can tell you how long each phase of the project will require (estimate) and which resources they need to complete their assignments. This also allows them to clarify outsourcing goals and deliverables. For example, they may not be able to take on extra work. In this case, you have to expand the outsourcing scope to include activities the custom content provider must handle.
2. Reevaluate Objectives And Outcomes
Some of your current objectives may be irrelevant, while others need to be added to the onboarding training curriculum. Revaluate your strategy to ensure the outcomes are still the same and adjust based on new policies, protocols, etc. This saves you the hassle of having to modify your employee onboarding process timeline in the middle of development or implementation. You also streamline your L&D budget by prioritizing your training needs. You might be able to hold off on certain training topics and focus on those that directly impact your profit margin.
3. Map Out The Steps
Outline all the steps involved and then break them down into time blocks. You can even go further by dissecting each phase of the project into individual components. As an example, your L&D team must create a COI compliance module. Or develop a storyboard to get a visual roadmap of the entire process. This itemized timeline should include everything from TNA to post-launch follow-up. Like analyzing user data and assessment results. The more detailed the steps, the better. Since it allows you to estimate every sub-step of the process and which tools/team members are required.
4. Identify Potential Delays
There's always going to be a risk of project delays. The secret is to identify them so that you plan ahead and avoid lengthy delays. Of course, you can see into the future and point out every hiccup. But you can get feedback from your L&D team to disclose imminent threats to your employee onboarding timeline. It's impossible to predict every risk, so stick with realistic delays that are preventable. For instance, your team needs a few days to get used to the new LMS or authoring tool. Instead of forcing them to master the features in two days, give them a solid week to acclimate. Then create a backup strategy for the most plausible obstacles. This should include backend development delays, as well as those that plague your front-end implementation.
5. Schedule Frequent Progress Checks
Schedule regular catch-up meetings where you can gauge team progress and/or reevaluate your onboarding process as a whole. Maybe you'll chat with your L&D staffers once a week to ask if they need more resources or to modify the current timeline. You can also do the same for trainees. Check in with them periodically to get their feedback. Is the employee onboarding program addressing all their gaps? Do you need to include more JIT support? Is the LMS easy for them to use? An onboarding process timeline should be adaptable based on emerging gaps and training challenges.
6. Factor In Outsourcing Tasks
Your employee onboarding timeline must also include outsourcing assignments. Tasks that the eLearning content provider will take care of autonomously. How long should you set aside for every stage? Are there milestones you need to consider, and are they flexible or set in stone? Is your timeline realistic, considering their current workload? They may be working on other projects at the moment and need an extra 2 weeks to wrap up your first task. In this case, you need to find another provider if you're in a time crunch or adjust your schedule based on their availability.
7. Sync The Teams
If you are outsourcing some of your employee onboarding training, it's a good idea to verify that everyone's in sync. Namely, their team and your L&D department. Is everyone aware of their roles? Do they know which tasks come before and after theirs in the onboarding process? What happens if an assignment is delayed, which impacts the outsourcing partner's workflow? And vice versa? The terms should be in writing but it's also beneficial to host a joint meeting. Just so everyone's on the same page and understands the communication and collaboration guidelines.
Conclusion
Bear in mind that your employee onboarding timeline should be flexible but not haphazard. Evaluate the risks involved so that you have a backup plan and host recap meetings to evaluate team progress. Leave some room in the schedule for unexpected delays but have measures in place to prevent them. There should also be a PM to oversee the project and keep everyone on track. For example, reach out to team members who may need additional resources or adjust milestones if they run into a snag.
If you're taking the outsourcing route, hiring the right eLearning content provider is your #1 priority. You need a company that works within your budget and helps you stretch available assets. Use our Top Content Providers For Employee Onboarding list to find the ideal bespoke eLearning pro for your project.