What Should You Look For In Rapid eLearning Development Tools?
Authoring tools provide the technological prowess to enable rapid eLearning development. After all, rapid authoring tools are responsible for:
Significantly reducing eLearning development time
Making it easy to update existing eLearning courses (with source files)
Improving learner engagement
Publishing LMS-compatible eLearning courses based on the latest technical standards (SCORM, xAPI, CMI5, etc.)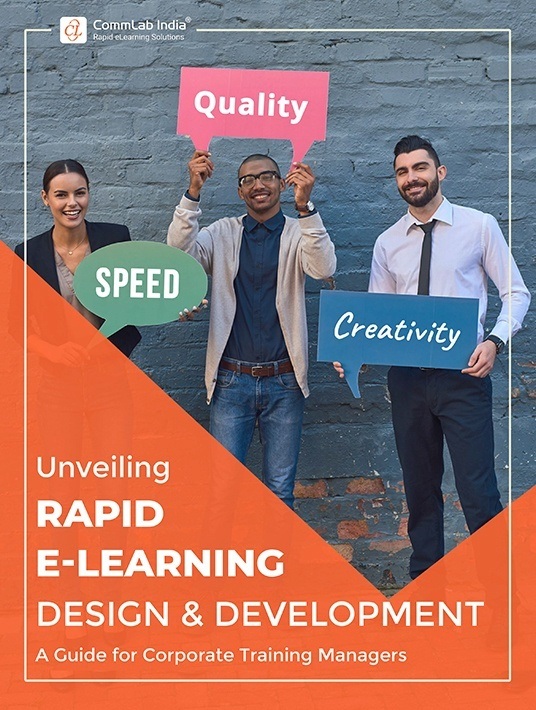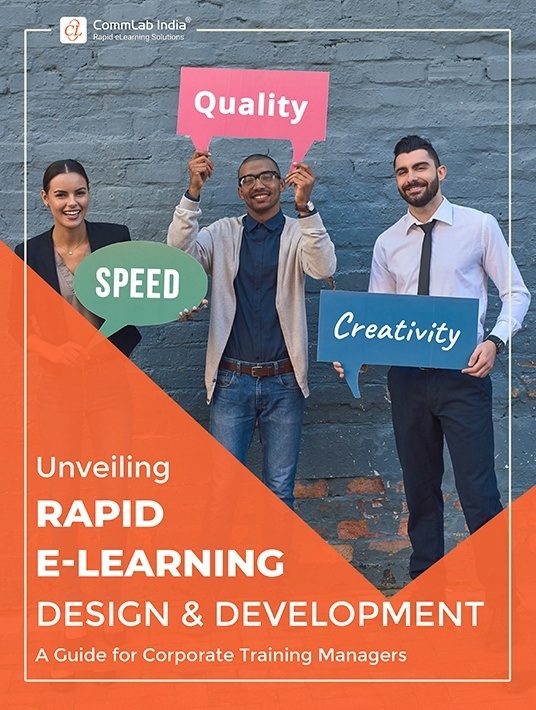 eBook Release
Unveiling Rapid eLearning Design And Development – A Guide For Corporate Training Managers
Discover what rapid eLearning is, how to align it with your business goals, and which tools you need for the task!
Types Of Authoring Tools
1. PowerPoint-based Authoring Tools
These authoring tools work as plug-ins for MS PowerPoint. They are very easy to use with almost no learning curve. You can develop simple digital learning assets with a few basic interactivities.
Examples: Adobe Presenter, Articulate Studio
2. Desktop-Based Authoring Tools
These are the most used tools for eLearning design and development. They are so named because they need to be installed in a dedicated system. They offer a variety of features and are ideal for designing courses with high-level interactivities and customization. However, they have a steeper learning curve than PowerPoint-based authoring tools.
Examples: Articulate 360, Adobe Captivate, Lectora Inspire, iSpring Suite Max. 26
3. Cloud-Based Authoring Tools
These are online authoring tools that don't need to be installed in a particular system. They are usually offered as Software as a Service (SaaS) and need a license to be used. They allow collaborative authoring where more than one person can log in and work on the tool simultaneously.
Examples: Articulate Rise, Lectora Online, Easygenerator
Features To Look For In A Rapid eLearning Development Tool
There are many popular authoring tools today in the market today – Articulate 360, Lectora 19, iSpring Suite Max, Adobe Captivate, Easygenerator, and more. While most of the authoring tools offer more or less the same features, you will find it easier to choose your best authoring tool if you consider these five key features needed for rapid eLearning development.
1. Built-in Media Library
Unlike classroom training, eLearning relies more on visual elements such as images, animations, and videos to deliver information. But creating them from scratch or buying them from commercial sites like Shutterstock or Getty Images can be tedious and expensive.
That is why having a built-in library of stock media assets such as buttons, clip arts, locations, and characters can be quite handy. These media assets are royalty-free and come as part of the authoring tool suite. More importantly, they cut down on the time and cost of rapid eLearning development.
2. Customizable Templates based on New-age Design
Templates act as ready-to-use blueprints for eLearning courses and help create a consistent and professional look and feel across courses. These templates can be used for:
Common screens
Games
Assessments
Going for an authoring tool that has an en-suite template library with a wide variety of layouts, built-in interactivities, and new-age learning design elements significantly reduces the time and cost of development. And having customizable templates that can be adapted to accommodate specific needs means they can be reused multiple times.
3. Interactivities Based On New-Age Learning Design
Although rapid eLearning depends heavily on authoring tools, that in no way means it lags behind when it comes to creativity. Or that you have to spend more to create engaging courses. Courses based on new-age learning design appeal to modern adult learners. This new-age eLearning design involves highly interactive strategies like storytelling, branching scenarios, personalization, gamification, and augmented and virtual reality.
You can add personalization by asking learners their names right at the start of the course or to choose a character/avatar based on their job roles. You can use gamified templates for formative assessments and assign points (for every correct answer) and rewards (based on their confidence level or response time). You can also leverage the screencast and recording features to build watch-try-do simulations.
Authoring tools such as Storyline, Lectora Inspire, and Adobe Captivate are compatible with tools like BrachTrack that enables building branching scenarios. Authoring tools like Adobe Captivate 2019 and Lectora CenarioVR have features that make it easy to develop VR-based eLearning for an immersive learning experience.
4. Responsive Design For Multi-device Accessibility
Responsive design is a crucial feature to look for in an authoring tool, as it allows for the rapid development of mobile learning courses. Most modern rapid eLearning authoring tools publish mobile-friendly courses in the HTML5 format. But it is the extent of responsiveness to screen size and orientation that makes all the difference.
Articulate Storyline 360 offers responsive design, but the responsive element works only up to certain screen sizes and orientations. Adobe Captivate has an adaptive design with a feature called 'Fluid Boxes'. All you need to do is fit your content in these fluid boxes and the content will automatically realign itself when there is a change in screen size or orientation.
Lectora's 'Responsive Course Design' feature allows content to tailor-fit mobile screens, without any need for tweaking from the developers' end.
5. Assessment Types and Templates
Assessments are an indispensable part of eLearning courses. They play an important role in evaluating learners' understanding at regular intervals during the course (formative assessments) and verifying if they have achieved the set performance-based learning objectives at the end (summative assessments).
Having built-in assessment templates in an authoring tool can help in rapid development – of quizzes, drag and drop activities, fill in the blanks, matching activities, flashcards, etc. Many authoring tools also allow randomizing the sequence of questions and providing feedback in creative ways. You can also use customizable game-based, scenario-based, and simulation-based templates for engaging eLearning assessments.
6. Online Review Apps
These are key for a hassle-free review/feedback-implementation cycle. These review tools provide a common platform for all stakeholders and SMEs to share their feedback.
Conclusion
Want to learn more about how to use rapid authoring software to develop engaging content for your team? Download the eBook Unveiling Rapid eLearning Design And Development – A Guide For Corporate Training Managers to find the right tools and ID strategies to launch a rapid eLearning development program today. You can also join the webinar to master the essentials of high-impact learning for your teams.
References:
CommLab India Rapid eLearning Solutions
Working with multiple outsourcing vendors can be stressful, and a waste of time & money. With CommLab India Rapid eLearning Solutions, all your online training needs are taken care of, rapidly and economically.