Implementing Competency-Based Training: How To Do It The Right Way
Before diving into this step-by-step guide for designing competency-based training, it is important to first understand the concept of competency-based learning from the perspective of an employee.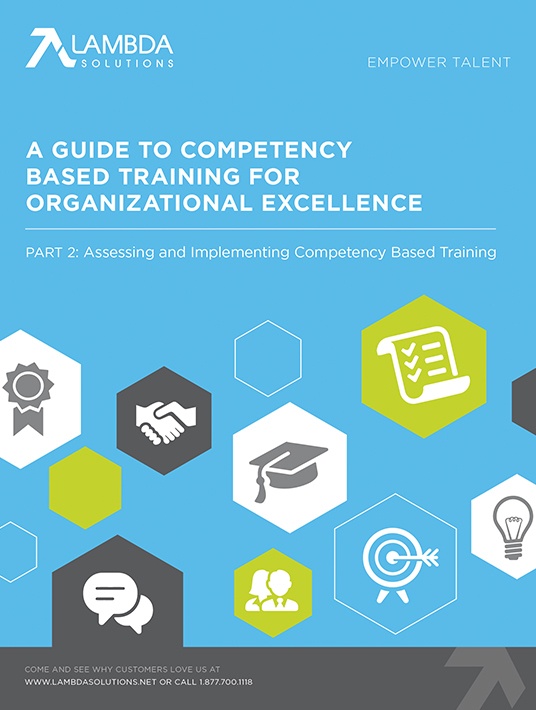 eBook Release
A Guide To Competency Based Training For Organizational Excellence – Part 2
Discover how to assess competencies, get insight on the basics of the concept of CBT as viewed by an employee, and study the step-by-step process for implementing CBT.
As a Learning and Development manager, any efforts you make to provide enriching learning experiences will undoubtedly go to waste if the learner is not willing to take responsibility of his or her learning. Employing proactive learners will ensure that your talent seeks out people or experiences that will help them remain ahead of the curve for career advancement and promotion. Competency-based learning is thus the actions that individuals take to support their continued Learning and Development.
Such actions may include learning from exemplary performers and enrolling in certification programs. Competency-based training thus differs in the sense that it is initiated by organizations to help talent match profiles of highly-successful performers and develop greater competence in employees[1].
Here is how to implement CBT in 12 steps.
1. Determine If Training Is The Correct Course Of Action To Take
Ask yourself if the performance problem can be solved by training or if it requires other managerial actions. Here are a few questions that will help to determine if training will resolve the performance problem:
Does the performance problem stem from the individual's shortcomings in knowledge, skill, or attitude? If yes, then continue to step 2.
Does the performance problem require Management action such as:

Changing/modifying job descriptions or work requirements to align with departmental and organization needs
Changing performance review criteria to better suit the competencies of the position.
Changing tools or equipment provided to workers
Changing or modifying reward or pay systems
If you select any of the changes that require managerial action above, training will not likely solve performance issues.
2. Determine Measurable Job Requirements And Assess How Well Workers Are Meeting These Requirements
Steps 2-5 are geared towards analyzing your training needs so that you are on the right track from the get go. In step 2 it is important to ask yourself the following questions to determine training requirements:
Who are you targeting to receive the training (is it a particular group or employee)?
What must this group or employee accomplish?
In what setting or under what working conditions will they perform?
How will training be accessed once completed and whom will complete the assessment?
3. Examine The Conditions In Which Workers Will Apply What They Have Learned From Training
Here it is important that your trainees have real-life situations to apply what they have learned in training. The best results for learning retention are those where employees have a minimum of three different scenarios to apply a single learned competency.
4. Become Familiar With The Background Of The Workers Who Will Participate In Training And Determine What They Already Know
In some competency training scenarios, you will not benefit from years of experience working with the trainee. For example, when completing employee onboarding training, your only experience of getting to know the employee's background will be through the interview process.
Thus, in scenarios with little understanding of the trainee's talent, it is best to administer a probing survey to discover the current level of competency for which you are seeking to improve.
5. Isolate The Most Productive Performers In Your Organization And Determine Which Competencies They Have In Common
Once these competencies are determined, ensure that they are applicable to the position(s) for which you are administering training.
In this step, it is important to isolate measurable performance indicators that have been objectively measured. Typically, Senior HR directors are best suited to objectively isolate the most productive employees but some competency experts believe that job incumbents may be better judges of this if objective performance measures are not available.
6. Compare And Contrast The Most Productive Employees To Average Performers In Order To Determine What Competencies Set Them Apart
The following are questions that will help compare top versus average performers:
What makes the top performers different from the acceptable performers?

What individual strengths do they have that average performers do not?
What processes do they use to complete work as effectively as they do?
Are there any differences in their knowledge base? For example, does the superior performer have unique talent with mathematics?
7. Determine Measurement Rubrics To Assess Competencies
Here it is wise to think about whether you want to use behavioral rubrics, or even skill tests and certification. Another consideration is if it would be beneficial to measure work output along with the quality of work.
For example, can Sally produce 3 research papers that address innovative ideas?
8. Identify Competency Objectives Trainees Will Be Able To Showcase Once Training Is Complete
Here it is important that objectives are clearly outlined in competency-based terms. For example, knowledge and performance objectives should outline the specific results that the competency training will yield and how these results will be measured.
E.g. Sally will be able to effectively probe prospective clients within 2 minutes of a sales call to determine whether or not the prospect is a viable lead.
9. Determine How Training Results Will Be Measured
How will you know whether learners were able to apply what they learned to improve their job performance?
10. Create Or Procure Instructional Content Required To Teach Competency Objectives
Since this is an entire process on its own, Learning and Development managers often outsource this step to consultants who design instructional content.
11. Decide How To Effectively Administer The Instruction Content
For example, will the trainee(s) learn the competencies best through a traditional classroom setting, on the job training, mentoring, online learning, or job shadowing?
12. Determine How You Will Measure Training Results Once Training Is Complete And Employees Are On The Job
Remember the rule of three discussed in step 3.
Final Word
Here are a few additional methods for competency learning:
Providing relevant articles and/or books
Best practices or other exemplary knowledge in internal databases
External websites and relevant documents or reports
Watching videos and listening audio files or podcasts
Coaching or mentoring either internally or externally
Watching and mirroring successful performers
Participating in centers of excellence (otherwise known as competency centers or capability centers)
If you want to learn more about competency-based training, download the eBook A Guide To Competency Based Training For Organizational Excellence - Part 2.
Reference:
[1] William J. Rothwell and Jim M. Graber, Competency-Based Training Basics (New York: ASTD, 2010)