What's The Right Solution For Your Needs?
More than 50% of companies outsourced training to a learning vendor in 2019 [1]. Obviously, it's a common practice, but outsourcing the design, development or deployment of your employee onboarding is a commitment. You'll want to be sure that you're making the right choice, given your specific training challenges.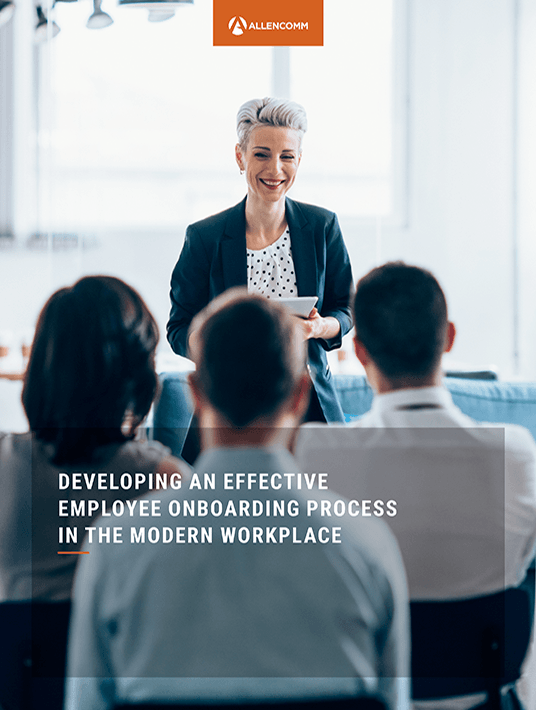 eBook Release
Developing An Effective Employee Onboarding Process In The Modern Workplace
As technology and business processes continue to change, we must take greater care to support employees with effective onboarding.
Internal training teams are well-equipped to handle various training challenges, but they don't have the scale or capabilities to face every challenge. When the scope of a project is massive, or the design needs innovative thinking, you'll want a diverse team of graphic designers, artists, programmers, User Experience designers, game developers, and performance consultants, as well as the traditional Instructional Designer.
Vendor Considerations
Before approaching a training consulting firm, get an idea of the specific challenges your employees face. Start by taking a deeper look at knowledge, performance, and motivational gaps. This will help you determine if your team can accomplish the project goals internally. Moreover, this initial evaluation will make working with a vendor much easier. It enables you to have a more effective first conversation around training strategies. Learning consultants usually have diverse portfolios and expertise spanning a wide variety of industries and subjects that may resonate with your ideas or inspire new ones.
Working with a training consultant amounts to much more than the quality of the end product. So, there are a few key factors to consider when choosing between vendors: process, communication, and technology. Essentially, the way that the vendor is set up to work with their client plays a key role in the success of a project. For example, clumsy review and revision processes can extend timelines by weeks at a time. Poorly communicating change orders and additions can lead to unexpected expenses—and rather unpleasant conversations. However, business technologies, like project portals, can make the experience much more manageable. Discuss the vendor's project management infrastructure and processes before you settle.
Innovation And The Modern Workforce
Business technologies and processes continue to evolve, and best practices in employee training and development follow closely behind. It's difficult to keep up to date with the latest technology and methodology in training. Beyond that, it's often untenable to maintain an internal team with highly specialized skillsets. Research by The Brandon Hall Group on training team structure seems to support this challenge: More than 50% of L&D teams don't have a data analyst, web designer, UX designer, game designer, or performance consultant [2]. Moreover, less than 17% plan to add any of these positions. With a learning consultant, on the other hand, you get the benefit of specialized departments. For example, with a solid art department, courses can be enhanced through motion graphics, graphic design, and visual strategies focused on crafting the User Experience you need.
Instructional Design is part art and part science. While training strategies may be based on behavioral sciences, creativity plays an important part in learning experience design. Unfortunately, the greatest ideas aren't always easily deliverable as products. An Instructional Designer may not have the technical expertise to give life to that creativity with custom modules. But if you share your design challenges with your training consultant, teams like programmers and UX designers can coordinate the fine balance to bring the right aesthetic and function into your course.
Timetables
The Brandon Hall Group cited a lack of time and resources as the top two most pressing challenges for L&D teams in North America [3]. Time—or rather, scale—is one of the main reasons organizations outsource employee onboarding to learning consultants. Whereas internal training teams may have to balance various projects on a tight schedule, the flexible organization structure and designated project teams common to training consultants enable timely product delivery.
Conclusion
Training outsourcing will continue to expand as a viable option for business, particularly as the scale of training development grows larger than internal teams can manage. The process can face unexpected challenges, but there are a few key steps that will help make your employee onboarding project a success. So, take an in-depth look at the needs of your learners, as well as the limitations of your scale and capabilities. If the learning solution you need isn't something you can deliver, then perhaps the best option is working with a learning consultant. For more on modern training challenges and the best practices in design strategy to overcome them, download our eBook Developing An Effective Employee Onboarding Process In The Modern Workplace!
References:
[1] Extent of outsourcing in all companies in the training industry in the United States in 2019
[2] Adding Learning Function Roles