How A Traditional LMS Differs From An SMB Learning Management System: 7 Key Differences To Consider
Owning a small business doesn't mean you should skimp on training. Assuming employees will pick up critical information as they go, will limit your success. Instead, creating a robust online training program using an SMB Learning Management System is a cost-effective solution. You will be able to ensure each employee received the training they need and that everyone gets the same instruction. Here are 7 essential differences between a traditional and an SMB Learning Management System. Utilizing the correct LMS will help you create impactful online training that will ultimately benefit your small to medium-sized business and its bottom line.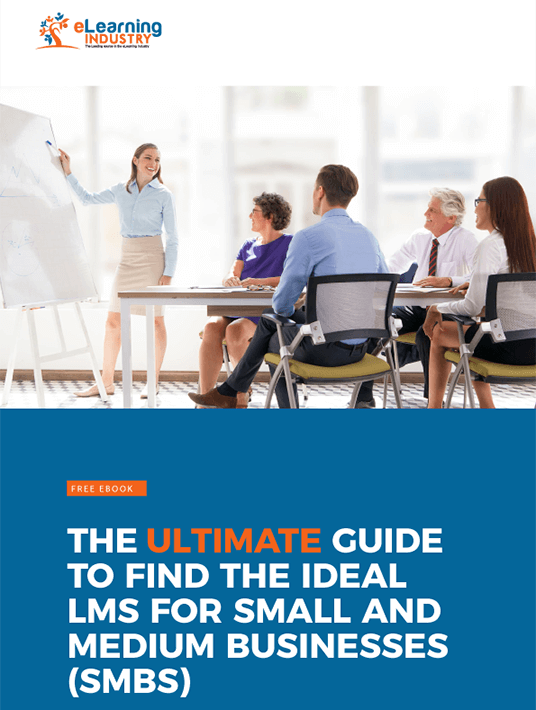 eBook Release
Get a Free eBook to find the ideal SMB Learning Management System!
This Free Ultimate Guide can help you examine various aspects of SMB LMSs.
1. SMB Learning Management Systems Are User-Friendly
Many traditional Learning Management Systems are run in house. This means that a business needs to have a fairly large IT team to support the LMS. However, small to medium-sized businesses do not typically have the resources to support an independent LMS. This is why an SMB Learning Management System is ideal. These are often hosted on the cloud, meaning your small business will not need dedicated LMS servers. Many SMB Learning Management Systems also have dedicated support teams to assist users. These perks allow small to medium-sized businesses to get a comprehensive LMS without the hassle that comes with supporting one.
2. Traditional LMS Platforms Tend To Cover Too Much Ground
You're running a small business and your LMS can reflect that in your online training approach. While a traditional LMS often has a fair amount of general information, SMB Learning Management Systems aren't so broad. You want to make sure your employees are getting the most out of their online training. Using an SMB Learning Management System allows you to do this. Creating targeted information for specific employees will help you enhance the benefits of your online training program.
3. SMB Learning Management Systems Engage Employees
A standard LMS has little room for employee feedback and engagement built into the system. You need to know what your employees are thinking to create better online training. If they do not understand specific parts of the online training course, they should be able to tell you. It is also important for your employees to engage with each other. There are social aspects to newer SMB Learning Management Systems. These allow your employees to talk to each other even if they are in different cities or countries. This will bring your team closer together and allow them to support their peers.
4. SMB Learning Management Systems Are Easy To Customize
Each business is different, and your LMS requirements should match your goals. While some businesses might focus on the social aspects of their LMS, you might want to focus on online quizzes. No matter what your aims are, you can tailor your SMB Learning Management System to match. Choose an SMB Learning Management System that reflects your vision, mission, and values. Pulling those important core business details throughout your online training is important. It will help your team understand who you are and what your business is about. A customized SMB Learning Management System will keep your employees on message and give them a clear understanding of their work.
5. Traditional LMSs Typically Have Fewer Updates
Imagine getting feedback on your LMS but not being able to do anything about it. No matter how frequently you request a software update, the limitations of the tool hinder your true online training potential. Traditional LMSs tend to be fairly static and unchanged. This isn't true for SMB Learning Management Systems, as they are more responsive to customer feedback. You will have the opportunity to tailor the SMB LMS to meet your needs. Also, as mentioned above, the company that manages SMB Learning Management Systems will support you. They can help provide the solutions you need to make the updates your employees want.
6. SMB Learning Management Systems Provide Relevant Reports And Analytics
Small and medium-sized businesses have unique online training pain points. As such, you need an LMS that can provide you with the actionable data you require to bridge performance gaps. SMB Learning Management Systems allow you to focus on LMS metrics that matter most to your organization. For example, employee performance reports that enable you to identify your top talent and help under-performers catch up to speed. Furthermore, the LMS platform should feature data visualizations that help you transform data into meaningful goals. For instance, charts and graphs that highlight important patterns.
7. Extended Enterprise Capabilities
Some SMB Learning Management Systems even feature extended enterprise training support. That means you can provide your external partners with the online training resources they need to succeed. Your franchisees, vendors, and sales channels are able to upskill and expand their knowledge from anywhere in the world. These SMB Learning Management Systems are also equipped with certification support, robust reporting, and brand integration. Even if your extended network is relatively small at the moment, an external partner LMS platform is still worth considering. Especially if you plan to expand your small to medium-sized business in the near future and want to be fully prepared for global operations.
While traditional LMSs and SMB Learning Management Systems do have some overlap, the differences are worth noting. Especially if you're working with a tight eLearning budget and can't afford costly trial-and-error. Employing the correct LMS system can make a big difference for your team, as well. It allows them to embark on personalized online training paths that address their needs, instead of having to take a "one-size-fits-all" approach.
Are you interested in a free guide that can help you pick the best LMS platform for your small to medium-sized business? Download our Free eBook: The Ultimate Guide To Find The Ideal LMS For Small And Medium Businesses (SMBs) to discover the essential characteristics and functions to look for in your new software, as well as tips on how to fully engage your remote workforce with the help of a robust SMB Learning Management System. We'll even show you to calculate the ROI for your new SMB LMS.