Launch A Successful Sales Enablement Training Strategy Today
Sales enablement training isn't reserved for employees who seal the deal. In fact, every member of the team can benefit from support resources that build crucial customer service skills. After all, stellar CX and product know-how are crucial for your company's profitability. Our downloadable eBook, Skills, Support, And Self-Confidence: Launch A Successful Sales Enablement Training Strategy Today, highlights all the essentials you need to deploy sales operations training on a tight timeframe. Before I delve into the tips and tricks, let's explore 5 common myths and misconceptions that may be hurting your bottom line.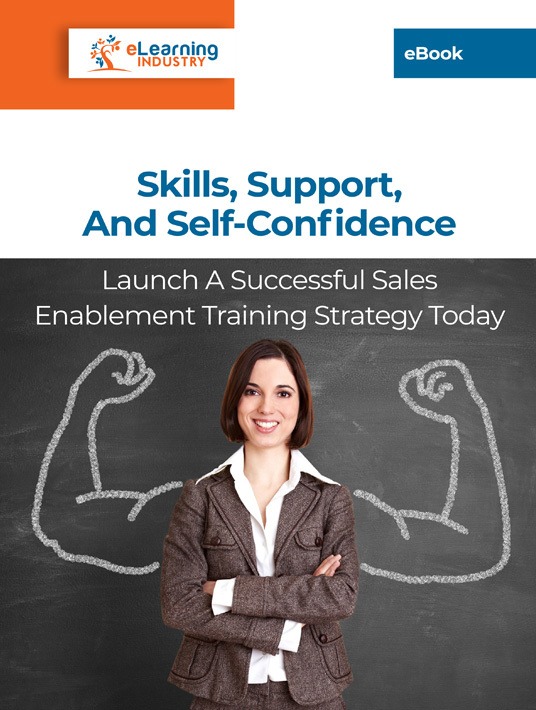 eBook Release
Skills, Support, And Self-Confidence: Launch A Successful Sales Enablement Training Strategy Today
Leverage the benefits of a successful sales enablement plan.
5 Common Sales Enablement Misconceptions And The Truths Behind Them
1. You Need A Large Staff To Warrant The Investment
Your employee pool is small, and everyone works in the same location. Or maybe there are external partners who handle client meetings remotely. So you don't think a comprehensive sales enablement plan is necessary. That's only reserved for Fortune 500 companies, right? The truth is that every company can improve sales and reduce employee turnover by launching sales operations training. It's simply a matter of scale. Start small and wait until you expand into new markets to launch new initiatives. For example, you can kick things off with a microlearning online training support library and pre-built sales enablement online courses.
2. Sales Training Is The Same As Sales Enablement
Sales training falls under the sales enablement umbrella. However, the latter centers on building crucial skills and abilities that employees need to boost customer satisfaction, as opposed to sales processes and protocols that focus solely on turning a profit. It's also important to note that sales enablement solutions are primarily skill and real-world-experienced based. For example, impart interpersonal skills that help employees provide better service and surpass customer expectations. Or teach staffers how to qualify leads.
3. It's Too Expensive To Implement
Who can afford sales enablement training when there are already so many expenses to consider? In reality, you can't afford not to launch sales operations training that cultivates in-house talent. Plus, there are numerous ways to cut costs, such as outsourcing instead of developing all of your content internally. Or purchasing off-the-shelf solutions. You can even curate training content online and incorporate vendor support resources to reduce your expense sheet. Another way to reduce spending is to invite staffers to contribute online training content. For instance, your top performers can develop eLearning infographics, presentations, and other support tools for the JIT online training library, as well as host events to offer their expertise and help peers disclose personal areas for improvement.
4. It's Difficult To Measure The Effectiveness
There's no way to determine if your sales enablement strategy is effective because it involves soft skills and the overall experience. The truth behind this sales enablement training myth is that there are numerous metrics you can rely on for L&D data. Such as LMS metrics, business reports, and customer satisfaction scores. You can also collect eLearning feedback from employees to identify gaps and improve your sales enablement strategy. This misconception is probably due to the lack of clear goals and objectives. Organizations don't set measurable outcomes in the first place, which makes it difficult to monitor employee performance.
5. Only The Sales Department Stands To Gain From Sales Enablement
As I mentioned earlier, every employee should participate in sales enablement training. Even those who don't interact with consumers regularly. This is because sales enablement solutions are geared toward the Customer Experience as a whole. Here are just a few ways that a successful sales enablement strategy extends into every aspect of business operations:
Customer service employees have all the essential skills to address complaints and find suitable product replacements.
Warehouse team members understand how to keep track of inventory and ensure products are always available for purchase.
Marketing staffers know how to promote products based on customers' needs, expectations, and pain points.
Call center employees learn the basics of phone etiquette and how to deal with challenging customers from afar, as well as match them with the best product based on targeted questions.
How To Implement A Winning Sales Enablement Training Strategy Today
Employees who lack the necessary support often let customer satisfaction stats slip, which directly impacts company profits, not to mention, your brand reputation. Every day is a missed opportunity to build a better rapport with customers who may bring in repeat business, instead of giving them an unforgettable experience that keeps them coming back for more. Our eBook features tips, tricks, and techniques to implement sales enablement training right away. Here's a glimpse of what Skills, Support, And Self-Confidence: Launch A Successful Sales Enablement Training Strategy Today has in store:
What Is Sales Enablement Training? Sales Enablement Plan Essentials
Profitable Perks Of Implementing Sales Enablement Training
Sales Enablement Training Activities For Performance Management Support
Tips To Launch Sales Enablement Training For External Partners
JIT Training Sales Enablement Tools That Enhance CX
Steps To Develop A Winning Sales Enablement Strategy For SMBs
Tips To Find An Outsourcing Partner For Sales Enablement Training
Sales Enablement Training Mistakes That Hurt Your Bottom Line
Quick Tips To Identify Gaps In Your Current Sales Enablement Strategy
Tips To Develop An Accurate Sales Enablement Outsourcing Budget
Customers and clients expect the best from your organization. You've worked hard to build a positive brand image. But poor employee training and ongoing support can put a strain on consumer relations as well as cost you your top talent. The only way to keep customers well-informed is to prep employees and build their sense of worth. Get your copy of Skills, Support, And Self-Confidence: Launch A Successful Sales Enablement Training Strategy Today to give your team all the tools they need to give customers the 5-star treatment.