Perks Of Leadership Training Programs For Your Profit Margin
Leadership training programs are no longer a hiring bonus. Managers expect ongoing support from your organization. As do emerging team leaders who must bridge gaps to move up the corporate ladder. But you still need to make a strong business case. That pesky ROI gets in the way every time, doesn't it? This calls for specific benefits and use cases. Namely, how manager training contributes to your bottom line. Is it really worth the investment? Regardless of your staff size or budget, the answer is a resounding yes. Let's look at the 7 top advantages of leadership training solutions for your business. Some of them might just surprise you.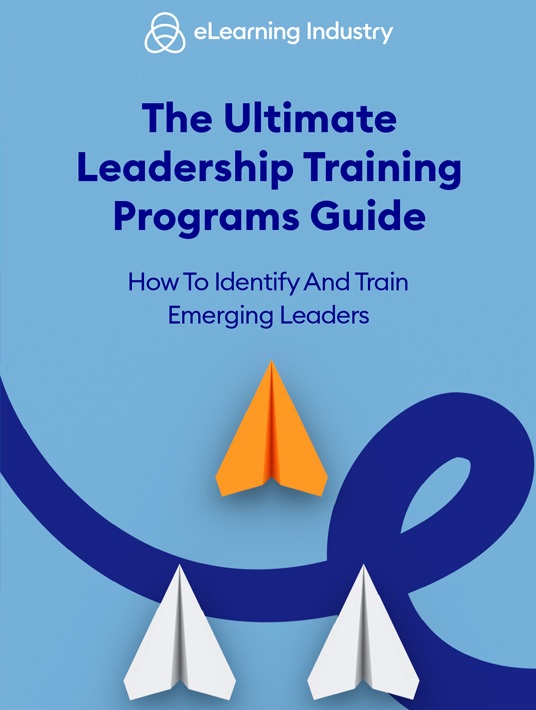 eBook Release
The Ultimate Leadership Training Programs Guide: How To Identify And Train Emerging Leaders
Launch a successful leadership training strategy for your top performers today.
1. Boost Team Morale
Enthusiasm is contagious. Especially when it comes to team leadership. Training programs give employees all the tools they need to fill gaps and build strengths. As a result, they're more dedicated to their jobs and passionate about their roles and responsibilities. In other words, they set a positive example for the entire department. This boosts team morale and motivates everyone to be their best selves. Leaders are also better equipped to provide one-on-one support because they have a solid understanding of company policies and compliance protocols thanks to leadership training programs. For instance, employees turn to them when they're unsure of new policies or need help completing a task.
2. Identify Emerging Leaders
Another reason to launch leadership development training is to spot emerging talent. Namely, employees who are ready to step into the management role. Or, at least, should be on the fast track. For instance, a customer service employee aces every certification exam and always outperforms their peers during online training simulations and branching scenarios. They may need to develop certain skills. But, with a little peer coaching, they can fulfill their potential. Another approach is eLearning gamification which blends online training with game mechanics. Employees who earn more badges or points are prime candidates since they've already shown they have the necessary skills and experience it takes to lead the team.
3. Provide On-The-Spot Leadership Development Training Support
Even team leaders struggle from time to time. Fortunately, they can use JIT leadership development solutions to get back on track. Like online training tutorials, videos, and interactive guides that highlight every step in the task. Thus, managers are able to tackle new challenges with confidence because there's always a microlearning safety net to fall on. You can even hire an eLearning content provider to help you launch a bite-sized support library. This reduces the implementation time so that your team leaders have access to JIT online training tools ASAP. The key is to look for outsourcing partners who specialize in leadership development and microlearning.
4. Improve Workplace Productivity
Leaders need to be at the top of their game. That's not to say that perfectionism is a job requirement. But they should streamline work practices and know how to tap into everyone's strengths. For instance, they know how to inspire their coworkers as well as what they're good at and how to bring out their best qualities. They're also aware of team weaknesses. However, managers are ready to deal with these challenges head-on instead of brushing them under the rug for the sake of appearances. In short, leadership development solutions improve workplace productivity.
5. Retain Top Performers
You don't want to lose your top performers to other organizations. Particularly when you've invested so much time and money in talent development. But how do you hang onto team leaders? One of the most cost-effective ways to reduce employee turnover is to provide continual training. In this case, leadership training programs that empower managers and build their self-confidence. Online courses keep them up to date while JIT tools correct negative performance habits on the spot. They don't have to look elsewhere for growth opportunities because your organization prioritizes leadership development. Likewise, other employees are more likely to stay with the company, given that their managers and supervisors are knowledgeable and ready to help.
6. Venture Into New Markets With Leadership Development Training
Team leaders can help you prep employees in new markets so that everyone understands their roles and reflects your brand image. And they don't even have to travel to make it happen. For example, your sales manager hosts a workshop for each new branch. It covers everything from product knowledge to compliance. They're able to transfer their knowledge and expertise as leadership development training gives them a solid foundation. That said, you should consider an eLearning content provider for localization. For instance, they can translate online training content and make it culturally relevant.
7. Bridge Leadership Skill Gaps
There's always room for improvement. Team leaders are not exempt from this rule even though they're at the top. Managers still need to bridge performance and skills gaps autonomously. And leadership development training gives them the opportunity to focus on personal points. Best of all, it's discreet and self-guided. For example, they enroll in certification courses to build interpersonal skills or enhance on-the-job performance behaviors. They can also tap into the online training library I mentioned earlier to address gaps immediately instead of waiting until the next live event or VILT session.
Conclusion
The benefits of leadership training programs don't end there. There are plenty of secondary perks, especially if you move your L&D online. For example, you don't have to foot the bill for on-site training instructors or site rentals. Everything is done via the LMS and video conferencing tools. This can bring the team together and reduce risks during—and after—the COVID-19 crisis. You can even outsource eLearning content to speed up the process and stretch resources.
Download our eBook today to train your leaders of tomorrow. It features tips to draft a spot-on budget and find the perfect outsourcing partner. The Ultimate Leadership Training Programs Guide: How To Identify And Train Emerging Leaders is packed with valuable insider secrets.