Examples Of Learning Analytics: Understanding The Value Of Data Insights For Your Business
Few people in learning will have entered the field because they wanted to spend more of their lives gazing at spreadsheets and analytics dashboards. So discussions of xAPI can often feel rather abstract and unmoored from the reality of the learning professional's day-to-day activities as they go about the business of helping people achieve in their careers and generally make their lives better.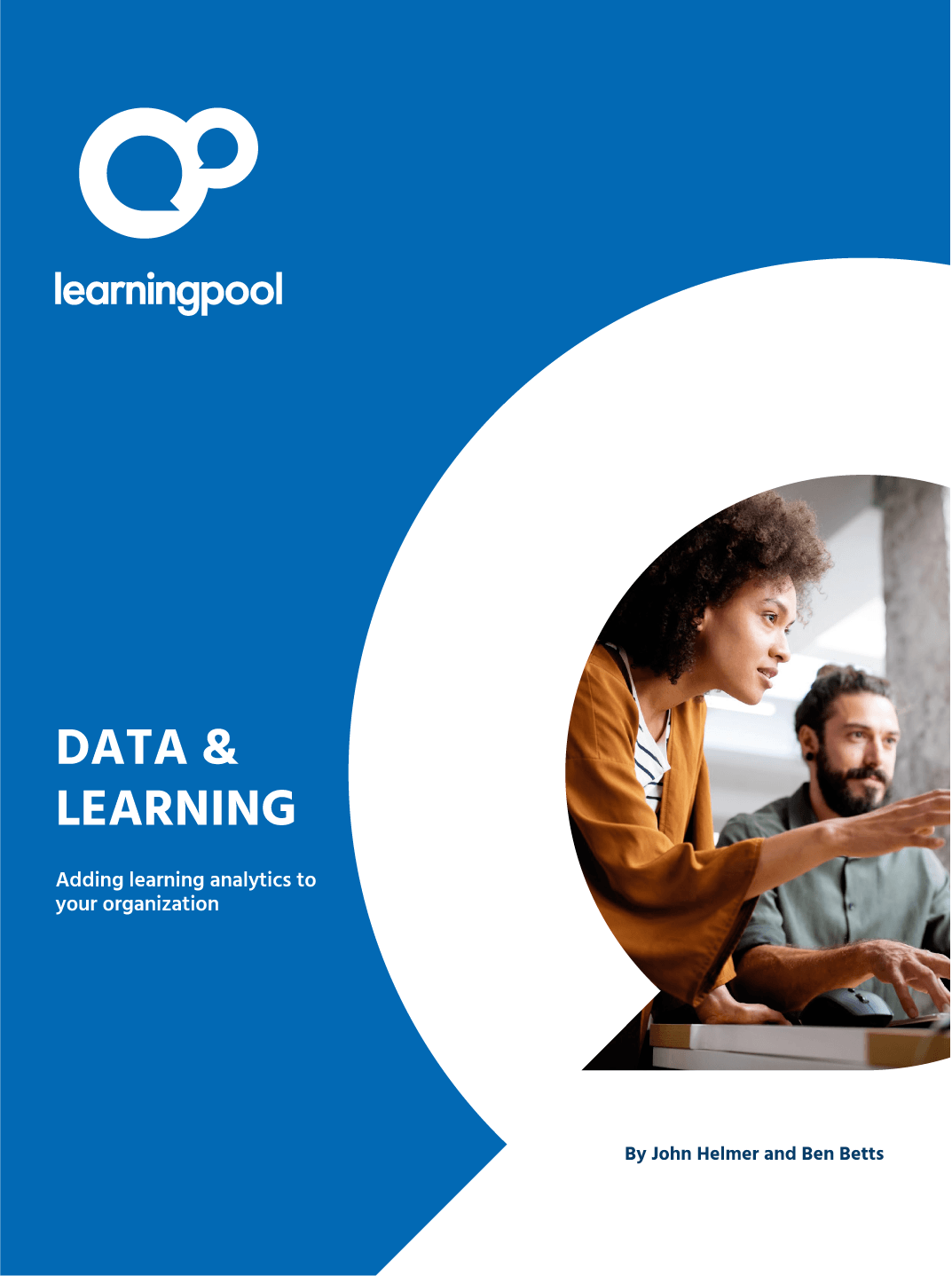 eBook Release
Data And Learning: Adding Learning Analytics To Your Organization
Discover how data and learning analytics can help your organization overcome its biggest challenges cost-effectively.
So it is useful to see learning analytics examples of how people have applied the functionality offered by xAPI and the learning record store (LRS) to real-world challenges. Here are five learning analytics examples that show the dramatic potential of using learning data to affect a range of different outcomes from better compliance learning to predictive analytics. Let's explore some case studies.
1. Measuring Behavior Change at InterContinental Hotels Group With xAPI
IHG hotels provide more than 674,000 guests rooms globally, serving over 150 million guests each year. Learning Pool's Learning Locker LRS was used to analyze conversations from an ongoing Massive Open Online Course (MOOC) followed by 3,000+ first-level leaders across the globe with the aim of improving the quality of communication with customers.
Within weeks of the social experience starting, Learning Pool's data scientists were able to show that 50% of participants had seen how they could change and 12% of participants had actually tried a new behavior.
At level 1, learners were simply expressing what they had watched, read, or understood
At level 2, they were expressing a desire to change
At level 3, they were reporting back on how they tried to do something new, reflecting on how it went and on how they might do things next time
Working with unstructured, qualitative data gathered from online conversations, semantic analysis provided IHG with hard evidence that the MOOC had been successful in its objectives.
2. City & Guilds Uses xAPI For Predictive Analytics And Evidence-Based Recognition
UK-based City & Guilds works with education providers, companies and governments in over 80 countries to enable people and organizations in developing their skills for personal and economic growth.
TechBac® is a professional program for 14-19 year-olds. Its Skills Zone portal brings together workplace skills training with a mentoring program, business challenges and an online CV builder. These different systems are linked together using the Experience API (xAPI). The Learning Locker LRS integrates data from multiple systems, websites and apps and displays the data to both learners and their tutors.
Learners visualize their work on the City & Guilds Skills Wheel; a personalized dashboard of progress. Learners can export this data to their own tailored CV, customizing the information they present back to potential employers.
Meanwhile, predictive learning analytics help tutors predict areas of risk to the Learner's progress and allows them to intervene at the right time, and an integration with Mozilla's Open Badges recognizes the Learner's competence in each of seven skill areas by awarding Mozilla Open Badges.
3. UniSuper Uses xAPI To Help Build Business Resilience Capability For Better Regulatory Compliance
Melbourne-based UniSuper is an Australian superannuation fund that provides superannuation services to employees of Australia's higher education and research sector.
Previously, compliance learning initiatives had tended to be viewed at the firm as more of a 'checkbox' activity rather than something that would engage learners and produce meaningful data.
To start to change this situation, Learning Pool and UniSuper's subject matter experts came together. An xAPI data model was built, allowing xAPI data to be gathered on training effectiveness, participation rates, success rates, responses, completion statistics, and employee confidence across a number of operational risks.
An interactive scenario then correlated confidence with explicit knowledge. Before and after course delivery the confidence of participants was self-assessed in order to assess the program's efficiency in addressing key psychological dimensions.
Following the project, self-rated confidence scores in the challenges presented increased from 24% to a total of 92%.
4. JISC Uses xAPI To Create A National Learning Analytics Architecture
Jisc (formerly the Joint Information Systems Committee) is a UK non-departmental government body and registered charity that provides digital solutions for UK education and research.
As part of an ambitious project to create a set of online tools for UK universities and colleges to better understand their learner data and make more informed decisions so that they might increase student satisfaction, retention, and attainment, Jisc selected the Learning Locker LRS as the key central data store to underpin the solution.
Through a range of add-ons and improvements, the LRS was transformed into a Learning Records Warehouse (LRW). Working with third party providers of VLEs and predictive tools, Jisc's vision of a national learning analytics architecture was brought to life.
Today's Learning Locker represents the UK's national Learning Records Warehouse (as provided by Jisc), with open APIs to interface common data sources and commercial or open-source dashboards, analysis tools, and apps. This centralization helps to de-risk adoption by universities, reducing the cost of sales and barriers to innovation for vendors, and creates a globally unique big data source for benchmarking and research into modern blended HE.
5. Egyptian Knowledge Bank (EKB) For Schools Uses xAPI To Personalize And Improve Learning For 20 Million Teachers And Learners
Powered by CDSM's Thinqi Learning Platform, the Egyptian Knowledge Bank (EKB) for Schools is an educational project designed to provide life-changing opportunities to Egypt's children and young people by enabling them access to the world's best learning technologies and resources with the help of learning analytics. CDSM designed their next-generation learning system with Learning Locker LRS and xAPI at the foundation.
The use of xAPI and LRS has become an essential component in realizing the project vision and has been invaluable to their development team when designing and prioritizing the future roadmap of their software. Through the integration of Learning Locker®, Thinqi for EKB has been able to provide the following features for teaching/learning in Egypt:
Personalized content discovery tools
Administrator reports offering valuable insights previously unavailable
The ability to segment content usage across multiple axes
Identifying content gaps to guide procurement
The project will set the blueprint for how a 21st-century digital learning ecosystem can offer seamless integration across 3rd party services, and add value to learning communities beyond the sum of its component parts.
After exploring these learning analytics examples, if you want to discover more about the world of learning analytics, download the eBook Data And Learning: Adding Learning Analytics To Your Organization. It covers all the essentials, from choosing an evaluation method to using an LRS to meet performance benchmarks. For further insight into learning analytics, join the webinar, and discover the real power they bear.